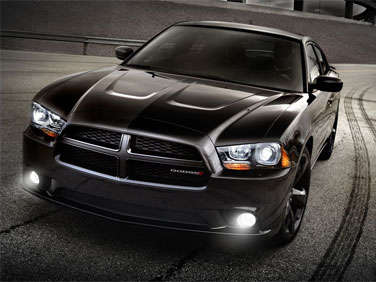 Dodge is an automaker undergoing a transition, one that is benefiting from the engineer and style know-how of corporate parent Fiat.  It's important to remember, however, that Dodge's lineup of cars, crossovers, and SUVs was already strong before cross-pollination with its European brand-mates began.
We've put together a quick refresher covering some of the most noteworthy models that are currently available in Dodge showrooms.  The sheer range of the Dodge lineup means that there's something out there for almost anyone shopping the Dodge lineup.
Let's take a quick look at six Dodge cars, crossovers, and SUVs and see which one is the best match for your particular driving needs.
01 - 2012 Dodge Caliber - The Active Compact Driver
Not all entry-level compacts are required to offer small rear seats and modest trunk room.  Although it's in its final year of production, the 2012 Dodge Caliber still has a few cards up its sleeve when it comes to wooing shoppers who need a versatile crossover that won't take up a lot of space in the driveway.  The Dodge Caliber delivers almost 20 cubic feet of cargo space with the rear seatbacks up, and with them folded forward it's possible to stuff 47.4 cubic feet of gear into the SUV through its wide hatchback opening.  The Caliber is also motivated by a 2.0-liter, four-cylinder mill that generates 158 horsepower and returns 24-mpg city and 32-mpg highway when matched with its standard five-speed manual transmission.  A continuously-variable automatic is also available with the crossover as an option.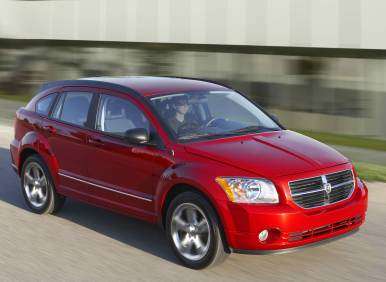 02 - 2013 Dodge Charger - The Family Sedan With Attitude
The 2013 Dodge Charger looks like it's about to leap out of its parking space and tear down the road at 100-mph.  Open any of its four doors, however, and what is revealed is a roomy full-size family sedan that has a lot to offer those seeking a comfortable, modern ride.  It's possible to order the Dodge Charger with its standard 292 horsepower, 3.6-liter V-6 and enjoy its affordable, sporty good looks and 27-mpg on the highway.  Stepping up to the R/T trim, however, injects serious performance into the equation via a 5.7-liter Hemi V-8 that churns out 370 horses and 395 lb-ft of torque.  All-wheel drive and a mix of five and eight-speed automatic transmissions are available with the Charger, which comes in a rear-wheel drive base model.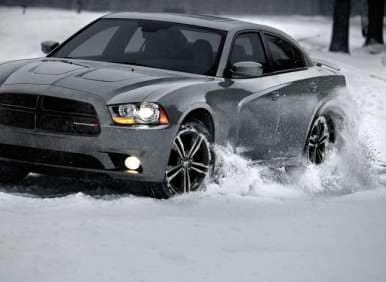 03 - 2013 Dodge Avenger - The Affordable Commuter
The 2013 Dodge Avenger isn't quite as malevolent looking as its larger Charger sibling, but that's ok - this mid-size sedan isn't going after the same crowd.  The Dodge Avenger is best suited for drivers who need a reliable commuter car that can double as family transportation during the off hours, and its comfortable interior and available features such as the R/T trim's stiffer suspension help to brighten up its driving experience.  The Avenger's base 2.4-liter, four-cylinder provides 173 horsepower and 31-mpg on the highway, while a much more robust 3.6-liter V-6 is also on offer for those interested in its 283 horses and impressive 31 highway miles per gallon.
04 - 2013 Dodge Grand Caravan - The People Mover
The 2013 Dodge Grand Caravan has been a mainstay of the minivan segment since, well, the beginning, and the latest edition of this vehicle represents the modern continuation of the people mover that started it all.  The Dodge Grand Caravan's seven passenger seating and innovative Stow 'n Go feature, which makes for rapid in-floor storage of the rear rows of accommodations (freeing up 143.8 cubic feet of total cargo space) are big attractions for those shopping in the minivan segment.  It also doesn't hurt that the Grand Caravan comes standard with a 3.6-liter V-6 that generates 283 horsepower and returns fuel mileage of 17-mpg in stop and go driving and 25-mpg on the highway.
05 - 2013 Dodge Durango - The Well-Rounded SUV
The 2013 Dodge Durango is a jack of all trades.  Want to be able to carry around as many as seven passengers?  No problem - the three-row Dodge Durango has you covered.  Need to haul a load of renovation supplies home from Lowes?  The Durango's 84.5 cubic feet of total cargo space will come in quite handy.  Thinking about getting away from it all for the weekend?  You can either explore the wilderness using the Durango's available four-wheel drive system, or tow the boat to the lake thanks to its 7,400 lbs of trailer capacity.  The Durango even provides a pair of husky engine options: a 290 horsepower, 3.6-liter V-6 and a 360 horsepower, 5.7-liter Hemi V-8.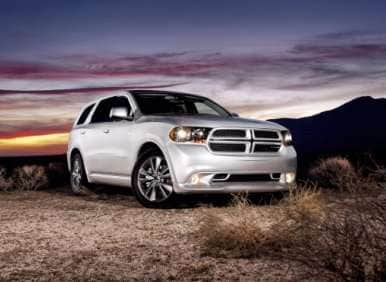 06 - 2013 Dodge Journey - Competent Crossover Contender
The 2013 Dodge Journey isn't quite a minivan - but it does offer seven passenger seating.  It's also not quite an SUV - but it does come with the availability of all-wheel drive.  This crossover delivers a sedan-like driving experience that is only enhanced by its versatility and practicality (and its up to 68 cubic feet of total cargo space), making the Dodge Journey one of the most appealing family vehicles on the market.  A 173 horsepower, 2.4-liter four-cylinder engine is standard, but a 283 horsepower, 3.6-liter Pentastar V-6 is also offered with the Journey and this unit provides much more impressive acceleration for passing. Fuel economy is quite close for the two engines, with the four-cylinder's 26-mpg highway rating squeaking ahead by a single mile per gallon over the V-6.