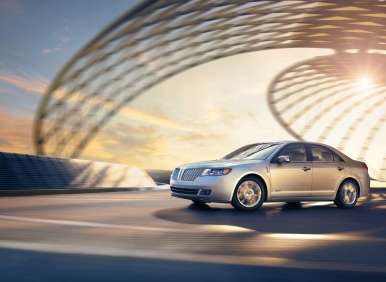 While not a uniquely American practice, "badge engineering" has been particularly prevalent among U.S. based manufacturers over the years. Sometimes it's successful, other times it's a disaster. As an example, all attempts to make a smaller Cadillac, based on more prosaic Chevrolet models have been significantly questionable.
The whole idea predicates upon consumers' desires to have a prestigious logo on their car key when they drop it on a bar. After all, when everybody saw the Cadillac crest on your key, they didn't really ask which one you had. It was only when you were seen getting in or out of the Chevrolet Cavalier-based Cadillac Cimarron that people realized you went and got the wack Caddy.
In the case of Ford and Lincoln, it can be successfully argued that after so many years of neglect, expectations for Lincoln cars aren't really that high to begin with. So when you see the profile of the Ford Fusion with Lincoln's four-pointed star on its flanks, you don't really have the same gag reflex you'd get from seeing, say, the Chevy Cruze's profile with a Cadillac crest on its fenders.
Because of this, the Lincoln MKZ (also known as the Lincoln Zephyr — more on that particular aberration below) has been comparatively well received. Of course, being based as it is on a pretty good handling and comfortably riding Mazda platform does a whole lot to keep people looking upon it with favor.
First shown at the New York Auto Show as the Lincoln Zephyr concept in 2004, the mid-sized Lincoln was initially offered as a production model in 2006, and called the Lincoln Zephyr. When the fine marketing minds at Ford decreed the Lincoln brand would perhaps have more cachet if it followed the European model of alphanumeric model nomenclature, the Zephyr name, it's 70 years of heritage notwithstanding, was shoved out of Ford's corporate jet sans parachute, and an MKZ badge was affixed to the Lincoln's rump.
Aside from the name change, there has been but one significant reworking of the model since it debuted in 2006.
2006
Introduced as a replacement for the rear-drive Lincoln LS (which shared its platform with the Jaguar S-Type) the front-drive 2006 Lincoln Zephyr was powered by a 221-horsepower, 3.0-liter V6 engine generating 205 ft-lbs of torque. A six-speed automatic transmission routed the output of the engine to the drive wheels.
Essentially a fully loaded Ford Fusion, the Lincoln Zephyr shared its platform and much of its kit with the 2006 Mercury Milan in addition to the Ford. Basically the way it worked was the Ford got the base gear and engines with lots of optional upgrades. The Mercury got many of the upgrades with key luxury items left off as options and the Lincoln got all of the other two car's options as standard equipment.
These standard features included: cruise control, automatic headlights, fog lights, power door locks, one-touch "global" power windows (all windows would lower simultaneously at the push of a single button), power adjustable and heated mirrors with puddle lamps, remote keyless entry, a tilt and telescoping steering wheel with audio and climate controls, dual-zone automatic climate control, a universal garage door opener, ten-way power adjustable driver and front passenger seats, rear-seat reading lamps, and a six-speaker audio system fed by an AM/FM stereo radio and a six-disc, MP3-compatible CD changer.
However, there was some still-more advanced gear available for the Lincoln as an option too: a power moonroof, a DVD-based satellite navigation system, HID xenon headlights, heated and cooled front seats, a THX II-Certified audio system fed by a six-disc, MP3-compatible CD changer, which sang through ten speakers.
Interior accommodations were quite nice; they included; a choice of genuine ebony or maple wood trim in metallic frames, which were contrasted with chrome-bezeled gauges. Other interior jewelry included circular, chrome-finished vents as well as a metallic center stack housing the audio and climate control system interfaces. The steering wheel featured genuine wood grips along with satin-nickel finished audio, climate, and cruise control switchgear. In keeping with the lush intentions for the Lincoln, the parts of the steering wheel that weren't wood were upholstered in fine leather. And, of course, leather for the seating surfaces was standard. Standard safety features included dual front airbags, front seat-housed side airbags, and side-curtain airbags were found extending from the front to the rear seats.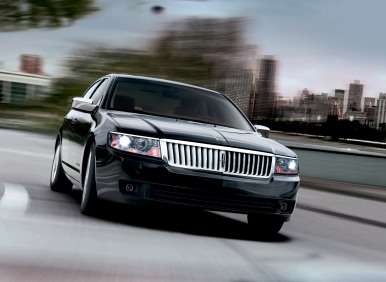 2007 - 2009
Interestingly, while the change to the alphanumeric nomenclature was intended to signal a renaissance at one of America's oldest nameplates, the original enunciation of its designation was intended to be Mark Z. The original idea was to attempt to leverage the heritage of the very successful "Mark" series of Continental models offered by Ford and Lincoln in the fifties, sixties and seventies. Ultimately though, once it was determined few modern buyers recalled the glory years of those cars, and were instead calling the model M-K-Z, Lincoln's product team went with the flow and followed suit.
Considerably more effort was made to differentiate the MKZ from its Milan and Fusion cousins than was put forth for the Zephyr however; chief among them was a 263-horsepower, 3.5-liter V6, which could not be had in the other two cars. The V6 made 249 ft-lbs of torque and ran on regular unleaded fuel. A six-speed automatic transmission conducted the output of the engine to either the front wheels, or all four wheels, in the all-wheel drive version of the MKZ.
The THX audio system fitted to the MKZ surpassed the original one installed in the Zephyr by dint of its 14 speakers and 600-watt peak output. As before, the standard feature-set encompassed seventeen-inch alloy wheels, leather upholstery, wood trim, power seats with memory, dual-zone automatic climate control, and a seven-speaker CD stereo with an MP3 player (primarily iPod) input jack.
Chrome wheels, xenon HID headlights, a sunroof, the 600-watt THX-certified sound system, Sirius satellite radio, navigation, and heated and cooled front seats were among the key optional features of the 2007 Lincoln MKZ.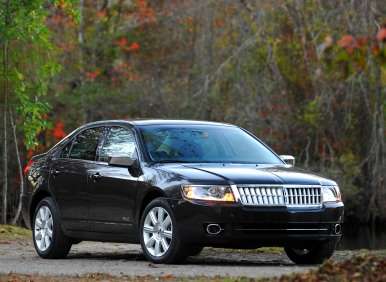 2008
For 2008, Lincoln's product planners introduced Bluetooth hands-free telephony as part of the Microsoft Sync system Ford chartered the Redmond, Washington-based company to create. This change also brought voice activation to the audio and navigation systems. Sirius satellite radio, perforated leather seats, an audible obstruction sensing system for reversing (a backup warning system), tire pressure monitoring, and the aforementioned Sync system (called Lincoln Sync in this application) were all decreed as standard equipment.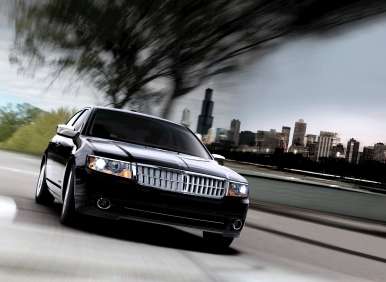 2009
With a significant rework on the horizon for 2010, the 2009 model's primary endowment was the addition of stability control to the list of standard equipment for 2009. The special edition 2009 Lincoln MKZ "Midnight Black" package rocked black leather seating surfaces and door panels, contrasted against maple wood and satin nickel inserts.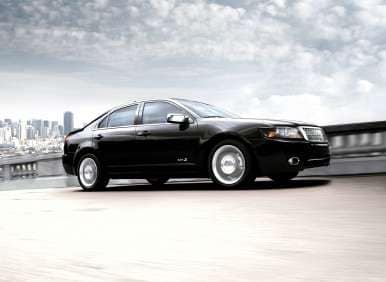 2010
First shown at the 2008 Los Angeles International Auto Show, the 2010 Lincoln MKZ featured substantial changes to the front and rear styling of the car. Additionally, the interior was considerably reworked, and new tech found its way into Lincoln's entry-level luxury car.
Out front, the car got a new grille, one recalling the winged waterfall grilles of the 1930's Lincoln models. The seventeen-inch wheel set returned, but with a new pattern. Eighteens were offered as an option. Smart wipers and swiveling headlights were added as well.
Inside, a reverse camera system, Sirius Travel Link, a voice controlled DVD-based satellite navigation system, and an extensive interior redesign, gave buyers new reasons to consider the Lincoln MKZ.
In summary, standard features for the 2010 Lincoln MKZ included; seventeen-inch alloy wheels, rear parking sensors, foglamps, auto-dimming rearview and driver-side mirrors, leather upholstery, a leather-wrapped steering wheel and shift knob, heated and cooled power front seats with memory functions, dual-zone automatic climate control, an eleven-speaker stereo with a six-CD changer, satellite radio and an auxiliary audio input jack, and the Sync multimedia integration telematics system.
Lincoln's product folks also came up with an optional "Sport Appearance Package" for the 2010 MKZ. It added eighteen-inch alloy wheels, a sport-tuned suspension, a unique grille, upgraded leather upholstery, and specific interior aluminum trim.
To luxe out the Lincoln even more, on the a'la carte menu, buyers could opt for chrome wheels, xenon headlamps, a sunroof, a blind-spot warning system, a back-up camera, a THX-certified surround-sound stereo system, and a voice-activated hard-drive-based navigation system with 10 gigs of music storage and Sirius Travel Link (which included real-time traffic and weather information).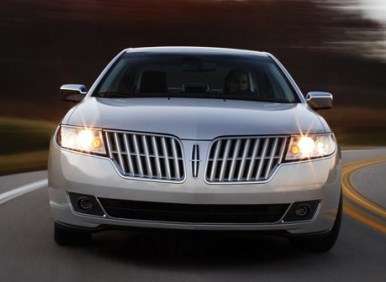 2011
With so many changes for 2010, 2011 was pretty light for the standard MKZ; basically, HD radio was introduced as a component of the optional navigation system's features.
However, the really big news (yeah, we buried the lead) was the introduction of the 2011 Lincoln MKZ Hybrid. The MKZ Hybrid model was revealed at the New York Auto Show in 2010, and went on sale in September of the same year.
The 2011 Lincoln MKZ Hybrid has the distinction of being the first-ever Lincoln model to use a four-cylinder engine. With a total system output of 191 horsepower, the 2011 MKZ Hybrid was capable of traveling at speeds of up to 47 miles per hour using only its electric motor.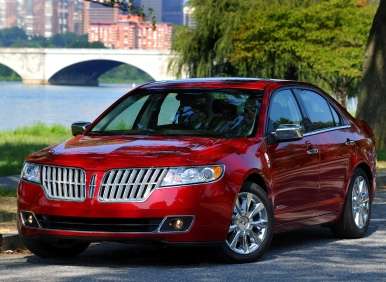 Current Model (2012)
With a complete redesign rumored for the 2013 model, there are no changes to the MKZ lineup for the 2012 model year. The Lincoln MKZ Hybrid was designated a trim level for 2012, but both it and the standard MKZ are basically identically-equipped in terms of their standard features—save, of course, their powertrains. On the options list though, there is another difference; the Hybrid's optional Nav package is bundled with a premium surround-sound audio system.
Option bundles for both models include the "Ultimate Package" which consists of a navigation system with a rearview camera, a blind-spot warning system, a single-CD/DVD audio player, a hard drive-based digital music storage device, HD radio, Sirius Travel Link, seventeen-inch chrome wheels, a sunroof (which is also available as a stand-alone option), swiveling xenon headlights, rain-sensing smart windshield wipers, and interior ambient mood lighting. For the ultimate in Lincoln MKZ plushness, the "Executive Package" adds upgraded leather upholstery and real wood interior trim to the "Ultimate Package" offerings.
The 2012 Lincoln MKZ "Sport Appearance Package", which is not available for the Hybrid, adds eighteen-inch wheels, a sport-tuned suspension system, contrasting seat piping, aluminum interior trim, and muted exterior trim in place of the chrome brightwork found on the outside of the standard cars.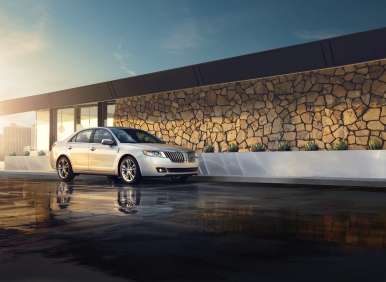 Summary
All in all, the Lincoln MKZ is a handsome car with an exceptional roster of features, a comfortable ride and respectable handling. The Lincoln's engines have always been adequately powered for the car's overall mission in life and the comfort of the MKZ's interior is commendable, with but one exception. The intrusively acute angle of the headrests causes discomfort, particularly on longer drives.
On the other hand, the THX audio systems, the Microsoft Sync systems and the other exceptional tech features specified for the MKZ make the Lincoln a good choice for the tech-minded shopper on a budget.
And while many reviewers have mocked Lincoln's older demographic, if you're shopping on the secondary market and don't care about things like that, the Lincoln MKZ's older following can be a real boon. Because more mature drivers buy Lincolns, they are more likely to be serviced regularly, driven modestly, and well cared for in general.
The Lincoln MKZ's powertrains are long proven and robust, so one shouldn't have many problems out of the car on the mechanical front. Of course, just to make sure, you'll want to subject any vehicle you're seriously considering breaking off your cheddar for to a rigorous pre-purchase inspection before reaching for its pink slip.
Additionally, you'll want to run a vehicle history report on the car, as well as scour the Internet for any recalls that may apply to the model year of your preference.