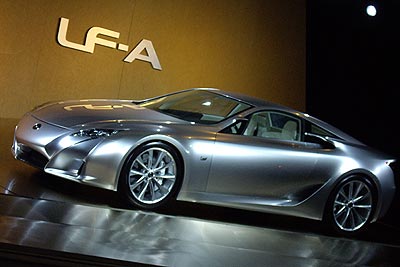 Lexus LF-A Concept Preview – 2007 Detroit Auto Show: Originally shown in different form two years ago, the latest iteration of the Lexus LF-A Concept is much closer to production reality. To enthusiasts, this is a very good thing. It's no secret to people who love to drive that Lexus has been flogging a sports car development mule around Germany's famed Nürburgring race course, and the newest LF-A Concept provides an even clearer glimpse into the future of Japanese performance.
Why it Matters
Lexus is fighting the sometimes debilitating reputation of being Japan's version of Buick, and gorgeous high performance machines like the LF-A Concept are just the remedy.
What's Under the Hood
Mounted in what Lexus says is a mid-front location, a V10 engine making more than 500 horsepower theoretically propels the LF-A Concept to a top speed of 200 mph. Other details are sketchy, but Lexus does confirm rear-mounted radiators, which explains the air intakes forward of the rear wheels and just aft of the front doors, and a rear-mounted transmission. Stashing this stuff in the back helps the LF-A achieves what Lexus says is "excellent" weight distribution. If the brakes on the new Lexus IS-F are any indication, expect stout Brembos and, to make the production version of the LF-A truly world-class, an optional upgrade to ceramics.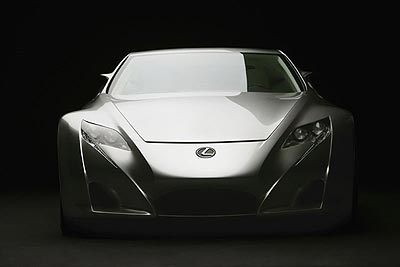 What it Looks Like
Design is an evolution of the current Lexus L-finesse design vocabulary, and Lexus says this iteration of the LF-A refines the former supercar concept's exotic lines with greater use of curved surfaces and added detailing. Exaggerated forms in front recall the current IS sedan as well as a Honda S2000. In back, trapezoidal taillights highlight large vents, and exhaust exits through three circular outlets in the lower diffuser panel. Thin-spoke wheels allow a good view of the brakes. Also, the new "F" logo adorning all new Lexus performance cars is affixed to each fender.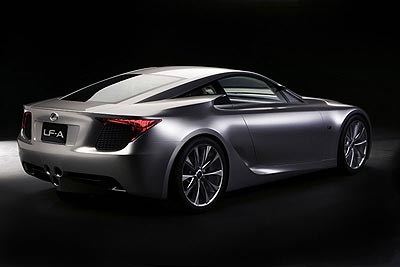 What's Inside
Conceptual three-piece sport seats, wrapped in white upholstery, provide ample support for two people. They face a simple, elemental two-tone dashboard separated by a bulging center control panel chock full of Lexus technology. Primary controls related to the task of driving are located at the driver's fingertips to ensure steady two-handed grip on the meaty three-spoke steering wheel, and the LF-A Concept has a single large gauge incorporating the speedometer, tachometer, odometer, secondary meters, trip computer, and compass.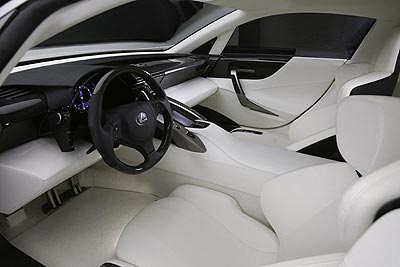 What Lexus Says
Lexus released a prepared statement that said: "The goals for the new LF-A are no different than they were for the original concept: To build a supercar with world-class performance that is uniquely Lexus. This latest concept is much closer to a vehicle that we would bring to market, and one in which we will be gauging consumer interest."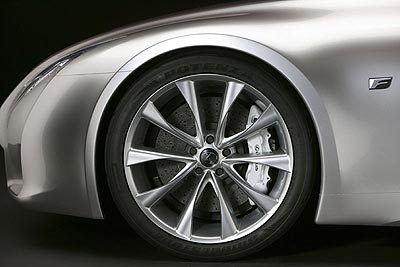 What We Think
This car, or one very closely related to it, is destined for showrooms by the end of the decade, and it will change the way the world thinks of Lexus.
Photos courtesy of Lexus and Christian J. Wardlaw