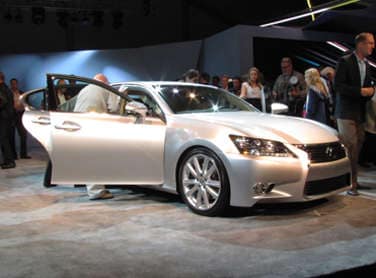 Lexus used the Pebble Beach Concours d'Elegance to take the wraps off the new 2013 GS 350 sedan.
Toyota CEO Akio Toyoda (yes, that is the Toyota family name) was the surprise guest on the ground to introduce this aspiring BMW beater. He promised a car with exceptional driving character after extensive testing at Germany's Nurburgring. Toyoda also hinted at plans for an entire revamping of the line over the next year with nine new or improved Lexus models. This not only signals that the company will be busy during auto show season, but it also acknowledges that Lexus is aware that aside from a few interesting cars like the LFA, its image has been heading for the comfy-but-boring territory that Buick used to occupy.
Outside the new GS does a good job of following the lines of the LF-Gh concept. The 2013 GS hints at some sexiness by keeping the hourglass grille from the concept. Lexus fans should get used to this new front end because the design is likely the new family face.
Unlike the show car, this production model trades in some of its customized street racer touches for a little more chrome and sophistication. The sides carry similar lines to the current GS, including the large c-pillar. The rear is a simple and clean design that looks like a mix of Audi A6 and Kia Optima (Lexus probably won't like that last comparison.) Overall, the styling of new GS seems like a good starting point for a company that wants to enhance its image without scaring away the traditional customers.
Inside is a big improvement over its predecessor. An all leather wheel with a more prominent tachometer makes the driver feel like this is a more aggressive car. The layout of the control panel does a better job of integrating the 12" navigation screen and keeps a more horizontal profile than the current GS. It is reminiscent of a BMW 5-Series, and that is likely no accident. The rear seating takes a cue from the bigger brother LS by hiding some controls in the center armrest.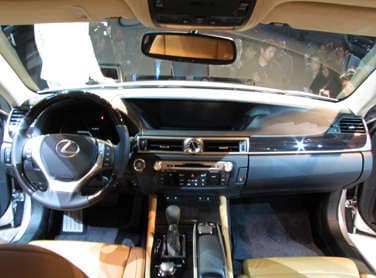 Power comes from the 3.6-liter V-6 that is currently available in the GS, but this gets a 3 horsepower bump for a total of 306 hp. Just like the current car, the 2013 GS 350 line will include rear-wheel drive or all-wheel drive mated to a six-speed automatic transmission. The 4.6-liter V-8 from the current GS lineup will also likely make an appearance when the hybrid and F Sport models are introduced.
The 2013 GS 350 seems to be a calculated risk by Lexus. It is more aggressive and German than its predecessor, but it has still not lost all of the quiet competence that built the company's reputation. We'll see how much the luxury car public likes this idea when the 2013 car hits showrooms in February.