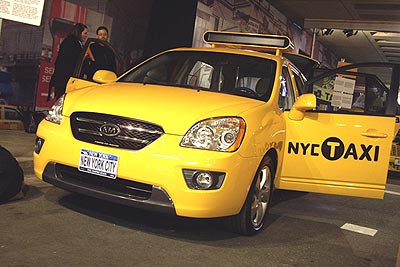 2007 Kia Rondo Taxi Concept ・ Photo by Kia Media
Kia Rondo Taxi Concept Preview – 2007 New York Auto Show: Anyone unfortunate enough to use cabs on a regular basis knows what a treat it is to get into a taxi that is clean and odor-free – you don't want the ride to end. At the 2007 New York International Auto Show, the city's Design Trust for Public Space invited several automakers to design taxi cabs that improve upon the usual recipe in terms of accessibility, safety, fuel economy, and other factors. Kia spiffed up its handy new Rondo for the competition, and the best thing about it? It's clean and odor-free.
Why it Matters
Kia's new Rondo would make a great taxi, except for the fact that cabbies tend to prefer body-on-frame, rear-drive construction for durability reasons. A front-drive Kia Rondo, as roomy as it might be inside, might not last as long as the typical Ford Crown Vic or Chrysler 300 on the mean streets of New York.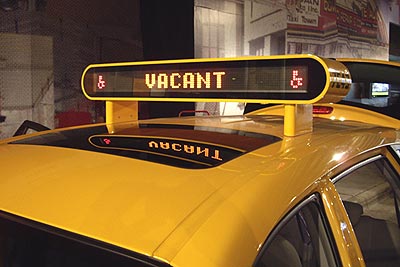 What it Looks Like
Dipped in DuPont Yellow paint, the Kia Rondo cab includes updated New York City taxi graphics for a sophisticated and modern look and an improved roof light with what Kia says is "enhanced vehicle information." In addition to whether or not the Rondo Taxi is available for a fare, we hope the roof light gives some indication about whether it's clean inside.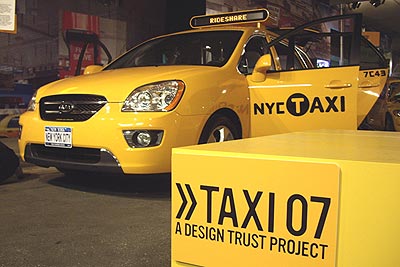 What's Inside
At least the Kia Rondo Taxi should be easy to hose out after the frat boys horked all over the back seat. Eco-friendly and waterproof UltraLeather upholstery covers the back bench, and the floor is lined with waterproof vinyl. The Rondo Taxi's driver sits behind an L-shaped clear plastic partition which helps make room for the motorized sliding passenger seat built to accommodate people who have difficulty getting into or climbing out of taxis. The rear seat also has an integrated child safety seat, and there's an onboard computer with a touch-screen monitor – just the thing for innovative advertisers looking for fresh eyeballs. Drivers negotiate Manhattan's grid using Sirius satellite radio with real-time traffic.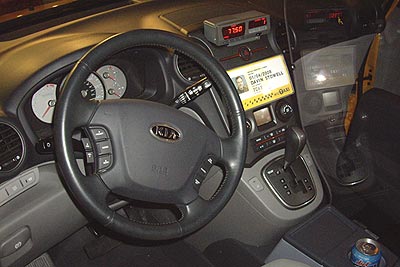 What Kia Says
Kia explains why it thinks the Rondo makes a great replacement for Ford's ubiquitous Crown Victoria as a taxi cab: "The all-new Kia Rondo, which offers innovative design, packaging, and driving dynamics, provides both drivers and passengers with a spacious comfortable and safe tide while occupying a small footprint – an ideal combination for New York City streets."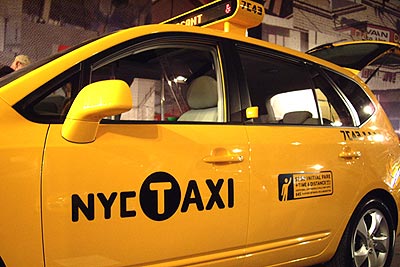 What We Think
As a kid, my family rode around Manhattan in Checker Marathons. Those were terrific taxis. Huge trunk. Giant back seat. Great visibility. Jump seats that popped out of the floor. While, from a rider's standpoint, the Rondo is a big improvement over the Crown Victoria, it's a long way from pleasing the passenger like those old, classic Checker Marathons.