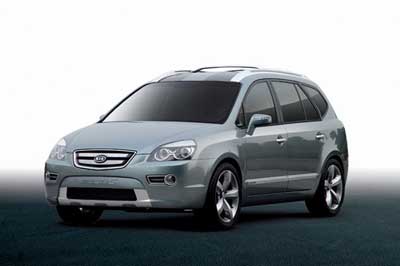 Something about Kia is different, lately. The company seems more serious, more purposeful, more intent on taking the steps necessary to build cars that last and cars that people count on, in addition to cars that offer a low price and great warranty. Cars like the Multi-S (Sporty, Spacious and Spacious) Concept, a smooth-looking, efficient crossover that debuted at the 2006 Chicago Auto Show. The Multi-S looks very close to an actual production model, and indeed, Kia indicated that it represents a strong hint of what's to come.
What's under the hood
The Kia Multi-S Concept appears to be production ready thanks to features such as its 2.4-liter, four-cylinder engine mated to a five-speed automatic transmission with manual shift mode. The powertrain drives 19-inch alloy wheels with slotted disc brakes, items that are not likely to see a standard equipment list on a future production model. The Multi-S's close proximity to production is apparent in the powertrain setup: The 2.4-liter engine, mated to a five-speed automatic transmission, is virtually identical to the engine powering the upcoming Kia Optima. That engine generates 161 horsepower at 5,800 rpm.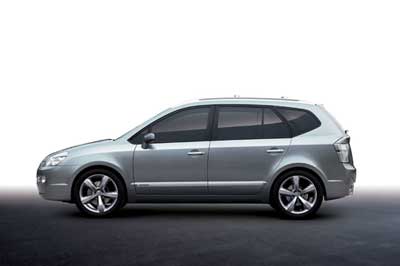 What's inside
Inside, the Kia Multi-S Concept has three rows of seating for seven that features fold-flat functionality for the second and third rows. Seats are covered in a leather-suede material, and there are dual full-length glass roof panels. That takes care of Sporty, and Spacious – as far as Smart goes, Kia built in technological wonders such as iPod, computer and communication interfaces; a navigation center; a rear entertainment system; and a surround sound audio system. There's also a large center console, a luggage box in back and an overhead console. The real smart stuff comes in the form of safety systems: the Kia Multi-S Concept features electronic stability control (ESC), six full-length side curtain airbags, active front-seat head restraints, adaptive front headlamps, and a tire pressure monitoring system (TPMS).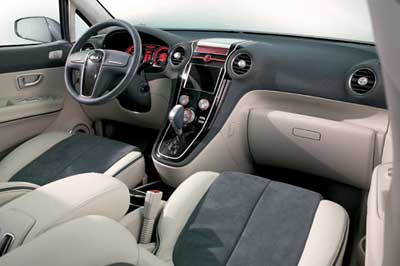 What we think
So, one of the next vehicles from Kia will be a crossover. That's not earth-shaking news, sure, but it will be significant if Kia keeps to the ideas put forth by the Multi-S Concept. So named for it's Sporty, Spacious and Smart attributes (so Kia claims), the concept is intended for young families who require practicality, modern conveniences and a fun driving experience. It's a grown-up crossover that should be a perfect fit for young families, especially if Kia keeps the youth-centric interior features and sporty nature of the car.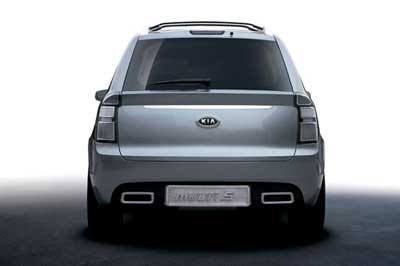 Key specs
Engine Size and Type: 2.4-liter four-cylinder engine Transmission: Five-speed automatic Length: 178.9 in. Width: 72.8 in. Wheelbase: 106.3 in. Height: 65.0 in. Max. Seating Capacity: 7 Wheels: 19-inch alloys
Photos courtesy of Kia Motors of America