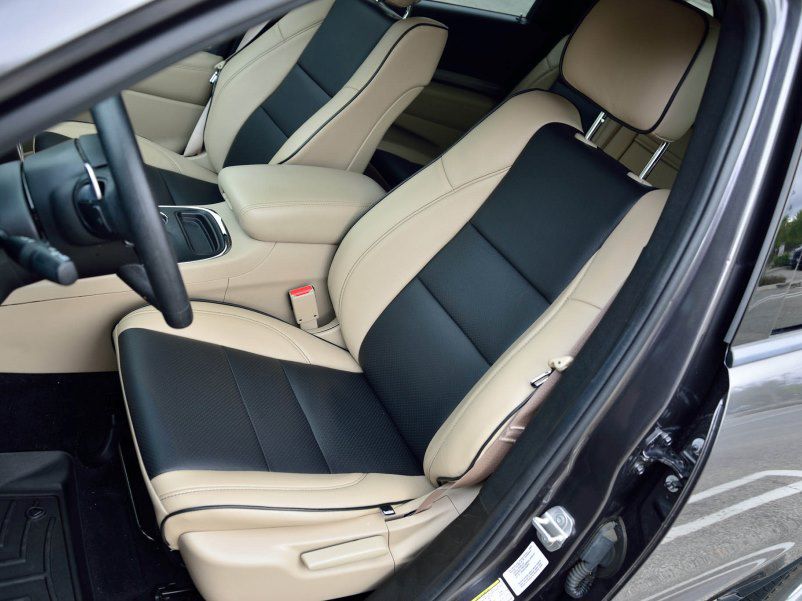 Exclusive Katzkin Automotive Leather 038
"Because cloth sucks."
Studies reveal that nearly nine out of ten people prefer leather upholstery in their personal cars or trucks — yet less than half of all vehicle owners sit on genuine leather hides when they are behind the wheel. Truth is, whether due to unavailability or prohibitive cost, the majority of the automobiles on the road today are upholstered with cloth or vinyl.
But not if Katzkin has its way.
Founded in 1983
Katzkin Leather, Inc., is a privately held corporation based in Los Angeles, California. Founded in 1983 as a leather goods company, owners and siblings Mitchell and Lesley Katz (the "Katz kins") turned their attention to a much larger market — car interiors — just a few years later. Hard work, attention to detail, and a premium product allowed them to grow the business exponentially. As of today, the company has retrofitted more than two million vehicles with leather interiors.
We admit to having more than a bit of skepticism about aftermarket leather. Horror stories abound: material glued over existing cloth, rips and tears that emerge only years after installation, and mismatched panels were just some of the drawbacks that previously dissuaded us from recommending the process. Word on the street claimed that Katzkin was different. We wanted to know why.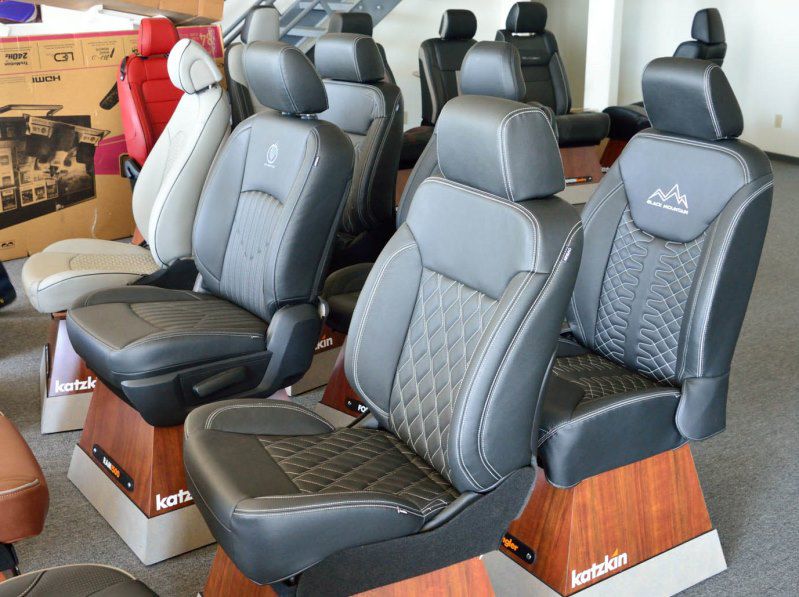 Headquarters Tour
First on the agenda was a tour of the company's Southern California headquarters in Montebello, just east of downtown Los Angeles. The multi-building facility is a showroom, design center, warehouse, and installation facility, although nearly all of its installations are done off-site at one of its 2,500-plus approved dealerships or authorized professional shops.
Most consumers will never venture further than the company's informative website, but a visit to the showroom reveals samples from some of the 3,000 different seat patterns currently in its library (the company not only offers leather for nearly every late-model vehicle but for popular classics as well). The combinations of leather, vinyl, suede — and countless grain, texture, and stitching enhancements — appear nearly unlimited. To simplify the vast menu, shoppers are offered three different design paths (Factory Design, Katzkin Design, and Your Design), which are specially configured to walk the customer through the process based on budget and desired results.
Leaving the showroom, we step behind closed doors to view the actual manufacturing process.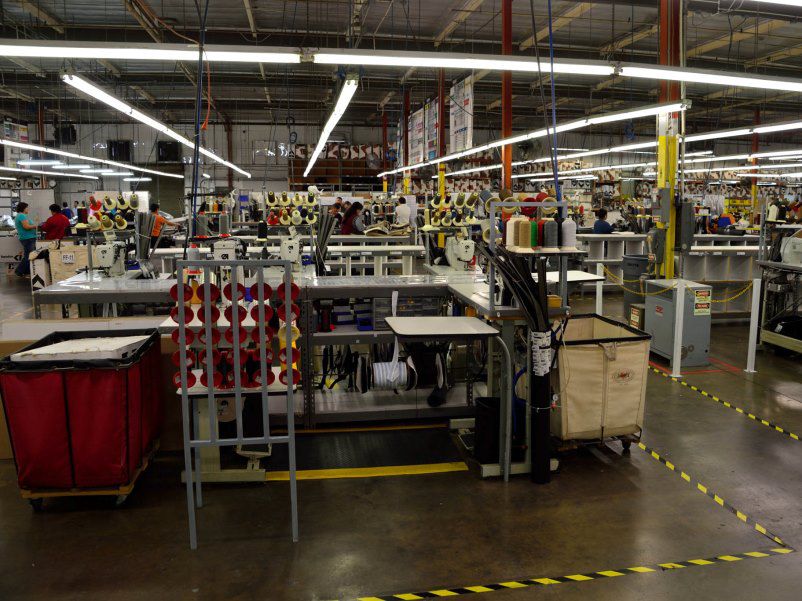 Tanned Leather
Tanned leather — animal hides that have been processed, treated, and colored — arrive from South America. After being inspected by trained eyes for flaws or blemishes (those sections are marked and discarded), the leather panels are placed on a special mechanized cutting table where computer-controlled blades precisely slice out each panel in a particular template.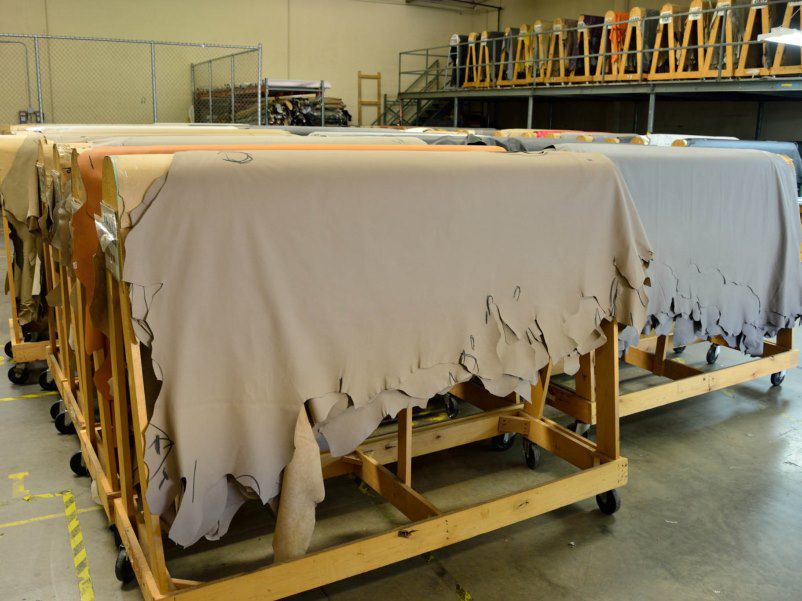 Craftsmen
Once all of the pieces have been cut, they are moved to one of the dozens of stations where craftsmen sew them together by hand, again paying close attention to the customer's requests in regard to special embroidering and stitching. Unique components such as elastic panels, heating/cooling elements, and clips are added at this stage — Katzkin takes pride in using materials of equal or better quality than original equipment. After another round of inspection, the components are labeled, bagged, and packaged for shipment to the installer.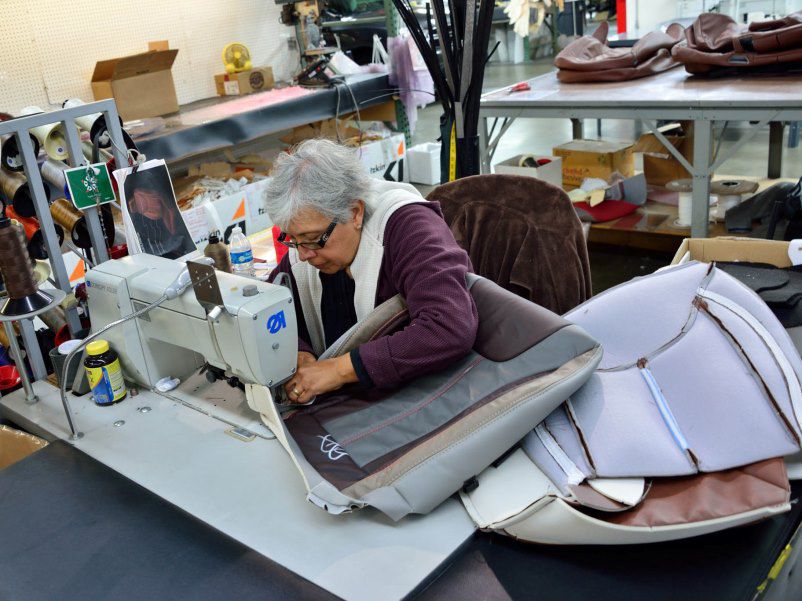 Installation Process
Second on our agenda was to follow an actual installation. Rather than simply follow the process on a customer's car, we allowed Katzkin to upgrade the upholstery on a vehicle of our choosing — we would be more critical about the results, and we'd have some skin in the game, as they say.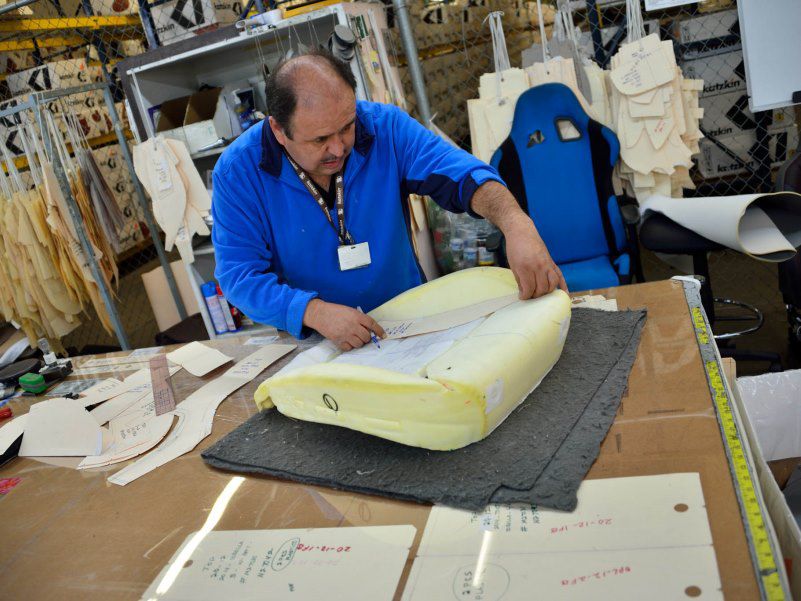 Test Mule
Enter David and his wife Regan. The couple had found a certified pre-owned 2014 Dodge Durango SXT on a local dealer's lot. "I bought the Durango with very low mileage. I wasn't looking for a new fully loaded vehicle. I didn't want to spend money on all the options that my wife really didn't want. I planned on going the aftermarket route to upgrade only the things I wanted," recalls David, "so we found this vehicle, a Base SXT, with light beige cloth and no upgrades at all. The cloth wasn't torn up, but it was dirty and made the inside of the vehicle look cheap and drab. I knew from the very start that I intended to replace it with leather for increased comfort, ease of maintenance, and physical appearance."
The couple chose a two-tone pattern for the three-row interior of the Durango. The black-and-beige panels matched the existing color scheme, while the new darker color would hide some of the dirt on some of the seating surfaces. "We designed it on the Katzkin website, together picking a color palette that complemented the car," said Regan. "Unlike factory leather, there are countless unique designs to choose from, so you don't have to be limited to what the dealer or manufacturer is offering…you can go as crazy or elegant as you like," added David.
Installation typically takes no more than a day or two. Since we were working directly with Katzkin, we left David and Regan's Durango at the company headquarters for the night.
Eye Opening Transformation
The process of replacing a vehicle's upholstery sounds straightforward — remove the seats, strip the factory upholstery, replace the factory seat coverings, and adjust for fit and finish — but it's a bit more complicated than that. Working with the natural material poses its own challenges, as it has to be gently maneuvered over the factory padding and cushions with minimal invasiveness. Watching Katzkin's artisans do their work makes it obvious that practice and skill are the key ingredients. The company does not offer a do-it-yourself kit.
Once completed, the transformation is eye-opening. David and Regan's base-model Durango received a makeover that elevated it to premium levels. The new leather upholstery appears every bit as good (or better) than Dodge's own range-topping Citadel model. "Visually it's so much nicer when I open the door. And seeing all three rows with the two-tone treatment is a very nice look. I especially like the premium black piping around the headrests. It's all in the details," remarks David.
Close inspection reveals nothing that would indicate this is an aftermarket product — there are no wayward clips, stitches, seams, or areas of loose or gathered material to suggest otherwise — and the color is accurate to the factory tones. "The fit and finish is excellent, and it's a very high-quality leather," says David. "It just looks like it was always part of the vehicle. I love the two-tone color that we selected. It matches the beige armrest and door lining along with the black of the dash and center console."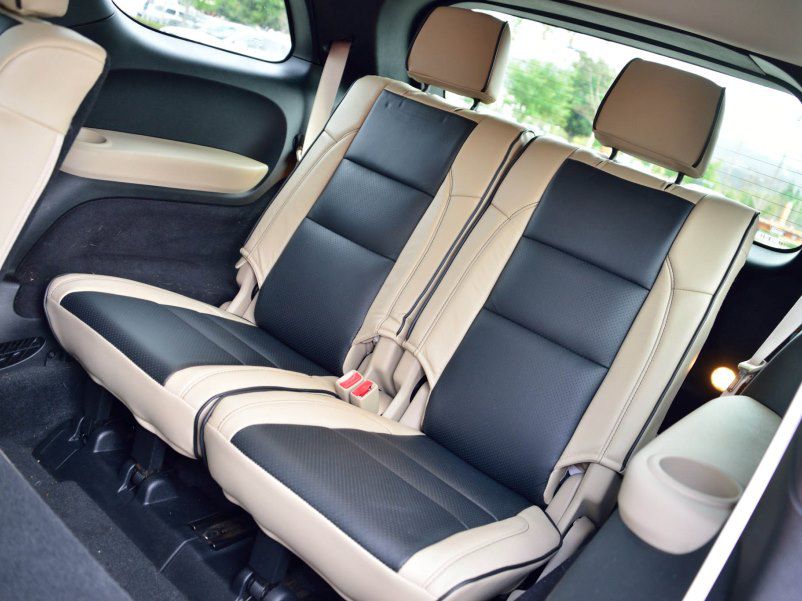 Review
We deliberately waited two months after the installation to revisit the upgraded Durango and ask David and Regan about the leather interior now that they had lived with it for a bit. The Katzkin upholstery starts at $1,995, which is a significant outlay (most dealers will finance the cost into the vehicle payments), and we wanted to know what they thought about such an investment.
The transformation was still putting smiles on their faces 60 days later. "I absolutely love the Katzkin leather! I swear the seats are more comfortable after the leather install," Regan told us. "And I noticed that as the weather has been unseasonably warm, the seats feel much cooler. It is a very nice change." David has been equally as pleased, telling us, "It made my one-year-old pre-owned Durango feel like a brand-new vehicle. It's one hell of a big improvement over the cloth."
Asked if they have had any issues, David said, "The durability seems to be just great. I've had no fitment or wear issues with the leather at all." He did mention that a hard plastic panel on the Durango's driver seatback had come unclipped a few days after installation. He pushed it back until it snapped into place, and it has since held firm. Had there been any greater issues, Katzkin backs all of its work with the peace of mind of a 3-year/36,000-mile warranty.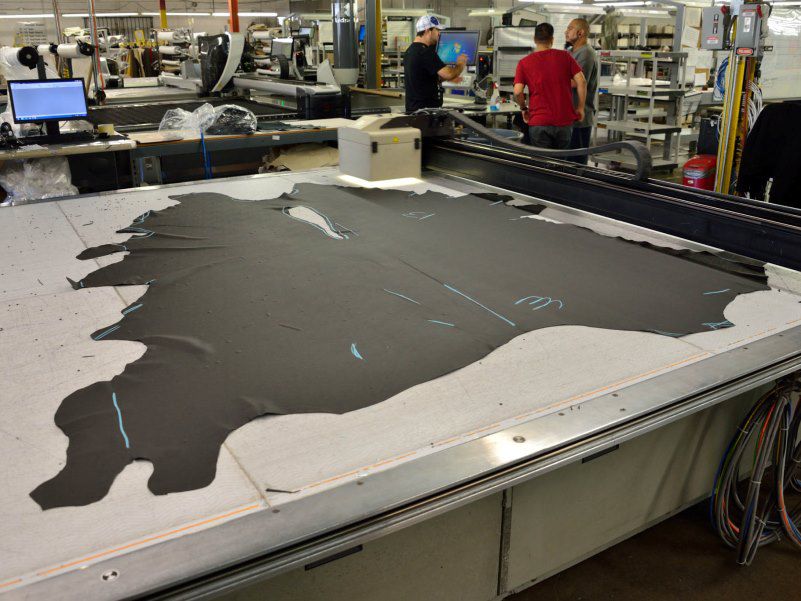 Durable and Easy to Clean
In addition to the premium appearance and comfort, the two have noticed how much easier it is to maintain leather over cloth. "We have a couple of big dogs. The smaller of the two is 95 pounds. The other is 185 pounds, and he drools quite a bit. We don't put the dogs directly on the leather, but when we put the third row down and load them in the back, drool is sent flying when they shake their heads. The cloth used to get wet and stained, which would require soap and water to clean. Now, we just use a wet cloth to wipe it right off. We wipe our seats down weekly, and they still look new," says David.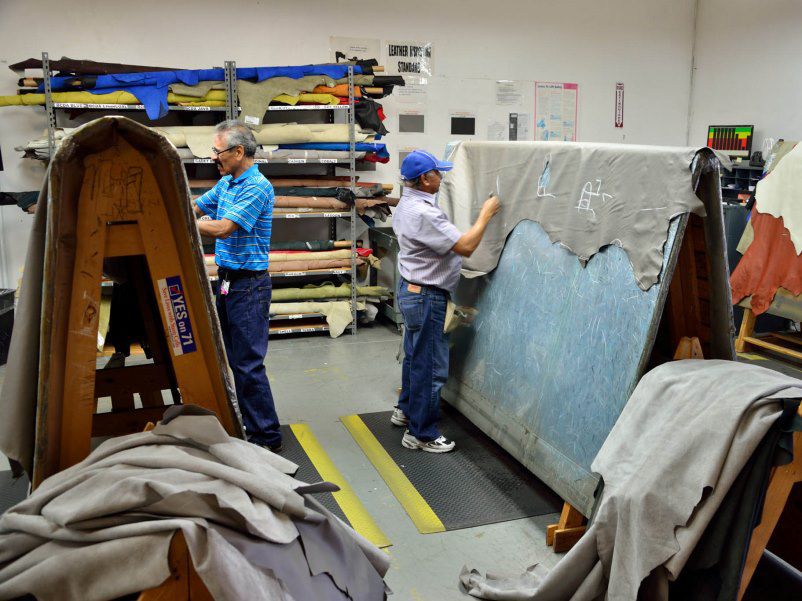 Conclusion
The most important question was whether or not they would do it again and recommend it. "I would highly recommend it," says David, without hesitation. "If you're buying a vehicle and just want to upgrade the leather, without having to add a package of options that you really don't want or need, it's an ideal solution. You can have the vehicle you want with the premium upholstery you want, a la carte."
Regan has been equally smitten. "We have had many people in the car since we switched from cloth, and the first thing people do when they climb inside the car is compliment the leather interior. The Katzkin leather has transformed our Durango from a utility vehicle into a luxury vehicle. I only wish we had done this sooner."