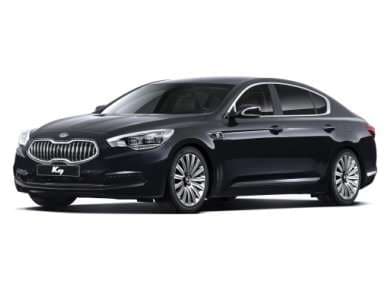 It looks like the new range-topper for the Kia brand will be taking some cues from Volkswagen—at least in terms of its name: Called the K9 in South Korea, it will be known as the Kia Quoris for U.S. and other global customers, with a moniker that would fit right in among VW's Touareg, Routan and Tiguan. Of course, Thomas Oh, executive vice president and COO of Kia's International Business Division, has a slightly different explanation: "Derived from the English words 'core' and 'quality,' the name of our new flagship sedan hints at the attributes at the very heart of the vehicle," he said. "The word 'Quoris' conveys solidity, luxury and high-technology, all resonating together as a chorus.
"Our decision to give this striking new sedan an unconventional name means it will stand out even further from the established crowd, driving Kia sales in what is a new segment of the global automotive market for Kia."
That may, in fact, be the case, but the Quoris is more likely to stand out thanks to its premium take on Kia's dynamic design language and an interesting choice of powertrains. Although a number of sources indicate American buyers will eventually be able to enjoy V8 power in the Quoris, it will launch here (and elsewhere) with a selection of V6 engines. The starting point is expected to displace 3.8 liters and make roughly 285 hp and 255 lb.-ft. of torque, while the enthusiast's choice—initially—will be a similar-sized engine that adds gasoline direct injection as well as about 45 more hp and 40 more lb.-ft. of torque.
In each case, the powerplant is mated to Kia's first eight-speed automatic transmission.
Also distinguishing the Quoris from many potential rivals will be its rear-wheel-drive configuration and long list of advanced safety features, including those detailed below.
2013 Kia Quoris: Putting Safety First
In a Volvo-esque turn of events, Kia is putting a very strong emphasis on safety systems in the 2013 Quoris, which will offer:
Advanced Smart Cruise Control—This adaptive cruise control system can ensure the Quoris maintains a safe distance from the vehicle ahead of it while cruising, and it can even bring the car to a complete stop if necessary. And if it's a short stop—under 3 seconds—the technology will automatically bring the Quoris back up to speed; longer stops require the driver to tap the accelerator or "resume" button.
Blind Spot Detection and Lane Change Assistance—Unlike systems found on some rivals, this safety measure in the Kia relies on radar-enabled sensors—not sonic-based units—which are capable of detecting vehicles at a longer range. It also provides driver alerts both visually, in the Quoris' outside mirrors and head-up display, and audibly.
Lane Departure Warning System—This feature leverages a video camera at the front of the car to detect road markers, and can then alert the driver if the Quoris is beginning to drift out of its own lane.
Around View Monitor—Providing a true 360-degree top-down view, the Quoris' visibility enhancer boasts four cameras and eight separate viewing modes.
Advanced vehicle safety Management—By monitoring the car's full suite of electronic safety technologies, the Advanced Vehicle Safety Management system can determine if a collision is imminent and then provide three stages of alerts to the driver, while also pre-pressurizing the brakes to deliver optimum stopping power and adjusting seatbelt tension in preparation for a crash.
Pricing is not yet available for the 2013 Kia Quoris, but it should undercut the more typical choices among full-size luxury sedans, as well as its platform-mate the Hyundai Equus, and show an MSRP of right around $55,000.