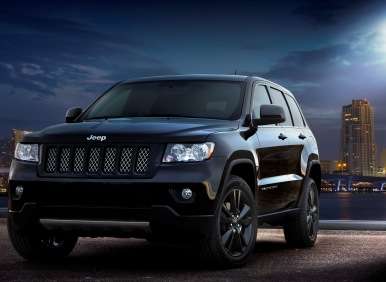 Jeep has just unveiled a new trim package for the Grand Cherokee at the Houston Auto Show, and you just might be the one to name this bad boy.
This murder-for-hire SUV starts by using the Grand Cherokee's mid-level Laredo X package as a base. So standard items already include features such as leather-trimmed seats, heated front seats, leather-wrapped steering wheel and shifter, nine-speaker 506 watt sound system with subwoofer, rear back-up camera, rear parking assist system, and Uconnect hands-free communications system. The Laredo X comes standard with a 3.6-liter V-6 making 290 hp and 260 lb-ft of torque, and we imagine the optional 360 hp/390 ft-lb 5.7-liter V-8 will also be available on this aggressive concept.
What really gives this Jeep its shadowy depth is the unique "Platinum Chrome" grille that manages to black out even more than its much faster/meaner brother, the SRT8. There are also black headlamp bezels and a black liftgate light bar.
The wheels are the real piece that sets this SUV apart from the rest of the Grand Cherokee clan. The concept rides on 20-inch tires mounted on black gloss aluminum wheels that are unique for Jeep.
Before this uber aggressive Grand Cherokee hits the streets, it needs a name. Rather than let Chrysler's marketing wizards come up with another variant of "blacked out," they are going to let you do it. Jeep's "Name My Ride" contest can be found at Jeep.com/namemyride. The winning name will be announced in May, and winning entries will have a chance to win a Grand Cherokee.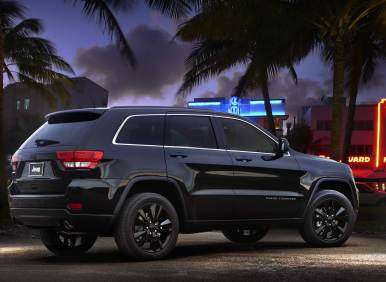 Pricing has not yet been announced for this trim package, and we will not likely get the official figure until this spring when the SUV is named. We can guess that this package should add a grand or two extra to the Grand Cherokee Laredo X's $34,295 base price.
It is easy to understand why Jeep is offering a package like this for the Grand Cherokee. It's the top dog in the brand's lineup, and it needs to do battle with other customizer favorites like the Chevrolet Suburban and Ford Expedition. 
The only thing left is to name it. "Jeep Hitman Edition" or "Jeep Please-Don't-Pull-Me-Over" seem somewhat appropriate.