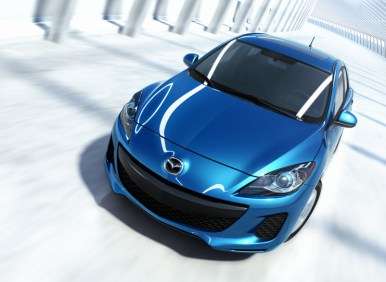 It looks like that SkyActiv business is working out pretty well for Mazda: with that suite of powertrain technologies now available on the 40-mpg Mazda3, the car set a new record for January sales and helped Mazda garner an overall 68.2 percent increase in deliveries for the month. The result was 23,996 sales for the brand and its best January in 18 years.
The Mazda3 alone rang up 9,200 of those sales, representing an 83.4 percent jump in the right direction. A key factor behind that performance? Combining a SkyActiv, direct-injection I4 engine with a SkyActiv six-speed automatic transmission, the Mazda3 sedan has seen its fuel-efficiency marks skyrocket from 25 mpg city/33 mpg highway/28 mpg combined for the 2011 model all the way up to its current best of 28 mpg city/40 mpg highway/33 mpg combined—improvements of 12 percent/21.2 percent/17.8 percent.
Just as importantly, the success of the Mazda3 appears to be rubbing off on its teammates. The subcompact Mazda2 also caught fire in January, burning up the sales charts with a massive 532.6 percent advance on sales of 3,030 units—the car's best sales month ever. Notable as well was the fact that the Mazda2 enjoyed a 126 percent month-over-month increase on its December 2011 sales figures while outselling the new Kia Rio by more than 400 units.
The company's zoom-zoomy crossovers, the Mazda CX-7 and Mazda CX-9, both chalked up record January sales, too. The former benefited from a 32.6 percent sales leap to deliver 3,125 units, while the latter nudged sales up by 1.6 percent and was good for 2,087 deliveries. The Mazda6 didn't manage to break any records last month, but it did boost its numbers by 118.3 percent—accounting for 4,929 sales—to notch its best month since March of 2008.
And although January isn't exactly convertible season in most places in the U.S., the Mazda MX-5 Miata pushed sales northward by 5.3 percent, albeit on just 306 deliveries.
In fact, the only 2012 Mazda vehicle to record a decline in sales last month was the Mazda5 mini-minivan, which suffered through a 24.6 percent sales decline and sold only 1,547 units.
Even as it avoided much of the production problems associated with last year's disasters in Japan, Mazda had fairly tough sledding in 2011, underperforming the industry slightly with an overall 9.1 percent increase in sales. However, at the time, it was lacking competitive entries in two vital segments of the U.S. marketplace—the Mazda3 had slipped so far behind the compact leaders in fuel efficiency that it had become an issue with shoppers, and the automaker was entirely lacking in a small, entry-level crossover.
The SkyActiv Mazda3 obviously has obliterated the first concern, and this month's launch of the Mazda CX-5, also packing an available SkyActiv powertrain, should make short work of the second—and perhaps make it a long year for some of Mazda's rivals.