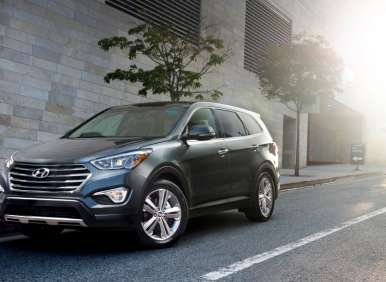 It might have been a coincidence, but as their fuel-economy grades have fallen back to the pack, so have the sales numbers for Hyundai and Kia. Yes, both brands once again achieved record volumes in January, but it was an exceedingly close call: Hyundai's 43,713 deliveries represented a sales bump of 2.4 percent over January of last year, while Kia's total, of 36,302 vehicles, marked just a 2.2 percent improvement.
Commenting on the situation, Dave Zuchowski, executive vice president of national sales for Hyundai Motor America, noted that: "Despite some lingering economic concerns, January turned out to be a solid first month for us.
"The all-new Santa Fe Sport, recently named Best New Crossover in Kiplinger's Personal Finance magazine and the Elantra GT, Best New Car Under $20,000, both continue to do quite well," he continued, adding that: "We look forward to adding the all-new seven passenger Santa Fe to our line-up next month, allowing growing families an opportunity to experience the Hyundai brand."
More specifically, leading the way for Hyundai last month were: 
2013 Hyundai Santa Fe Sport—Also Autobytel's 2013 Crossover of the Year, the restyled Santa Fe Sport was the beneficiary of a 24.3 percent sales leap and delivered 5,991 units in January.
2013 Hyundai Elantra—The Elantra family's three members—including the Elantra sedan and coupe in addition to the GT—combined to push sales up by 11.7 percent to reach 12,174 units.
2013 Hyundai Tucson—Buoyed by new content for the new model year, as well as a place on Insure.com's list of 10 least expensive vehicles to insure, the Tucson's 3,493 January sales were about 12.1 percent higher than in the same month last year.
2013 Hyundai Azera—Obviously skewed by the fact that Hyundai sold just 18 Azeras in January of 2012, the all-new model recorded sales growth in excess of 43,000 percent last month, when the brand delivered 797 units.
January Auto Sales: Kia on the Cusp of Releasing More New Models
The party line here from Byung Mo Ahn, group vice president and CEO of Kia Motors America (and Kia's U.S. manufacturing operations): "January's record performance comes on the heels of the historic sales milestones Kia achieved in 2012 and signals the beginning of an aggressive launch cadence that will deliver a collection of new cars and CUVs, fulfilling our promise to advance value to new levels of sophistication. Customers continue to flock to our showrooms in search of vehicles that represent a smart buy with world-class style, modern amenities and cutting-edge technologies."
Needless to say, those new vehicles—led by the soon-to-launch and all-new 2014 Kia Forte—will come in handy for the brand. After all, just two of its nameplates finished January in the black. The 2013 Kia Optima continued shaking up the mid-size sedan segment by claiming 11,252 new customers last month, which reflected a 27.6 percent improvement in volume, while the 2013 Kia Sorento lifted sales by 9.3 percent on its way to 8,005 sales.