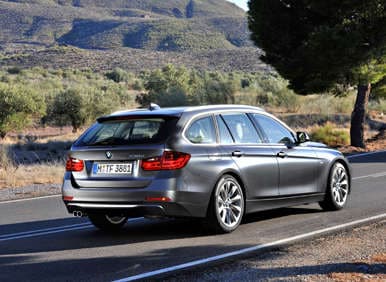 The phased introduction of the next-gen BMW 3 Series continues, with the Bavarians recently showing off the redesigned BMW 3 Series Sports Wagon ahead of its U.S. launch next spring. Drivers can expect evolutionary changes a-plenty with the wagon, which gets a more athletic exterior, some nice tech and comfort upgrades, and added versatility. In addition, if it follows in the tire tracks of its all-new sedan sibling—and why wouldn't it?—the 3 Series Sports Wagon also will gain a new 2.0-liter turbocharged I4 that delivers Ultimate Driving performance and a significant boost to the car's fuel-efficiency ratings.
2013 BMW 3 Series Sports Wagon: Slightly Bigger, A Lot Better
BMW engineers set the 3 Series Sports Wagon on a new platform that allows for a wider stance and longer wheelbase, and the changes, in turn, enable a  range of other benefits. From a performance standpoint, the new proportions deliver notably better handling, but the added inches also mean more interior space—an important upgrade for a vehicle that prides itself on its customer-satisfying capabilities. The result is increased room for both occupants and cargo, with BMW promising an extra 10 percent more room both behind the second-row seats and with those seats folded flat; that will give owners more than 25 cubic feet of cargo space with the seats up and more than 65 cubic feet with the seats down. To put those numbers into context, the current Chevrolet Equinox crossover maxes out at 63.7 cubic feet of cargo-carrying capacity with its second-row folded flat.
The second-row also folds in a 40:20:40 configuration, for added interior flexibility, and the rear cargo hold features four integrated tie-downs, cargo nets and straps, two coat hooks, a 12-volt outlet, an under-floor storage tray, a "deep stowage compartment" for small items and a stowable luggage compartment cover that fits beneath the load floor—allowing the cover to be kept in the car even when not in use. In addition, the 2013 3 Series Sports Wagon will be the first to offer a power liftgate—with hands-free functionality—and it will continue to showcase a rear glass that opens separately from that liftgate.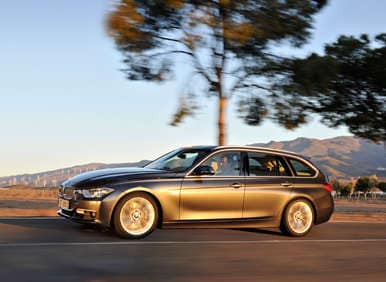 2013 BMW 3 Series Sports Wagon: A Wide-body Beauty
But while the 2013 3 Series station wagon delivers the same kind of interior capabilities as some of today's most popular crossovers, all that space is wrapped in sheet metal that never lets you forget this is a BMW. Designers put much effort into giving the redesigned Sports Wagon a more athletic look that emphasizes its wider stance, using a more unified approach with the car's hallmark "kidney" grille and front light treatments, two wide-spaced front air intakes (instead of the past generation's single centered intake), and new vertical intakes to help create what BMW calls an "air curtain." The latter technology smooths out airflow around the front wheels for improved aerodynamics and enhanced fuel efficiency.
Two character lines on the flanks of the new Sports Wagon help with "stretching the car visually and lending extra verve to its dynamic stance," while detailed design cues at the rear—including LED taillights—provide the finishing touch.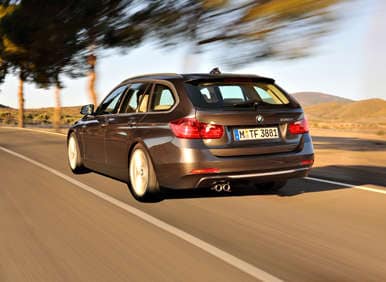 2013 BMW 3 Series Sports Wagon: BMW ConnectedDrive
Naturally, the automaker's comprehensive ConnectedDrive portfolio of infotainment and driver-assist technology also is on the content list of the new 3 Series Sports Wagon. Available features will include:
A full-color head-up display that projects key vehicle information, including safety alerts and driving instruction, in the driver's line of sight on the windshield
Camera-enabled safety and convenience measures like lane-departure warning, blind-spot detection, the BMW Parking Assistant (for automated parallel parking) and a "Top View" rear camera system that delivers a bird's-eye, 360-degree view of the area surrounding the car
Smartphone integration, with the BMW Apps feature enabling easy access to music streaming and the ability to display Facebook and Twitter updates on the Sports Wagon's center-stack monitor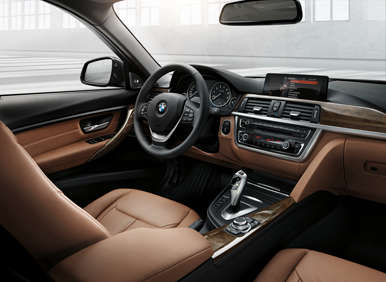 2013 BMW 3 Series Sports Wagon: Downsized Engine, Upsized Performance
Although BMW has yet to release any specific news about powertrain choices for the 2013 BMW 3 Series Sports Wagon, there's no reason to think the standard engine will be anything other than the new 2.0-liter unit from the 328i sedan. An important facet of BMW's efforts to improve fuel efficiency, the powerplant boasts a lightweight aluminum block and the automaker's latest engine technologies, including a TwinPower dual-scroll turbocharger, High Precision Direct Injection, and Valvetronic variable valve timing.
Thanks to that kind of engineering, the new engine can provide more power and better fuel-economy ratings than the 3.0-liter I6 that motivated the previous-generation 3 Series Sports Wagon. As an example of what the I4 can do, consider: In the 2011 328i sedan, that I6 engine made 230 hp, 200 lb.-ft. of torque and EPA ratings of up to 18 mpg city/28 mpg highway/22 mpg combined; with its new forced-induction I4, the all-new version benefits from 240 hp (+4 percent), 260 lb.-ft. of torque (+30 percent) and an EPA line of 23/34/27 (+22.7 percent in combined driving). Similar increases would follow with the wagon, of course.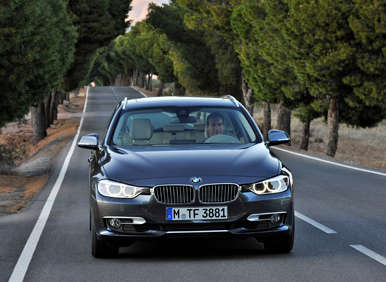 2013 BMW 3 Series Sports Wagon: Versus the Competition
With the Mercedes-Benz C-Class no longer offering a wagon in the U.S. and the outlook gloomy for a Cadillac ATS wagon, the overhauled 3 Series station wagon will face two primary competitors: The Audi A4 Avant and the Acura TSX Sport Wagon. So, here's a quick rundown on how that pair would compare to a Bimmer wagon with the I4 turbo.
2013 BMW 3 Series Sports Wagon—MSRP: $37,800 (est.); 240 hp; 260 lb.-ft. of torque; 22 mpg city/32 mpg highway/25 mpg combined (est.)
2012 Audi A4 Avant—MSRP: $36,400; 211 hp; 258 lb-ft. of torque; 21 mpg city/29 mpg highway/24 mpg combined
2012 Acura TSX Sport Wagon—MSRP: $31,360; 201 hp; 170 lb.-ft. of torque; 22 mpg city/30 mpg highway/25 mpg combined