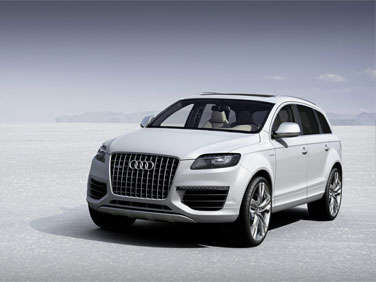 Sport-utility vehicles seem to offer an almost endless variety as automakers from around the world provide their own unique interpretations on how family transportation should look, feel, and drive.  This is especially true in the luxury segment, where companies have a bit more leeway to engineer in interesting details, extra gear, and features that you can't always find at a more affordable price point.  Styling also gets kicked up a notch when laying out the bigger bucks, helping to further separate premium SUVs and crossovers from the rest of the pack.
Let's take a look at 10 luxury SUVs that demonstrate the broad range of what is available for premium family shoppers.
01. 2012 Infiniti FX
The 2012 Infiniti FX was originally styled to resemble a 'bionic cheetah,' a descriptor that is simultaneously unusual and apt when picturing the flowing sheet metal of the mid-size crossover SUV.  The Infiniti FX makes excellent use of its sports car-derived chassis to offer a level of handling not often seen in such a substantial SUV, and the fact that it can be ordered with either a 303 horsepower, 3.5-liter V-6 or a 390 horsepower, 5.0-liter V-8 ensures that it has more than enough gumption to outrun even nature's swiftest predator, should the need arise.  A generous mix of high tech gear is also available with the FX, including Infiniti's seven-speed automatic transmission and an all-wheel drive system that is biased to provide a rear-wheel drive feel through the corners.
02. 2012 Land Rover Range Rover Sport
The 2012 Land Rover Range Rover Sport is another high performance SUV, and the British brand has made sure that its most potent on-pavement warrior hasn't sacrificed any of its off-road prowess in order to achieve its fantastic acceleration times.  The Land Rover Range Rover Sport comes with full-time four-wheel drive, a Terrain Management system that adapts the vehicle to handle whatever Mother Nature might throw its way, and a level of luxury that personifies opulence.  Under the hood, the Range Rover Sport can be spec'd out with either a 5.0-liter V-8 that is good for 375 horsepower, or a supercharged version of that same motor that develops an impressive 510 horses.  A six-speed automatic transmission is standard with either mill.
03. 2012 Lincoln MKX
The 2012 Lincoln MKX makes a strong visual statement with its twin grilles and bold front fascia.  Inside, the Lincoln MKX backs up its first impression with a host of advanced features including a surround sound audio system, a navigation system, the MyLincoln Touch interface which replaces traditional vehicle gauges with LCD displays, and the SYNC voice command system for communication and infotainment gear.  Under the hood, the Lincoln MKX is matched with a 3.7-liter V-6 that has been tuned to provide 305 horsepower, and while a six-speed automatic transmission is standard, all-wheel drive is optional with the mid-size SUV.
04. 2013 Acura RDX
The 2013 Acura RDX is all grown up, and while that doesn't mean that the compact entry-level SUV has increased significantly in size it does explain the recent redesign's updated looks and fresh drivetrain.  Gone is the turbocharged four-cylinder of old and in its place is a 273 horsepower V-6 that gets better fuel mileage and offers more grunt under the right foot.  All-wheel drive is of course still on the options list for the Acura RDX, and the vehicle retains its sporty character out on the road while also dialing in a welcome degree of comfort that was at times absent from its predecessor.
05. 2012 Porsche Cayenne
The 2012 Porsche Cayenne is the best-selling vehicle in the Porsche stable, and while it might not have the same flash as the Porsche 911 it certainly offers more than enough horsepower and the kind of chassis that can keep the mid-size SUV stable and planted when cornering at speed.  All-wheel drive is found across the Porsche Cayenne lineup, which features a bewildering number of engine choices: a 300 horsepower, 3.6-liter V-6, a 400 horsepower, 4.8-liter V-8, a hybrid drivetrain, and an incredibly quick 500 horsepower, turbocharged 4.8-liter eight-cylinder motor.  Transmission options for the Cayenne include a six-speed and an eight-speed automatic.
06. 2012 Infiniti QX
The 2012 Infiniti QX represents the brawny side of luxury, a battleship of a sport-utility vehicle that can tow an impressive 8,500 lbs as well as acquit itself respectably off-road should the occasion present itself.  The enormous Infiniti QX is an eight-passenger ride that comes with the very latest in safety technology - including adaptive cruise control and a lane departure prevention system - as well as a 400 horsepower, 5.6-liter V-6 engine backed by a six-speed automatic transmission.  The QX also features a low-range four-wheel drive system on its option sheet, along with a voice-controlled navigation system, Bose surround sound, adaptive headlights, and a Hydraulic Body Motion Control system that helps to keep the SUV flat when tackling corners at higher than the posted limit.
07. 2012 Land Rover LR4
The 2012 Land Rover LR4 is the Land Rover for everyone, a well-rounded luxury SUV that provides mid-size buyers with the kind of lavish comfort expected by fans of the iconic truck builder.  Available with an optional third row of seating that expands total capacity to seven passengers, the Land Rover LR4 packs an off-road punch that includes a state-of-the-art four-wheel drive system and an air suspension system that can adjust ride height to clear logs and rock outcroppings that it might find in its path.  Power is derived from the same V-8 that is found in the base Range Rover, a 5.0-liter unit that is good for 375 horses and 375 lb-ft of torque.
08. 2012 Mercedes-Benz M-Class
The 2012 Mercedes-Benz M-Class is considered to be the luxury SUV that started the entire premium people mover craze, and well over a decade later the vehicle is still going strong.  Elegant styling and a long list of available equipment are big parts of this year's redesign, with the Mercedes-Benz M-Class providing feature such as an adaptive suspension system, a lane departure warning system, an off-road package, and heated leather seating front and back.  The M-Class can be had with a rare turbodiesel drivetrain that puts out 240 ponies and 455 lb-ft twist (from a 3.0-liter V-6), and it is also offered with a 302 horsepower, 3.5-liter gas V-6, and a twin-turbo, 402 horsepower 4.7-liter V-8.  All-wheel drive comes free of charge with each M-Class model, along with a seven-speed automatic transmission.
09. 2012 Audi Q7
The 2012 Audi Q7 is another large premium SUV that comes with the option of turbodiesel power.  The Audi Q7's 3.0-liter turbodiesel V-6 puts out 225 horsepower and 406 lb-ft of torque, and it's joined by the crossover's base 3.0-liter supercharged V-6 that can be had in both 280 and 333 horsepower configurations.  All are shifted via an eight-speed automatic transmission.  Quattro all-wheel drive is also par for the course with the Q7, which seats seven passengers and comes with the highly refined interior styling that has become a trademark for the luxury company.  It's also worth mentioning that the robust turbodiesel engine offers up fuel mileage of 17-mpg in stop and go driving and 25-mpg on the highway - praiseworthy figures for such a large and powerful vehicle.
10. 2012 Acura ZDX
The 2012 Acura ZDX is a sport-utility 'coupe' that provides four full-size doors for passenger access but also comes with a roofline that slopes precipitously towards the rear, giving it a sleeker appearance.  Style is at the forefront for the Acura ZDX, which aims to make a seriously strong impression with looks that are essentially unmatched in the mid-size SUV segment.  Underneath its look-at-me skin, the ZDX features a 300 horsepower, 3.7-liter V-6 that feeds its output to all four wheels via a six-speed automatic transmission and Acura's Super Handling All-Wheel Drive system, which makes use of torque vectoring in order to enhance traction and cornering stability in a variety of different driving situations.