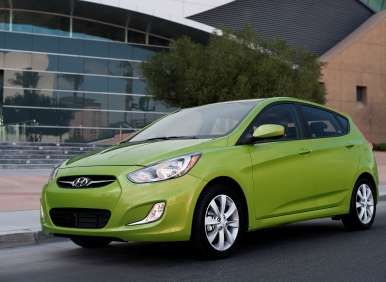 Blaming "procedural errors" for the problem, Hyundai and Kia turned in overly optimistic fuel-economy ratings for some 900,000 vehicles, from the 2011-2013 model years, and will both release new marks for the affected vehicles and reimburse customers for the added fuel costs they've incurred. The issue first came to light after a number of driver complaints led to an EPA audit of the automakers' numbers. (As a reminder, both Hyundai and Kia are corporate siblings that are owned by the same parent company.) Official EPA changes to affected Hyundai and Kia vehicles can be found on a special page on fuel.gov.
"I sincerely apologize to all affected Hyundai and Kia customers, and I regret these errors occurred," said Dr. W.C. Yang, chief technology officer of Hyundai/Kia research and development. "Following up on the EPA's audit results, we have taken immediate action to make the necessary rating changes and process corrections."
Naturally, that action also includes setting up a reimbursement program for owners at www.HyundaiMPGInfo.com and www.KiaMPGInfo.com. The short story is that drivers will be compensated with personalized debit cards, with the actual amounts depending on their odometer readings and discrepancies in their vehicles' combined EPA marks. Individuals who have sold their vehicles are covered as well, and Hyundai and Kia also are kicking in a 15 percent "bonus" on the cards to help make up for the inconvenience.
"Given the importance of fuel efficiency to all of us, we're extremely sorry about these errors," said John Krafcik, president and CEO of Hyundai Motor America. "When we say to Hyundai owners, 'We've got your back,' that's an assurance we don't take lightly. We're going to make this right for everyone, and we'll be more driven than ever to ensure our vehicles deliver outstanding fuel economy."
Hyundai/Kia Fuel-efficiency Adjustments
Fuel-economy changes at Hyundai and Kia run wide and—in some cases—fairly deep. In fact, they're enough to lower the overall average fleet fuel economy for both brands by about 3 percent (from 27 mpg to 26 mpg). Needless to say, there also are too many to list individually; however, among the lowlights of the mess is the banishment of all Hyundai and Kia products from the 40-mpg club, with the biggest losers including:
The 2013 Hyundai Accent goes from an EPA line of 30/40/34 with its six-speed manual to revised marks of 28/37/32.
The 2013 Hyundai Elantra moves from 29/40/33 with either transmission to 28/38/32 with both.
The turbocharged 2013 Hyundai Santa Fe Sport 2WD sinks from 21/31/25 to 20/27/23; with its naturally aspirated engine, the grades change from 22/33/26 to 21/29/24.
Retreating from its original ratings of 26/38/30 is the manually transmissioned 2013 Hyundai Veloster Turbo, now at 24/35/28.
Launched at 31/40/34, the 2013 Kia Rio Eco falls off to 30/36/32; the "regular" Rio was at 30/40/33 with an automatic, but is now at 28/36/31.
Some 5 to 6 highway mpg evaporated across the 2013 Kia Soul family, with the 2.0-liter, automatically transmissioned version enduring a decrease from 26/34/29 to 23/28/25.