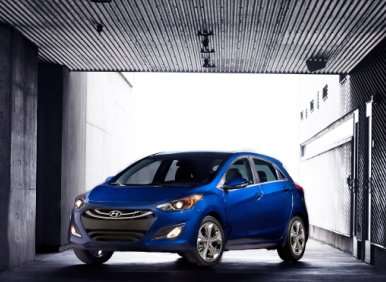 The last member of Hyundai's old-school car lineup is about to reach the end of its life cycle, as the brand's five-door compact hatch graduates to a next-gen platform and a brand-new name: The 2013 Hyundai Elantra GT, essentially replacing the current Hyundai Elantra Touring, is slated to go on sale later this month with an MSRP that starts at $18,395 with a six-speed manual transmission and $19,395 with one of the automaker's SHIFTRONIC six-speed automatics. And yes, that pricing does reflect what's become a familiar trend at Hyundai, as it raises the price of admission to the five-door Elantra by a significant $2,400.
Of course, the Elantra GT also delivers significantly more in the way of premium standard equipment, too, along with a major improvement in fuel efficiency and more interior volume than rivals like the Ford Focus, Mazda3 or Volkswagen Golf. Better yet—for enthusiasts—a credible case can be made that Hyundai did more than just swap suffixes here, it actually did transform the Touring car into a GT.
2013 Hyundai Elantra GT: A Versatile Athlete
Hyundai starts off by explicitly telling us that, "while the Elantra sedan is tuned for comfort," the new "Elantra GT is tuned for added feel, responsiveness and control." The brand then delivers a standard sport-tuned suspension with higher spring rates than the sedan, as well as the kind of improved control that comes with a 22-mm front stabilizer bar, a V-Beam rear suspension design and even precision components like Sachs dampers and Hyundai's Driver Selectable Steering Mode. That latter system allows drivers to dial in their preferred levels of steering performance with "Comfort," "Sport," and "Normal" modes. And remember, all this is standard on the base car; adding the Style package brings revised suspension tuning specifically engineered for the package's bigger, 17-inch wheels.
On the other, the Elantra GT displays an un-GT-like approach to fuel efficiency and is, in fact, much less thirsty than the 31-mpg Elantra Touring. Thanks to its more advanced 1.8-liter I4 engine—the same used in the 40-mpg Elantra sedan—the GT is expected to return a best-in-class 39 mpg during highway travel. Now, the GT's powerplant hasn't been touched, so it also delivers the same 148 hp and 131 lb.-ft. of torque as the sedan, but now that output is inside the lightest car in its segment, with a correspondingly better power-to-weight ratio.
(From the rampant speculation department: Hyundai notes that the Elantra GT's packages—about which, see the next page—were set up to mirror those of the Hyundai Veloster. Which offers a new Turbo model that forces 201 hp and 195 lb.-ft. of torque from its 1.6-liter I4. A turbocharged five-door Elantra GT would be an excellent complement to the three-door Veloster Turbo.)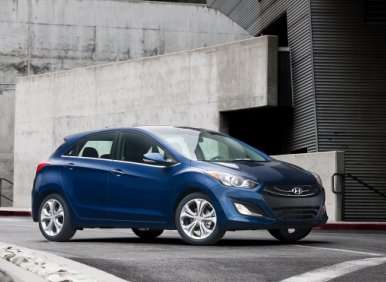 2013 Hyundai Elantra GT: Pricing Details
As mentioned, the 2013 Hyundai Elantra GT follows the same pricing template as the Veloster, with the details as follows:
Hyundai Elantra GT—As also mentioned, the entry GT with a six-cogged manual transmission starts at $18,395, and the car is $19,395 with the SHIFTRONIC unit. Those MSRPs include standard features like Driver Selectable Steering, premium cloth seating with heated front seats, a tilt/telescopic steering wheel with integrated audio controls, air conditioning and a cooled glovebox, Hyundai's BlueLink telematics system and Bluetooth hands-free technology, foglights, a rear spoiler, and seven airbags, including a driver's-side knee air bag.
Hyundai Elantra GT with Style package—Added standard content includes:
17-inch alloy wheels
Upgraded suspension tuning
A panoramic sunroof
Integrated side-mirror turn signals
Leather seating surfaces, as well as a leather-wrapped steering wheel and shift knob
A power-adjustable driver's seat with power lumbar support
Aluminum pedals
The added cost? $2,750.
Hyundai Elantra GT with Technology package—After the Style package, owners also can opt for a Technology package, for a further $2,350, that welcomes a navigation system with a seven-inch display screen, a rearview camera system, automatic headlamps and dual automatic temperature controls.