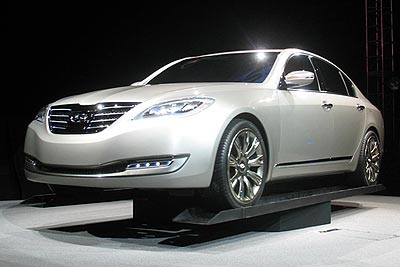 Hyundai Concept Genesis Preview – New York Auto Show: In concept form, it's called the Genesis, though we suggest Phaeton for the production version. That's the name Volkswagen gave its luxuriously magnificent and exorbitantly priced uber sedan, the one that few bought because it wore a VW badge. A similar scenario would be feature a company like Hyundai offering a rear-wheel-drive "sport" sedan, slated in above the already spacious Azera and rumored to be powered by a V8. The difference, of course, is that Hyundai has proven successful in every applicable segment with its focus on quality, safety, and value. But will sport sedan drivers flock to Hyundai, a company known for soft-riding sedans and SUVs, for their thrilling daily commuter? If so, look for a heavy-duty crew cab pickup to be next.
Why it Matters
Hyundai has proven itself to be a company that learns from experience and continually improves its products. It has also shown itself to be capable of building safe, relatively efficient, affordable – and with the launches of the Azera and all-new Veracruz – finely-crafted vehicles. The Genesis could, potentially, blend all of those attributes with a sport sedan that matches the hustle of respected nameplates costing thousands, if not tens of thousands more, all in a package that, good or bad, borrows styling cues from the best. The potential is huge given the countless number of buyers who want to pay less without sacrificing.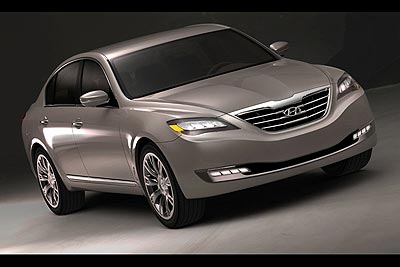 What's Under the Hood
If the fact that Hyundai's building a stylish sedan on an all-new rear-wheel-drive platform isn't surprising, maybe what's going under the hood will be. The entry-level version of the Genesis will reportedly house a V6, no big news there. But the option sheet will include a V8, one that execs claim will crank out more than 300 horsepower and will result in a 0-60 mph time of less than six seconds and a top speed restricted to 130 mph. Yes, we're still talking about a Hyundai. Bearing the internal codename Tau, this 4.6-liter, double overhead cam aluminum powerplant will also supply more than 300 lb.-ft. of torque and feature variable-valve timing. A six-speed Shiftronic manually-interactive automatic transmission will be included as well.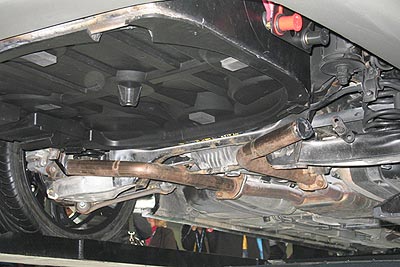 What it Looks Like
After a few minutes of observation, our staff sees the adoption of several manufacturers' styling cues in the Hyundai Concept Genesis. Up front, the shape of the large grille and angled headlights resemble a Toyota Camry, while the side profile (especially around the rear pillar) hints strongly at Volkswagen and Audi. Out back, the tiered look atop the rear quarter panel immediately ties the Concept Genesis to a BMW 7 Series sedan. As a package, there's some definite German/Japanese mojo happening here. However one views this ride, there's no denying it's one hot Hyundai. Man, those are two words we never thought we'd put together…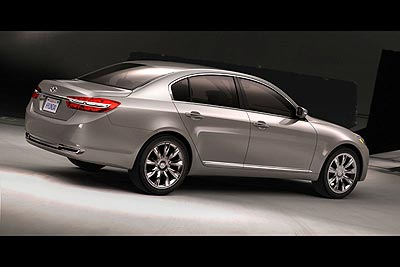 What's Inside
As is typical with many concept vehicles, the interior of the Genesis is hidden behind opaque windows, allowing us to only guess the look of the cabin, though Hyundai will say that passenger room is in the ballpark of a BMW 5 Series and Mercedes-Benz E-Class. Standard and optional equipment will include eight airbags, keyless ignition, a navigation system with an integrated rearview camera, a 500-watt Infinity surround sound system with XM satellite radio and HD capability, and intelligent cruise control.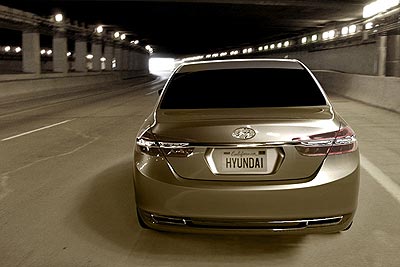 What Hyundai Says
Hyundai's new CFO, Steve Wilhite, contends "Concept Genesis extends our product range into new territories from a performance, design and packaging perspective. When it arrives in 2008 it will catapult Hyundai into competition against some potent rivals, and Genesis is up for the challenge." John Krafcik, the company's VP of Product Development describes Concept Genesis as "a manifestation of Hyundai's extraordinary desire to deliver world-class products across all model segments. With Genesis, we've got a unique product position – an all-new, highly capable, rear-wheel drive platform; a high-performance powertrain; and premium, progressive design – all at a price starting well under $30,000."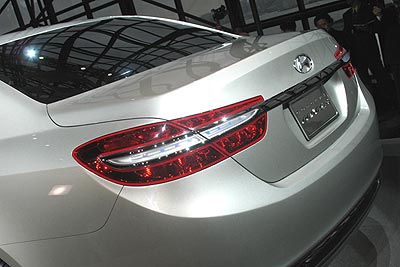 What We Think
It's clear that the hoopla around the Concept Genesis is due primarily to the rear-wheel-drive architecture and V8 engine, but if that's all buyers were interested in, there are a number of options already on the market. What makes this Hyundai intriguing is the value proposition, but at what price does it lose its appeal? It's hard to say, but when the basic Genesis reportedly starts at less than $30,000, that means you're looking at the mid to high $30s for a well-equipped V8 model. Will buyers be willing to drop what could be close to 40 large on a Hyundai, when a rear-drive BMW or similarly-powered Acura could be had instead? To us, that spells tough sell.
Photos courtesy of Hyundai