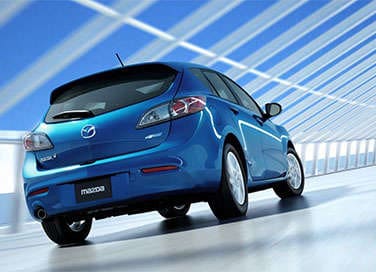 When it comes to offering large amounts of versatility in a relatively small package, the entries on our approved list of hatchback cars for 2013 are some of the best in the business. Consider: At this stage in the game, most of the choices on our list of hatchbacks are next-gen vehicles that combine superior efficiency, up-to-date technologies, and modern-day quality—and even our more traditional selections offer unique advantages for five-door fans.
Just note that Autobytel's "hatchback cars 2013" list does not include any of the slowly growing number of upscale liftbacks like the 2013 Audi A7 or upcoming 2014 BMW 3 Series GT, which make an effort to maintain a more sedan-like silhouette while still delivering the benefits of wide-open access for cargo and gear.
We'll stick with vehicles that fully embrace their hatch-iness, including … .
Hatchback Cars 2013: 2013 Chevy Sonic
Although the 2013 Chevy Sonic shows a distinct family resemblance to its predecessor on the outside, that similarity doesn't extend beneath the skin of the first draft pick on our list of hatchback cars for 2013. Instead, the Sonic offers a pair of high-efficiency I4 engines, automatic and manual six-speed transmissions, and EPA marks that reach 29 mpg city/40 mpg highway/33 mpg combined. Further, as is the case with a number of GM's newest products, the high-mileage engine also is the high-performance pick: It's a 1.4-liter I4 turbo that makes a responsive 138 hp and 148 lb.-ft. of torque, which is plenty of punch for a subcompact; in fact, this is the same unit that propels the hi-po Sonic RS.
Chevy also provides a surprisingly impressive level of technology in the Sonic, ranging from the brand's MyLink connectivity/infotainment system to industry-first integration of Apple's digital personal valet, Siri.
The Sonic leads off the list of hatchbacks for 2013 with an MSRP that opens at $14,185.
Chevy Hatchbacks 2013 Runner-up: 2013 Chevrolet Spark.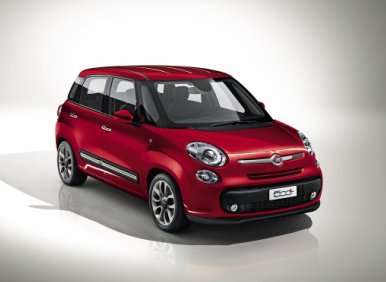 Hatchback Cars 2013: Fiat 500L
To stay on the leading edge of the industry, Autobytel's approved list of hatchbacks also includes some that aren't quite on sale yet, including the 2014 Fiat 500L. Now, the 500L isn't just a bigger version of the original, but it is that, too. With an additional 26 inches in length as compared to the 2013 FIAT 500, as well as an extra six inches in both height and width, the 500L is just a few inches longer than a Honda Fit—yet its roomy cabin delivers the same dimensions as vehicles in the EPA's "large car" class.
The Italian-American member of our Hatchbacks 2013 roster also gets a 1.4-liter turbocharged I4 engine with Fiat's efficiency-enhancing MultiAir technology, capable of making a robust 160 hp and 184 lb.-ft. of torque. (Fuel-economy grades for the car are not yet available.)
The 2014 Fiat 500L—and the rugged 500L Trekking edition—are expected to land in dealerships this summer, with pricing still TBD.
Fiat Hatchbacks 2013 Runner-up: 2013 Fiat 500 Turbo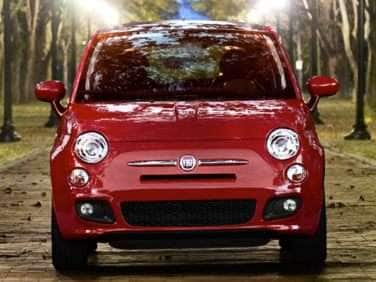 Hatchback Cars 2013: 2013 Ford Focus ST
Any list of hot hatchback cars for 2013 simply has to include the sizzling 2013 Ford Focus ST. Priced from an affordable $23,700, the Focus ST packs in a high-output EcoBoost I4 engine that manages to wring 252 horses and 270 lb.-ft. of torque from just 2.0 liters of displacement—and features an aggressive overboost function that delivers a 15-second power burst right in the heart of the torque band. But even with all that power on tap, along with a six-speed manual transmission, sport-tuned suspension and three-mode drive selector, this entry on Autobytel's list of hatchbacks rings up an EPA line of 23 mpg city/32 mpg highway/26 mpg combined.
"This is just one more example of the 'win-win' in the Focus ST narrative," according to Raj Nair, group vice president of Global Product Development for Ford. "This kind of performance combined with these high levels of efficiency sets a new benchmark with this car."
Ford Hatchbacks 2013 Runner-up: 2013 Ford Fiesta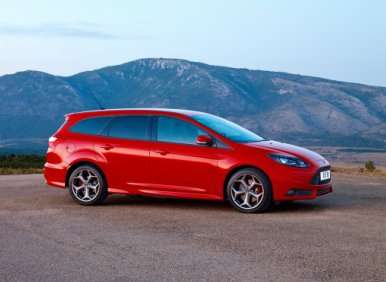 Hatchback Cars 2013: Hyundai Elantra GT
The highly successful Hyundai Elantra family added a five-door variant to its lineup for the 2013 model year, so we've added the 2013 Hyundai Elantra GT—stickered from $18,545—to our top-10 list of hatchbacks for 2013.
Providing a dash of added driving dynamics to the Elantra lineup, the GT's 1.8-liter I4 engine serves up 148 hp and the highest specific output in the class, and that's combined with the lowest curb weight in the segment, a sport-tuned suspension, and better aerodynamics than rivals like the Subaru Impreza, VW Golf or Toyota Matrix. Just as importantly, the Elantra GT can swallow more cargo than vehicles such as the Nissan Juke crossover, with stowage that includes a sunglasses holder, a cooled glove compartment, under-floor storage, and numerous cup and bottle holders.
As a result, the GT is a particularly engaging addition to our range of notable hatchback cars for 2013, backed by EPA ratings of up to 27 mpg city/37 mpg highway/30 mpg combined.
Hyundai Hatchbacks 2013 Runner-up: 2013 Hyundai Veloster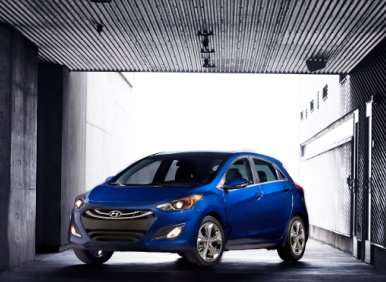 Hatchback Cars 2013: 2013 Honda Fit
The 2013 Honda Fit is one of the few old-school choices on today's list of hatchback cars, but it's a mark of the manufacturer's fuel-efficiency expertise that the vehicle can still achieve the second-highest combined EPA rating of any of our hatchbacks for 2013—31 mpg, bracketed by grades of up to 28 mpg city/35 mpg combined.
Further, when it comes to versatility, the Fit supplies a uniquely adaptable cabin that even the newest hatchbacks of 2013 aren't able to match: The car's "magic seat" system allows owners to fold flat both the back row and the front passenger seat, and also fold up the rear seat bottoms to handle taller objects. The tale of the tape: 57.3 cubic feet of cargo space, with the ability to stow objects up to 7.75 feet long and up to 4 feet tall.
The 2013 Honda Fit is available from $15,425, and for those who can wait, the all-new 2014 models will launch in the second half of this year.
Honda Hatchbacks 2013 Runner-up: 2013 Honda Crosstour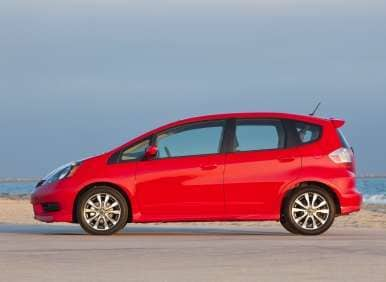 Hatchback Cars 2013: 2014 Kia Forte 5-Door
Autobytel also welcomes the all-new 2014 Kia Forte 5-Door to our latest listing of hatchback cars for 2013. The five-door Forte wraps a new iteration of Kia's striking design language around a package that offers two of the peppier powerplants in the class. Standard is a 2.0-liter I4 that delivers 173 hp and 154 lb.-ft. of torque, with the range-topping SX model holstering the brand's first forced-induction I4: A 1.6-liter turbo that pumps out 201 hp and 195 lb.-ft. of torque.
Kia hasn't revealed pricing or projected EPA ratings yet, but the Forte 5-Door should provide plenty of value, even compared to the other strong choices on our list of hatchback cars for 2013. After all, the Forte 5-Door includes standard features like Bluetooth wireless technology, access to Kia's UVO eServices, a rearview camera, the FlexSteer variable-steering-effort system, LED accents lights, fog lights, and a leather-wrapped multi-function steering wheel.
Kia Hatchbacks 2013 Runner-up: 2013 Kia Rio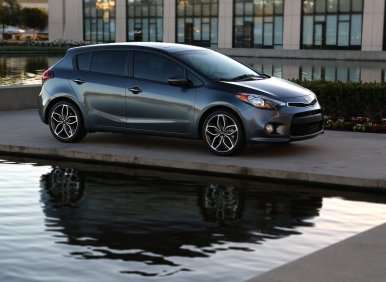 Hatchback Cars 2013: 2013 Mitsubishi Lancer Sportback
For owners who want one of the top hatchbacks of 2013 but prefer a more outside-the-box option, there's the 2013 Mitsubishi Lancer Sportback, with an MSRP that begins at $18,495.
The Lancer Sportback does happen to be another previous-generation car, but with the same platform that underpins the iconic Mitsubishi Lancer Evolution, a choice of two relatively powerful engines, and a notable focus on audio technology, this is a vehicle that brings some owner-satisfying rewards to Autobytel's list of hatchback cars. For example, the top-of-the-line Lancer Sportback GT boasts a 168-hp I4 engine, a sport-tuned continuously variable transmission with Sportronic manual-shifting capability and magnesium paddle shifters, and Mitsu's FUSE hands-free technology. And on the versatility front, all models come standard with plug-in roof-rack sockets for cargo accessories from Thule.
Naturally, navigation is available as well, and so is an incredible Rockford Fosgate sound system that rocks 710 watts of power, nine speakers (including a 10-inch subwoofer), and a digital signal processor.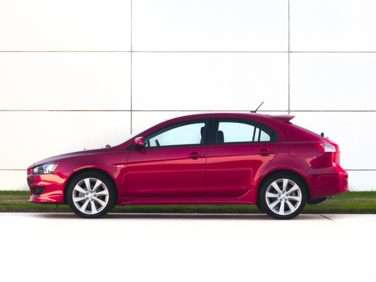 Hatchback Cars 2013: 2013 Mazda MAZDA3
The 2013 Mazda Mazda3 isn't quite as efficient as the sedan—attaining "just" 39 mpg highway instead of the four-door's 40 mpg—but its SKYACTIV powertrain technologies make this Mazda more than worth of inclusion on the "Hatchbacks 2013" roster. That's because not only is the SKYACTIV system efficient in terms of fuel consumption, it's also highly efficient at extracting power: Drivers will benefit from 155 hp and 148 lb.-ft. of torque to go with that highway mark, along with EPA grades of 28 mpg city/32 mpg combined.
Prices here begin at an even $20K, with standard goodies like:
Bluetooth for hands-free calling and audio streaming
Dual-zone climate system
Keyless entry and push-button start
Leather-wrapped steering wheel (with integrated controls) and shift knob
A six-speaker sound system
Collapsible pedals, for safety
Halogen headlights
Aluminum-alloy wheels
Mazda also hosts the most powerful player on the 2013 list of hatchbacks: The 263-hp Mazda MAZDASPEED3.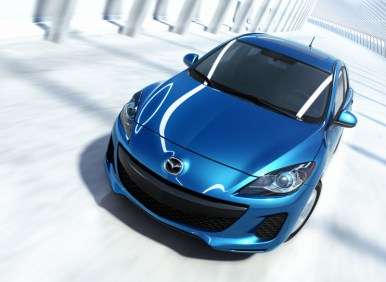 Hatchback Cars 2013: 2013 Subaru Impreza
The 2013 Subaru Impreza brings the exclusive advantages of symmetrical all-wheel drive to the Autobytel list of hatchback cars for 2013, and it builds on that benefit by also being the most fuel-efficient AWD vehicle in America. Thanks to a wholesale redesign for the 2012 model year, the Impreza can now reach 27 mpg city/36 mpg highway/30 mpg combined—essentially the same marks as the Honda Fit.
This year, Subaru has deployed new refinements to the Impreza to make it a better value, too: The base model, with an MSRP of $18,395, now comes standard with Bluetooth technology for hands-free calling and audio streaming, along with improved iPod compatibility. Moving up the model hierarchy, the Impreza 2.0i Premium gets a standard all-weather package, while Impreza models with Subaru's available navigation system gain a rearview camera.
Needless to say, after the Impreza doubled sales during 2012, Subaru is expecting more gains this year for its member of the Autobytel Hatchbacks 2013 squad.
Subaru Hatchbacks 2013 Runner-up: 2013 Subaru Impreza WRX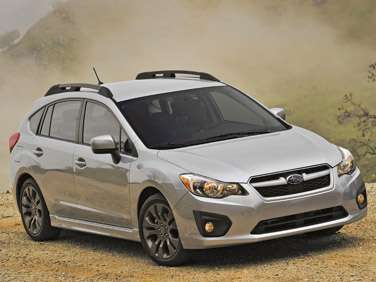 Hatchback Cars 2013: 2013 VW Golf
Even with the next-gen version on the horizon, the 2013 VW Golf brings some exclusive features to the top-10 list of hatchback cars: First off, it's the only entry available in a three-door configuration, with a price of admission that starts at $18,095; the starting point for the five-door Golf is $19,995. Then, Volkswagen also offers one of its TDI engines in the Golf, making it the only diesel choice on the roster—and the one with the highest fuel-economy marks of any of our approved hatchback cars for 2013. Regardless of the transmission it's paired with, the Golf TDI is rated at 30 mpg city/42 mpg highway/34 mpg combined.
Of course, at the other end of the spectrum, Volkswagen also is home base for the original hot hatch, the VW GTI, motivated by a 200-hp turbocharged I4 engine with TSI fuel-injection technology and 207 lb.-ft. of torque.
As an added bonus, the final face among our Hatchbacks 2013 crew comes standard with a three-year/36,000-mile complimentary maintenance service.