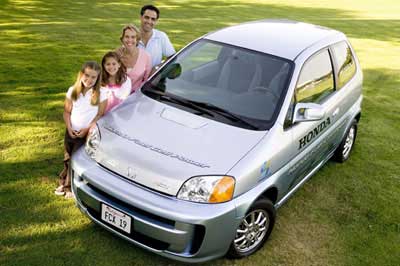 LOS ANGELES – Imagine you're a car company known for building fuel-efficient cars powered by some of the world's cleanest engines. One that fights off the status quo by building a 300-horsepower flagship sedan with six rather than eight cylinders, one that has a hybrid when most of the competition is just getting into the game. That would make you the first-ever automaker to lease a fuel cell-powered vehicle to a private consumer. It would also make you Honda. "Honda furthers its commitment to the continued advancement of this technology for the benefit of society," said John Mendel, senior vice president of automotive operations for American Honda. "The ultimate goal is achieving large-scale commercialization of fuel cell vehicles." For now, Honda is focused on the Spallino family and their 2005 Honda FCX. To determine who would be the first leasee of a Honda FCX, company officials first looked at owners of the Honda Civic GX, a natural-gas powered version of that popular compact car. That search led to Redondo Beach, Calif., residents Jon and Sandy Spallino and their two kids. The family will lease a 2005 Honda FCX for two years; a $500 monthly lease payment will cover insurance and all maintenance costs. Upon accepting the key to the family's new FCX, Jon Spallino noted that he considers himself not so much an environmentalist, as "an individual who gives a damn," someone who sees a danger in dependence on foreign oil, and the downside of oil selling at $60 per barrel.
FCX Details
If you remember when the first Honda Insight hybrid vehicle was released, you understand that new technology can look a bit strange. The Insight offered mileage in the 60-mpg range, yet allowed room for only two occupants, wore funky rear wheel skirts, and rode on skinny tires to maximize fuel efficiency. Today there is the 2005 Honda FCX, which aside from the large Honda FCX badges plastered on its flanks, looks like your average two-door compact. Inside, it's typical Honda with instrument panel buttons and textures drivers will be accustomed to, seating for four, a small storage area behind the rear seats, and even the familiar chime when the key is in the ignition. However, the high floor hints at what is different about the FCX. A fuel cell resides under the midsection of the 2005 Honda FCX, using hydrogen and air to generate electricity, which is then used to power a motor that moves the front wheels. The electric motor uses up to 80 kilowatts of power and 272 lb.-ft. of torque to propel the 3,700-lb. FCX to a maximum speed of 93 miles per hour. Four disc brakes bring the 205/60R15 Yokohama tires to a halt, and a single speed transmission is constantly engaged. Hydrogen is stored in two tanks located below the rear seats, with a total capacity of 3.75 kilograms (about four gallons). There are two fuel doors on the rear passenger side – one for the hydrogen fueling nozzle, the other for a ground plug to make re-fueling safer. Total traveling range is about 190 miles, though Honda engineers aim to expand that figure over time by increasing the capacity of the hydrogen tanks and decreasing the FCX's curb weight. Refueling takes some planning, but Honda, and the state of California, are working on that. The 2005 FCX features a voice-activated navigation system that includes directions to the nearest hydrogen fueling stations, and the California Hydrogen Highway Initiative is aimed at building the state's refueling infrastructure by 2010. There are a handful of stations currently operating in California, with the bulk located in the southern part of the state and a few more in the San Francisco and Sacramento areas. Hydrogen is currently priced at about $4.50 per kilogram, though Honda officials claim that the price should go down to about $1.50/kg by 2010, thanks in part to the improved infrastructure. Also helping to lower the cost will be the numerous power options available for separating and obtaining hydrogen: solar, wind, coal, nuclear, natural gas, and others. Honda's goal is flexibility, allowing for hydrogen to come from any number of sources, while lessening the dependence on one fuel source, such as petroleum.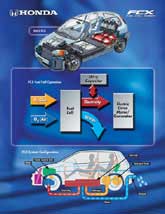 Wrap-Up
With the lease of a 2005 FCX to a private consumer, Honda has taken a monumental step forward in the realm of alternative-powered transportation, and officials from the automaker and the state of California are committed to making sure it's not the last. Honda will follow the Spallino lease with additional private leases over the next year. And, in April 2005, California Governor Arnold Schwarzenegger announced the state's commitment to the California Fuel Cell Partnership, a pairing of private companies and public agencies intended to promote the commercialization of fuel cell technology. The government (California, at least) and car companies are working together to develop a clean, sustainable fuel source – it might be time to stop holding your breath and suck in some water vapor exhaust.
Photos courtesy of Honda