Honda FCX – Fuel Cell Concept: Honda's newest FCX is the next stage of fuel cell development from arguably the leader of hydrogen mobility. With the improvements made to the range and performance of the vehicle as well as the size and weight of the fuel cell, Honda has inched fuel cell vehicles closer to prime time. The new FCX will be made available for limited purchase in 2008.
How it Works
A fuel cell vehicle is powered by an electric motor running on electricity generated by a fuel cell stack that uses hydrogen as its energy source. The Honda FCX creates its energy via two hydrogen tanks filled up to 5,000 psi, and a fuel cell stack that makes significant strides in development, primarily in it's smaller, vertical design. This allows for better water drainage, and as a result creates more power, range, and starting consistency in colder climates.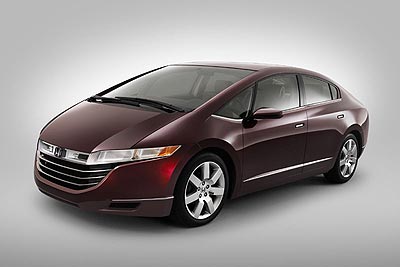 Why it Matters
It matters if you like clean skies and believe that global warming is, indeed, a threat. If you don't, go ahead and go back into the Dubya Tent. Fact is, most automakers agree: hydrogen fuel cell vehicles are a serious and needed part of future mobility solutions. Honda's FCX seems to be the most advanced fuel cell vehicle today, and while it's a concept, the good news is that it will be on sale as early as 2008, thanks to significant advancements in making the cell smaller, stretching vehicle range to 270 miles, and improving power – the concept can get up to at least 90 mph.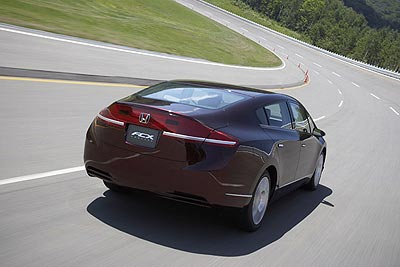 What's Under the Hood
The fuel cell of the FCX is small enough to fit in between the driver and passenger seats. This new fuel cell stack is 20 percent smaller and 30 percent lighter than the current FCX stack, yet its power output is 14kW greater. Overall, the power plant is about 180kg lighter than that of the current FCX and about 40 percent smaller in volume. The result is improved energy efficiency and performance along with a more spacious interior. As an auxiliary power source, the FCX Concept carries a compact, high-efficiency lithium ion battery, helping with increased power output and vehicle range. The vehicle is also highly energy efficient at around 60 percent -- approximately three times that of a gasoline-engine vehicle, twice that of a hybrid vehicle, and 10 percent better than the current FCX.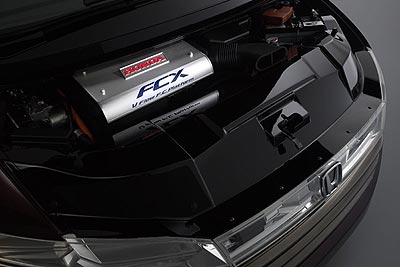 What it Drives Like
We drove the Honda FCX on a shortened course at Laguna Seca and found it to be quite an admirable ride. Sure, the concept handled a bit like a Honda Odyssey in the turns and sounded like a pack of angry bees, but that's a good thing – there are sedans out there that would fail to match up with the Odyssey. It's especially impressive given the weight on board (around 3,500 pounds) and the dimensions of the FCX, weight that while nicely centered was still felt in the vehicle's performance. A specially-designed double-wishbone suspension handled the track pretty well, with a hint of floatiness and fade.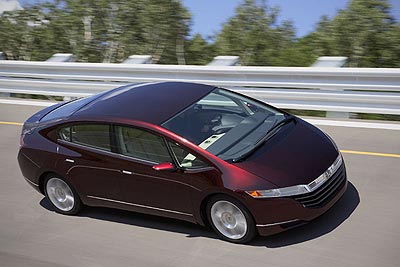 What it Drives Like, Part II
Indeed, the very idea that a hydrogen car could get around a racetrack in nimble fashion is stunning, and save for a turn or two, the FCX was exactly that – a bit boatish but nimble nonetheless, with brakes that were heavy and spongy but good enough to use at a decent speed. On the straights, the FCX took some time getting up to speed, but its 127 horsepower/189 lb.-ft. of torque plant did get there. It fairly jumped up and started running on the initial throttle command, getting up to 40 mph or so in short order. After that, you can feel the powertrain bog down slightly, and getting over 80 mph – while easily doable – is a bit laborious.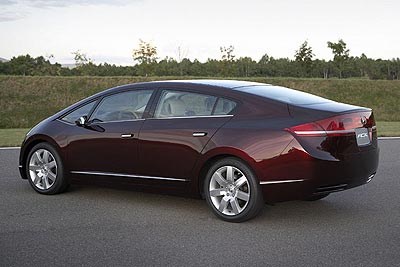 What it Drives Like, Part III
Finding speed may take a bit of patience, but the Honda FCX Concept gets there much faster than in the latest FCX model. That vehicle, which is almost 500 pounds heavier and with the fuel cell placed horizontally under the passengers, drives like a top-heavy SUV. And while it also made it around the track, it did so gingerly, with not near the slash and spirit of the FCX Concept. All in all, the FCX is very, very, close to what the cars of today are like. Now, about that refueling issue...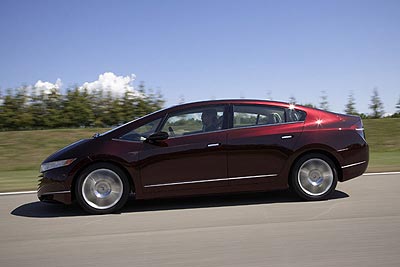 How to Fill it Up
If you were to drive an FCX to work you'd have to fill it up around every 350 miles – not a bad range. To do so, however, you'd need to make friends with Al the maintenance guy at the local city yard, 'cause that's where most hydrogen refueling centers are. It's a simple enough affair with two cables: one for ground and the other for fueling. It's just that you get this feeling that if you do it wrong, er, things might blow up. But that's today. For tomorrow, Honda is developing a Home Energy Station that will extract hydrogen from a home's natural gas supply. The problem is that carbon dioxide spews forth when you produce hydrogen this way, which sort of defeats the purpose. Honda engineers are working on zero-carbon solutions.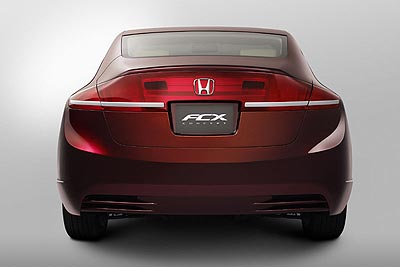 What's Inside
Hydrogen fuel cell stacks are only the beginning when it comes to FCX innovation. Other features include seat upholstery and door linings made from what Honda calls "Bio-Fabric," a corn-based material that's soft to touch and offers what Honda claims to be durability and resistance to sunlight damage. Other improvements include shift-by-wire – not that great, yet -- and a newly designed instrument panel with easy-to-read green and yellow graphic "ball" that shows hydrogen consumption.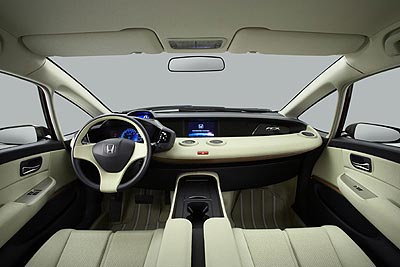 What Honda Says
Honda officials are very proud of the FCX concept, and plan to sell it under limited numbers in 2008. They think they've solved some major issues with fuel cell size and weight, and as a result it's only a matter of time before this technology gains mainstream acceptance. In the race between GM and Honda for fuel cell dibs, Honda likes their chances given the success of the current FCX and the promise of the new concept.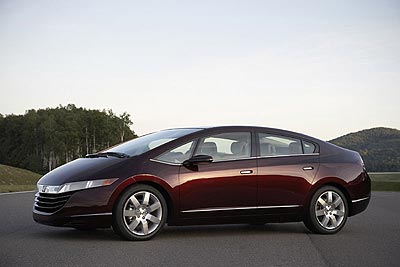 What We Think
This is a fuel cell wrapped in a concept vehicle and it solves several distressing dilemmas, namely water drainage and the correlation between allowable range, cold weather starting and performance. With a small, vertically stacked unit in the middle of a vehicle, it takes fuel cell vehicles out of science fiction and smack dab into automotive reality.
Photos courtesy of Honda Motors of North America