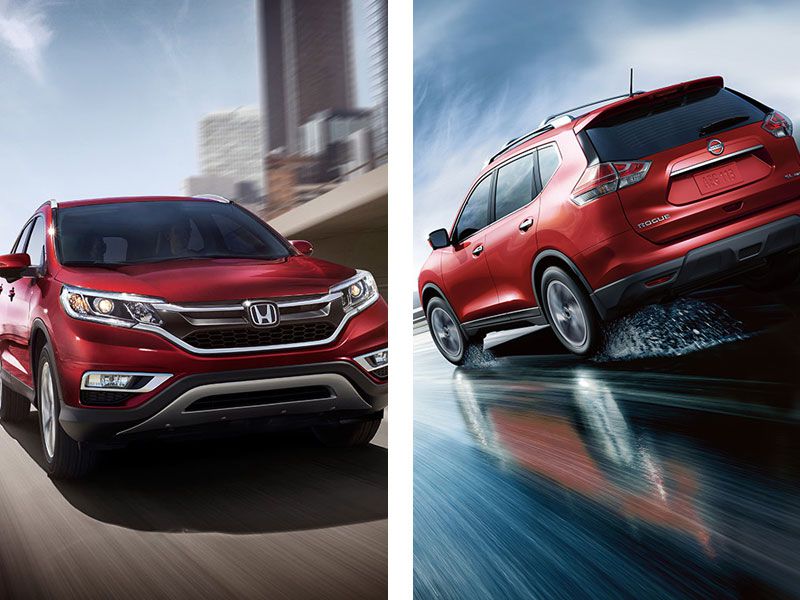 2016 Nissan Rogue vs Honda CR V
The 2016 Honda CR-V and 2016 Nissan Rogue are contenders in that white-hot sector of the automotive world: compact crossovers. The CR-V is in its fourth generation, which debuted in 2012 and received a mid-cycle revamp in 2015. The Rogue's second generation launched for the 2014 model year, so there's little difference in this regard. The CR-V is a perennial best seller. Then again, many people consider the Rogue lovable. For May 2016, sales of the CR-V in the United States were 29,359; the Rogue found 27,428 buyers during that same period. The Rogue has the option of third-row seating (in the lower two trims), bringing the number of occupants to seven. This is something the CR-V cannot offer. But there's so much more to making the right choice and the following comparisons should shine a light on the differences between these two popular choices.
Pricing and Trim Levels
The 2016 Honda CR-V starts out in basic LX trim, priced at $24,580. On the plus side is a rearview camera. On the minus side are 16-inch steel wheels. The SE model, $25,380, is a new trim level for 2016, which is where 17-inch alloy wheels come in. EX is well equipped, as it should be for $26,830. EX-L means leather and more luxury features: $29,280. Touring is the top trim, from $32,930, with bells and whistles galore. The 2016 Nissan Rogue begins at $24,190 for the S trim. Steel wheels again, but 17-inchers this time. Otherwise, equipment doesn't differ much from the CR-V's offerings. The SV trim starts at $25,640 and the SL is priced from $29,590.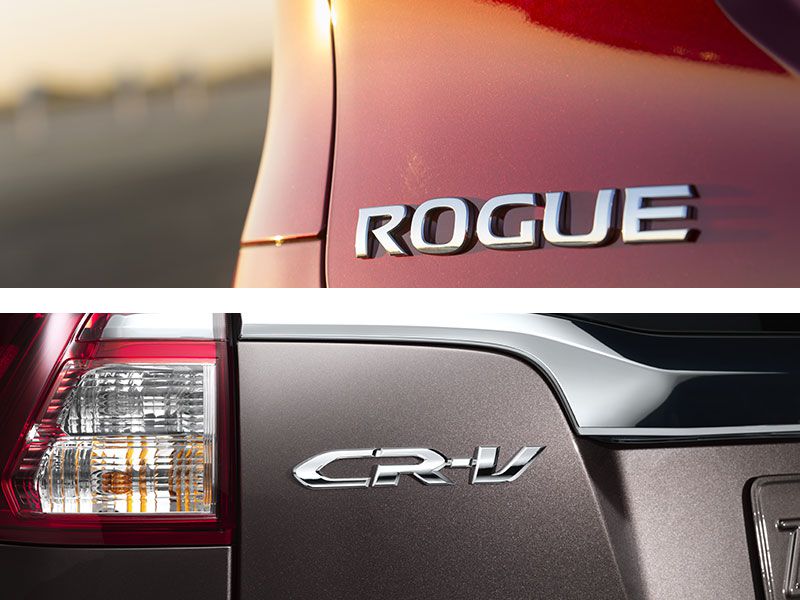 Options
Car companies usually offer some equipment that is standard in higher-level models as options for those less expensive versions. That's not really the case with the CR-V. Apart from an all-wheel drive system ($1,300; Nissan charges $1,350 for the all-wheel drive system in the Rogue), the only extras are navigation and HD radio in the EX-L trim (standard in the Touring model). So if buyers want a power liftgate, for example, they have to get the top-of-the-range version. The Rogue SV is where things become a bit more plush. This trim is eligible for a Premium package that brings a power lift gate, heated front seats, navigation, 360-degree camera system and several other upgrades.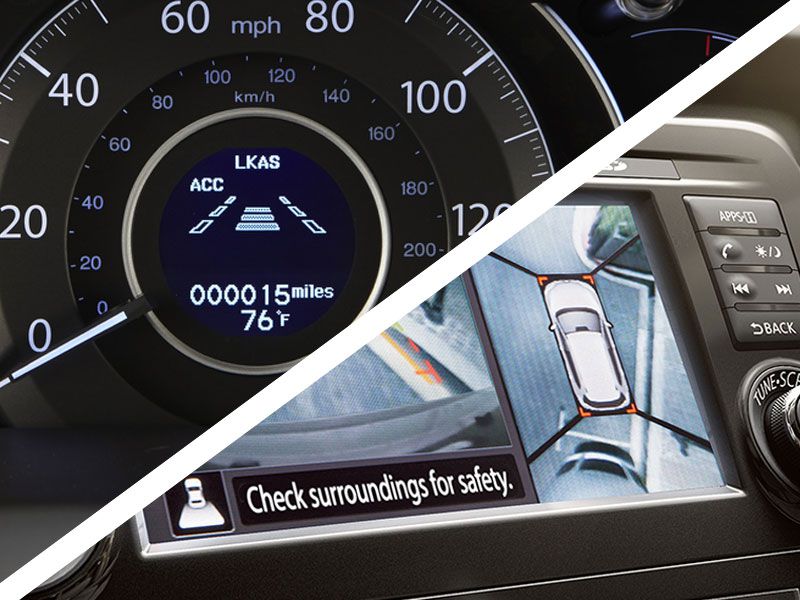 Powertrains and Efficiency
The CR-V uses a 2.4-liter, 4-cylinder engine making 185 hp and 181 lb-ft of torque. For 99.9 percent of situations, this is more than adequate. It's linked to a continuously variable transmission (an automatic, basically) and front-wheel drive is the standard setup, where fuel consumption is estimated at 26 MPG city, 33 MPG highway and 29 MPG combined. All-wheel drive is an option for every trim level and fuel consumption here is 25/31/27 MPG. The Rogue has a 2.5-liter 4-cylinder engine, but slightly less muscle: 170 hp and 175 lb-ft of torque. It also uses a CVT and front-wheel drive is the default setup, where fuel use is rated at 26/33/28 MPG. With the optional all-wheel drive system, we're looking at 25/32/28 MPG.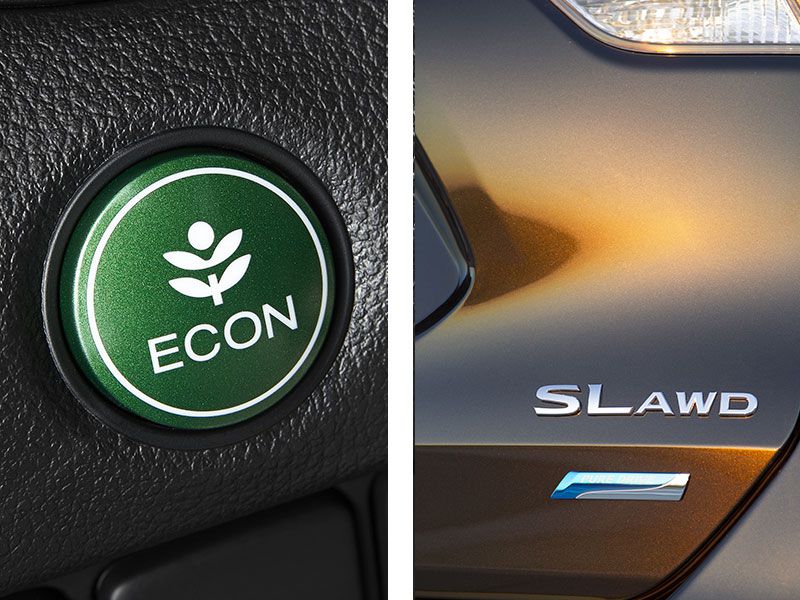 Stand-Out Features
The trouble with the CR-V is that nothing really stands out. It's one of those vehicles that reports for duty day after day. That said, the blind spot camera in the EX level and above displays its images on the center screen, which is pretty cool. The driver doesn't have to look all the way over to the passenger-side mirror. The Rogue now offers Siri Eyes Free for iPhone users, allowing control of the phone and various infotainment functions using normal speech.
Exterior Design
"Polarizing" is a word mentioned quite a bit in connection to Nissan's current styling approach. When discussing Honda design, the response is often: "Er, what were we talking about?" Naturally, the looks of both crossovers will not be to everyone's taste, but at least Nissan is attempting to bring a little attitude, edge, personality, or however you may want to interpret it. At the other end of that spectrum, the conservative appearance of the CR-V has its own appeal. There's no right or wrong here.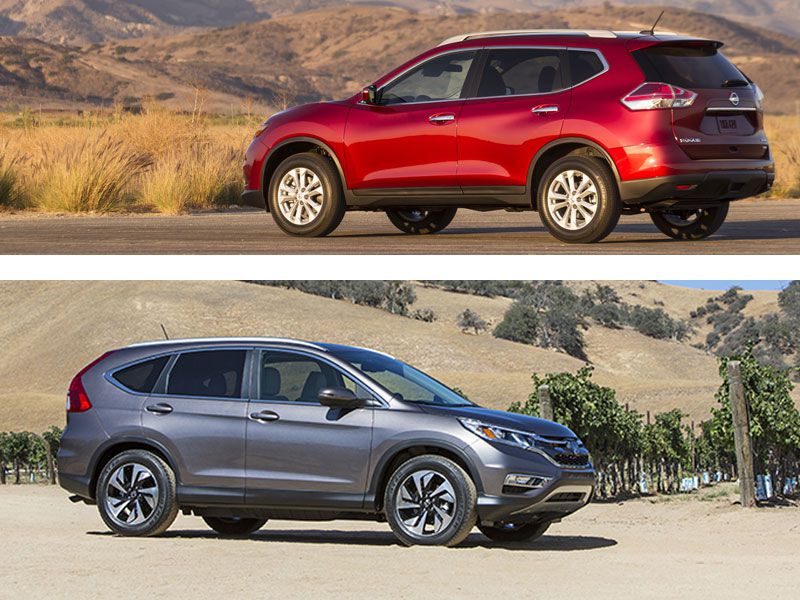 Interior Design
Both crossovers have that raised driving position loved by so many. The CR-V enjoys great visibility. It's a shame, then, that it doesn't also enjoy classy cabin materials. There's nothing bad about the layout, but the Rogue's soft-touch plastics have the advantage. Especially since they're arranged in such a pleasing manner. This might be more a criticism of exterior design, but the Rogue's wide rear pillars compromise visibility. Its second-row seats slide forward or back, with a useful maximum travel of nine inches.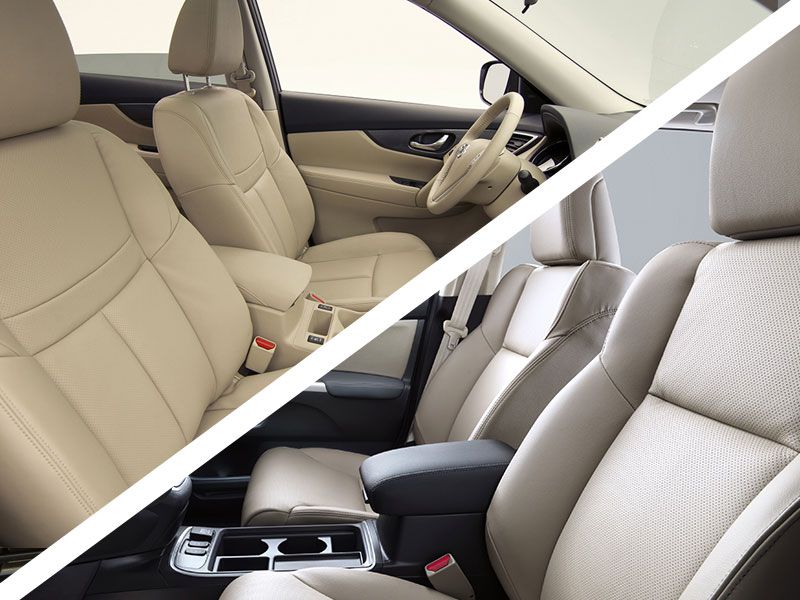 Cargo Capacity
Now we come to a CR-V specialty. With the rear seats in place, there's 37.2 cubic feet to play with. Considering a Toyota Camry midsize sedan's trunk is around 15 cubic feet, then we're already in impressive territory. But that's just the start. Flip down those seats by using levers located conveniently at the back, and total space expands to 70.9 cubic feet, which is about as good as it gets for this class. When the Rogue is specced with three seating rows, the usual trunk space is just 9.4 cubic feet. Drop those down to reveal 32 cubic feet. Fold down the second row as well, and maximum cargo space is 70 cubic feet. The front passenger seat can also flip down for a little extra versatility.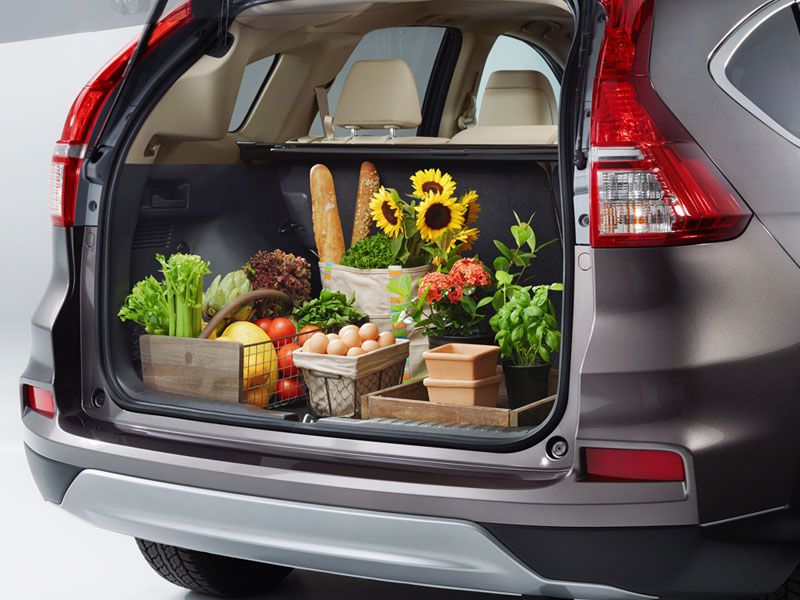 Safety Ratings and Technology
This generation of CR-V has scored four out of five stars overall in government crash tests. And the Insurance Institute for Highway Safety (IIHS) gave the best score of "Good" in all major categories. The Rogue equals both sets of scores. As the trims become pricier, the CR-V offers more safety equipment, such as blind spot monitoring, lane keeping assistance and forward collision warning/mitigation with automatic braking. In the Rogue, features like these are part of an options bundle.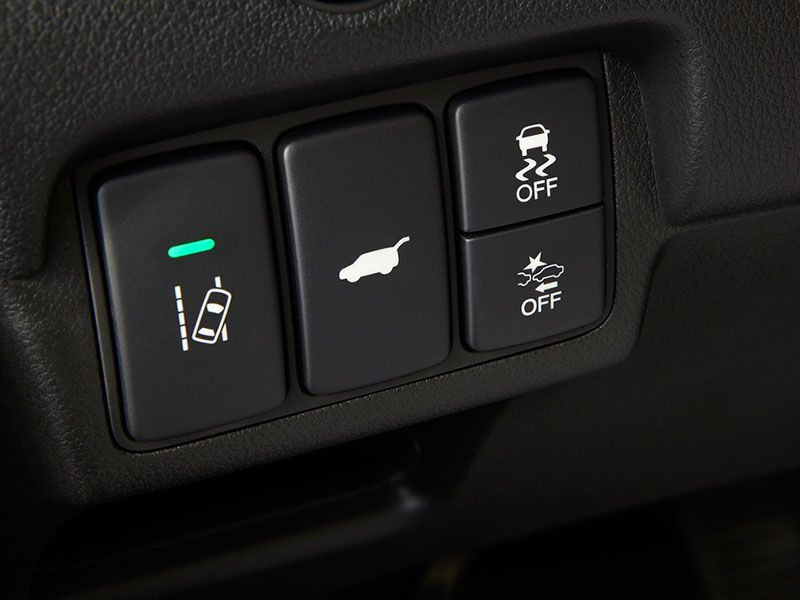 Performance
As mentioned before, the CR-V's engine is well suited to everyday driving. Only occasionally does it need to be really worked. The cabin is mostly quiet and the ride is smooth, although there's nothing much to inspire a driver. This is another area where the CR-V is better than okay, but not remarkable. Two things vying for top spot in a CVT's "Cons" column is a tendency to drone and a lack of responsiveness. To Honda's credit, neither of these traits feel like an issue with the CR-V. But the Rogue serves as a prime example. Nor is the Rogue a quick vehicle. Don't expect immediate action after pressing the throttle. However, if suburban jaunts are all the smooth-riding Rogue will be used for, then don't forsake the Nissan dealership quite yet.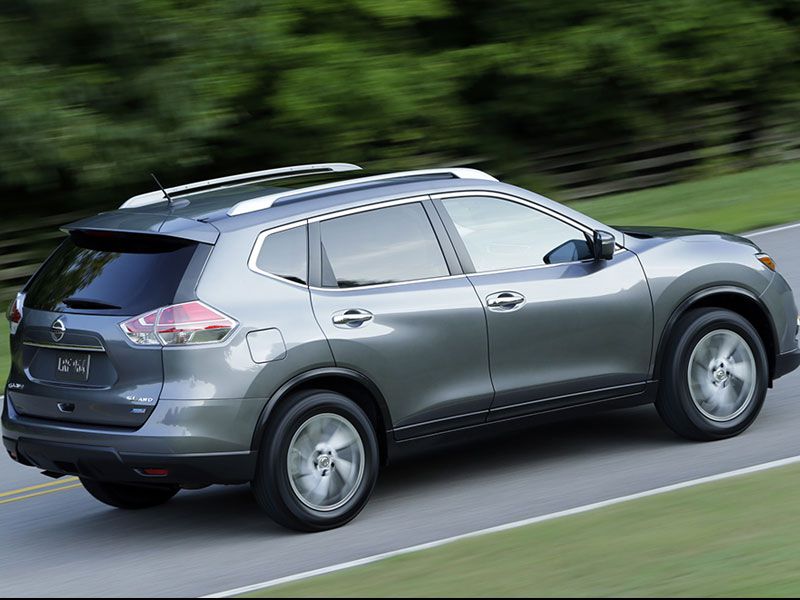 Which is Best?
There's a reason why the CR-V has been a best seller for years, it's dependably competent at so many things. Earlier versions have strong resale values as well, which might make the lower new-vehicle price of the Rogue less tempting. Both enjoy excellent build quality and reliability. Unless having three rows of seating is a priority, either choice could be a perfectly good. It's just that you might get a bit more perfection with a CR-V.