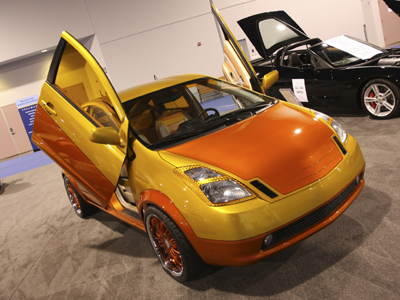 Well, that about does it. The Lamborghini-door trend is officially over. After someone put Lamborghini doors on an Ox, the only thing left to try it out on was a Toyota Prius. Can't knock this Barris Kustom's Toyota Prius for being boring though, especially with two-tone paint and 19-inch rims. Perhaps the coolest part of this vehicle is something that doesn't meet the eye; Barris Kustoms installed a lithium-ion battery to extend the range the vehicle can travel battery only, which really does make this vehicle cooler than your average Toyota Prius.
Photo Credit: MyRide Staff
Page 2
Electric cars are wimpy, right? They're slow, usually ugly, not very powerful...glorified golf carts, really. If that's your electric vehicle stereotype, you're in for a shock: The PML Ford F-150 Hi-Pa. This all-electric version of Ford's bestselling pickup dumps the V-8 engine and the rest of the drivetrain is gone, replacing it with electric motors at each wheel that make 150 hp and 500 lb.-ft. of torque...each. A 600 hp, 2,000 lb.-ft. electric truck? Who says electric vehicles are wimpy?
Photo Credit: MyRide Staff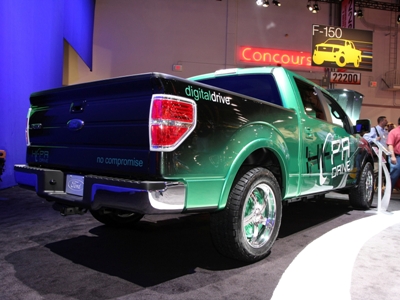 Page 3
Living an environmentally friendly life goes beyond just getting 40 miles to the gallon. To really live a green life, one must connect to the earth, feel the dirt in your fingernails, harvest only what you need to feed your family. At least that's what we're thinking was the idea behind the Urban Tractor from Black Deere Automotive LLC. The spawn of a field harvester and a Smart Passion Cabriolet, the Urban Tractor is equipped with a subwoofer, DVD player, navigation, and for scaring the milk out of unsuspecting cows, it also has a massive truck horn that projects the sound of a charging bull (we swear we're not making this up).
Photo Credit: MyRide Staff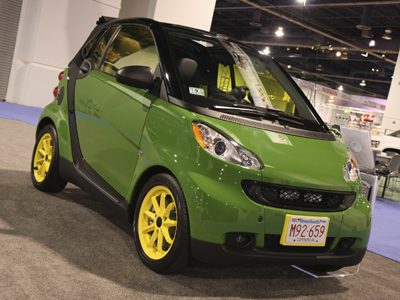 Page 4
It's possible that you've heard of Doug Pelmear's 110-mpg Ford Mustang. What you may not know is that it gets this kind of mileage while still managing to make 400 hp and 500 lb.-ft. of torque, and not rolling downhill with a tornado blowing him faster. Doug wants his heavily modified E085 burning Mustang to win the $10 million Automotive X Prize, and we think he just may have a shot.
Photo Credit: MyRide Staff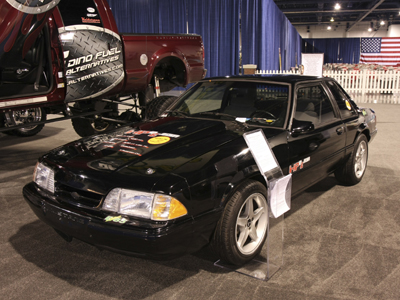 Page 5
Normally an E-Class Mercedes with giant wheels, huge vents cut in the fenders and an aggressive aerodynamics kit looks completely ridiculous, but among the gross excesses of the 2008 SEMA show, such a vehicle is positively restrained. So why bother? Simple: This particular E-Class sports M-B's Bluetec diesel engine, proving that driving an oil burner isn't the automotive equivalent of wearing a pocket protector.
Photo Credit: MyRide Staff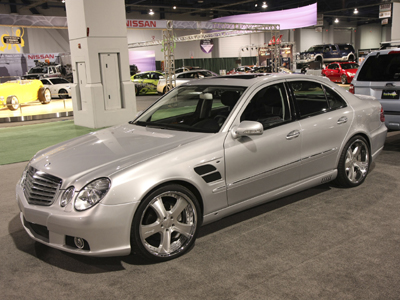 Page 6
Check out the best accessories, wheels, audio systems, custom cars and even green technology at the 2008 SEMA show!
Photo Credit: MyRide Staff