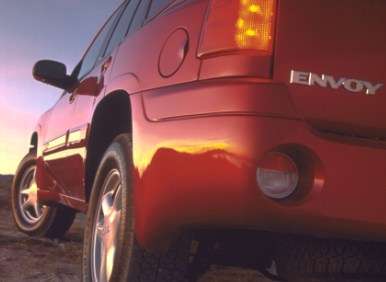 In a company with as many automotive offerings as the old General Motors put forth, it was somewhat inevitable there'd be considerable model overlap. One rather poignant case of this was the GMC Envoy, Chevrolet Trailblazer and Oldsmobile Bravada triumvirate.
So similar were these three vehicles, General Motors actually held a joint press conference for them at the introduction of the second generation of the Envoy, upon which the other two vehicles were based. Or was the Envoy based on those other two vehicles? Who knows? It's really difficult to keep it all straight.
That press conference stands out in bold relief from all the other press conferences we've attended, because in the middle of the event schedule, all the GM executives present were called into a closed-door meeting. When they emerged, it was announced GM's senior management team was pulling the plug on the Oldsmobile brand. This, less than one hour after a then-enthusiastic Oldsmobile representative (who came out of that meeting fearful for his job by the way) had just sung the praises of the Bravada version of the Trailblazer, Envoy and Bravada triplets.
Those genuinely curious about why the old GM didn't make it need only examine the dollars spent producing that press conference only to have to tell us one of the vehicles we were covering at the conference was essentially — stillborn.
That, plus that uniquely GM penchant for producing interiors seemingly designed by Fisher-Price (makers of those fabulously plastic PlaySkool toys), sloppy handling, and rather indifferent build quality; hamstrung what could have been a very nice mid-size SUV.
Envoy lasted for two generations before the plug was eventually pulled on it as well.
1998 – 2001
GMC's SUVs were basically GM's Cadillac SUVs before Cadillac introduced the Escalade. In fact, the first Escalade was little more than a rebadged GMC Yukon Denali. That said; GMC products skew toward the luxo-truck end of the spectrum, with more plush interiors and a higher level of standard features than their usually mechanically identical Chevrolet siblings.
In the case of the 1998 GMC Envoy, this meant it was an upscale version of the redesigned 1998 Chevrolet Trailblazer. However in an interesting twist, the Envoy was actually an even more upscale version of the GMC Jimmy.
Being the top trim of the Jimmy line, the 1998 GMC Envoy offered many extra features not available on the regular Jimmy. These included a remote rear hatch release, and HID Xenon headlights. The '98 Envoy heated its exterior mirrors and front seats, and pumped the music generated by its AM/FM/Cassette-based head unit and Compact Disc changer through a Bose audio system.
Naturally, leather upholstery, black striped "Zebrano" wood trim, automatic climate control, and keyless entry were on its roster of standard features as well. Key options included OnStar, a power-actuated moonroof, a locking differential, and a power operated front passenger seat. The Envoy also featured an onboard air compressor for automatic load leveling, which could also be used to inflate its tires.
Power was provided by a 190-horsepower. 4.3-liter V6. The engine developed 250 ft-lbs of torque. The four-wheel drive only 1998 GMC Envoy's powertrain was completed by a four-speed automatic transmission.
The '98 Envoy was rated to tow a maximum of 5000 pounds.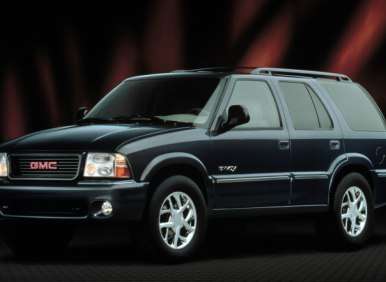 1999
For the 1999 model year, GMC specified a smaller airbag module, which enabled the steering wheel to take on controls for the audio system. As basic as it seems today, the first flash-to-pass turn signal stalk installed in an Envoy, was in 1999. Additionally, a memory function was added to the heated power seats for the driver and the passenger.
A new transfer case was specified for the four-wheel drive system, which enabled it to be shifted between two-wheel drive and four-wheel drive on the fly. Further, an additional range of shift points were programmed into the transmission's control unit to ease the strain of towing or hauling heavy loads. This feature was controlled via a tow/haul button on the transmission's shift lever.
Additionally, a sender was installed to illuminate a warning light in the instrument cluster to warn the driver when the rear liftgate was not secured and, the outside rearview mirrors were configured to accept auto dimming and power folding.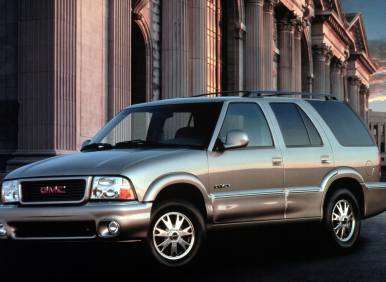 2000
With an all-new model coming up really fast in the Envoy's rear-view mirrors, changes to the 2000 edition of the vehicle were quite minimal. The seats were tweaked a bit to improve their comfort, the V6 was massaged — but didn't pick up any more power or torque. Additionally, a new heavy-duty battery was specified.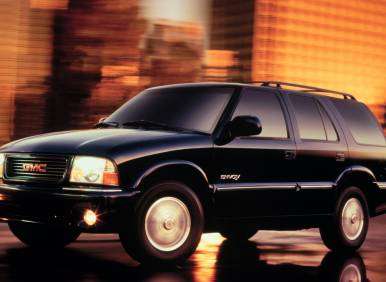 2001
There was no 2001 GMC Envoy. Instead, the redesigned version of the mid-size SUV was introduced in 2001 as a 2002 model.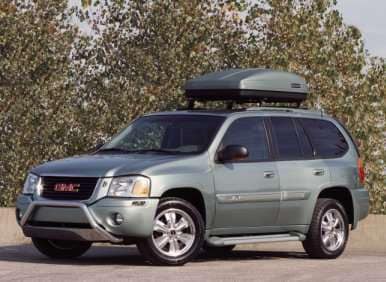 2002 – 2009
When the Envoy re-emerged, it was no longer a "Jimmy" trim line, but a separate model unto itself. In fact the Jimmy was killed in 2000, and so far has yet to return. All new from the ground up, the 2002 GMC Envoy was offered in two states of trim, SLE and SLT.
SLE, the entry-level version, featured cloth interior upholstery, dual-zone climate control, OnStar dual front and side airbags and a six-speaker AM/FM/CD stereo system. SLT models, which came pretty much fully loaded with a driver information center, automatic climate control, leather seating and a leather-wrapped steering wheel with satellite radio and climate controls, were where the exceptional luxury was to be found.
Stability control, traction control and a DVD video entertainment system were available as options on both trim levels.
Power was supplied by an inline six-cylinder engine, rather than the V6 most of its competitors employed then (and still do to this day actually). Exceptionally smooth, it is a commonly accepted fact that an inline six is one of the two smoothest engine configurations extant (the other one is the V12). Without going into too much detail, this is because of the inherent balance of their crankshafts. Indeed, the Envoy's engine ran so smoothly, GM's engineers fitted the engine with an ignition lockout to prevent drivers from trying to start the engine when it was already running.
The all-aluminum 4.2-liter engine was rated at 270 horsepower and 275 ft-lbs of torque (at a very low 1600 rpm). Exceptionally powerful for its time, the GMC's 4.2 offered more power than the Envoy's competition could provide from their V8 engines. Available with both rear- and four-wheel drive, the Envoy used a four-speed automatic transmission throughout its model run. Maximum towing capacity was rated at 6,300 pounds
To smooth out the Envoy's ride and handling, GM's chassis engineers specified dual A-arms and coilover shocks up front with a five-link coil spring system in the rear to be bolted to the Envoy's exceptionally stiff frame. This stiffness resulted from the employment of hydroformed frame rails. For hydroforming, steel tubes are put in a mold, the ends are closed, and water (at 35,000-psi pressure) is injected and presses the tubes into the mold, essentially forging the rails from the inside out. This results in remarkable strength, plus lighter weight. These qualities improved the 2002 Envoy's ride and handling over its predecessor's considerably.
An extended wheelbase version of the GMC suv was also offered, called Envoy XL. Featuring a third row, Envoy XL gave the mid-size ute true seven-passenger capability.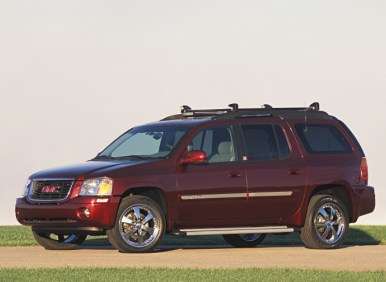 2003
Output of the 4.2-liter engine was upped to 275 horsepower and 275 ft-lbs of torque. A new headlamp switch gave drivers a choice of whether or not to employ daytime running lamps. The fuel tank was enlarged to 22 gallons to improve range. Side airbags, standard on the 2002 model, were relegated to optional status on the 2003 Envoy. Also on the scaled back list (OK, the elimination list actually) was the auto-dimming feature for the outside rearview mirrors. Envoy XL got an optional 5.3-liter V8, capable of 290 horsepower and 325 ft-lbs of torque.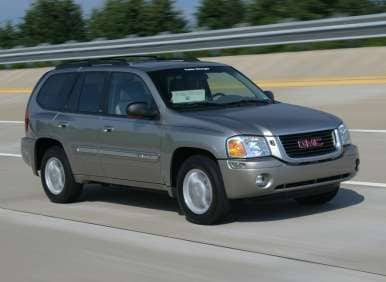 2004
Satellite radio debuted in the Envoy for 2004, along with a DVD-based navigation system. The pedals were reconfigured to permit adjustability to accommodate a wider range of drivers and the Envoy SLT got a new steering wheel. SLE models got vinyl upholstery for the door panels, replacing the cloth, which had been a mainstay since before the 2002 redesign.
In the category marked GM giveth and GM taketh away, the SLE badge disappeared from the Envoy SLE's B-pillar, as did the power outlet from the cargo area of both Envoys. However, the ability to experience the audio from the DVD entertainment system through the main speakers in the vehicle was added.
Envoy XUV debuted with a sliding panel at the rearmost section of the roof, enabling the Envoy to function as an ersatz pickup truck. It was axed the following year.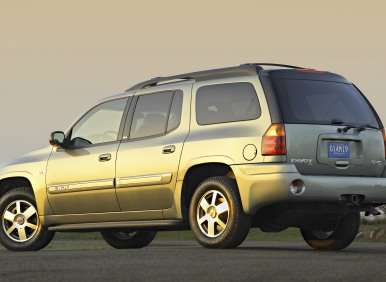 2005
A more upscale variant of the Envoy was introduced and, as is typical of GMC nomenclature, was dubbed "Denali". Just as significant was the introduction of V8 power as a standard wheelbase Envoy option for the first time. The 2005 GMC Envoy Denali's 5.3-liter V8 produced 300 horsepower and 330 ft-lbs of torque to endow its host with a 6,700-pound tow rating. A four-speed automatic transmission routed engine output to the buyer's choice of a rear-drive or a four-wheel drive system. In other news, touchscreen DVD navigation systems made their Envoy debut in model year 2005 as well.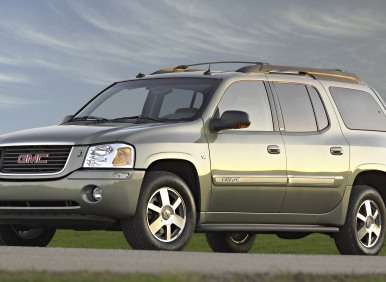 2006
Stability control, traction control and OnStar were granted a place on the GMC Envoy's standard equipment list. To further differentiate premium models, the Denali variants were endowed with a set of eighteen-inch wheels.
With the Denali in the line up, the model configuration by 2006 meant Envoy SLE came standard with a cloth interior; dual-zone (but manually-operated) climate control; a CD player; power windows, mirrors and locks; keyless entry; and 17-inch wheels.
SLT models featured a driver information center, automatic climate control, and leather upholstery for the seats and steering wheel — which also featured radio and climate controls.
Denali ran the aforementioned 18-inch alloy wheels, along with power-adjustable pedals, heated seats, and a Bose audio system.
Envoy's 2006 options list carried a rear-seat DVD entertainment system, a DVD-based navigation system (for SLT and Denali), as well as upgraded audio systems and satellite radio.
Output from the 4.2-liter inline six, employed in Envoy SLE and SLT, was bumped to 291 horsepower and 277 ft-lbs of torque. Model year 2006 was the last year of production for the Envoy XL.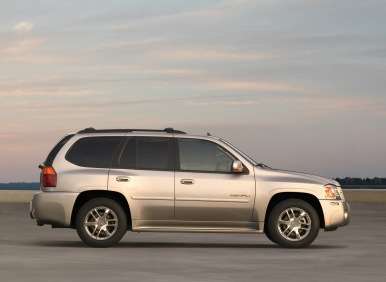 2007
A tire pressure monitoring system was specified and output of the Denali's V8 was increased to 302 horsepower.