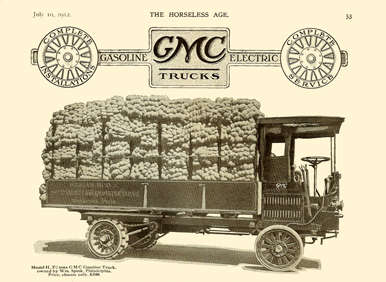 GMC the brand has a history almost as old as General Motors the corporation. The marque's roots go all the way back to 1901, and the one-cylinder, somewhat ambitiously named Rapid Motor Vehicle Company truck. (How rapid could it be with a one-cylinder engine—OK?) That company was brought into the GM fold in 1909, and formed the basis of what we know today as GMC. That same year (1909), GM bought another company, Reliance Motor Car Company. Rapid and Reliance were merged in 1911, and at the 1912 New York Auto Show, their first vehicle — badged "GMC Truck" — was presented to the world.
In the early days of cross-country transportation, before the airlines "took off" as it were, buses were a huge component of the nation's transportation network. A 1925 GM acquisition put the company in the bus business in partnership with Yellow Coach Company out of Chicago. Flush with cash from the war years, GM bought Yellow out in 1943, formed "GM Truck and Coach" and proceeded to build GMC interstate buses for Greyhound, as well as urban buses for municipal bus systems into the 1980's.
One of the oldest continually running automotive nameplates on the market; GMC has also manufactured trucks and tanks for the U.S. Army. Additionally, the company has produced fire trucks, ambulances, motor homes, and transit buses. Today, GMC's focus is on pickup trucks, vans, light- and medium-duty trucks, SUVs, and crossover utility vehicles (CUVs)
The GMC Acadia, introduced in 2006, as a 2007 model, represented a significant change in philosophy for GMC. Its portfolio in the past had been based purely on rear- or four-wheel drive, body on frame vehicles. Acadia was the company's first front-drive, unit body, crossover offering. And, while there have been a number of changes and updates made to the Acadia over the years, the GMC crossover is still in its first generation.
GMC Acadia: 2007
The 2007 GMC Acadia debuted in three trim levels; SLE, SLT1 and SLT2.
The SLE trim set consisted of eighteen-inch alloy wheels, separately controllable front and rear air-conditioning, and remote keyless entry. Power windows, mirrors and door locks, plus cruise control and a six-speaker CD/MP3 stereo system rounded out its kit.
Taking home an Acadia equipped with the SLT1 package added polished wheels, heated outside mirrors with integrated turn signals, electrically adjustable and heated front seats, leather upholstery, tri-zone (front seats, middle- and third-row) automatic climate control, and a Bose ten-speaker subwoofer audio system—with steering-wheel controls and an in-dash six-disc CD changer.
The SLT2's feature-set was comprised of remote vehicle starting, rear park assist, a power rear liftgate, rear-seat DVD-based video entertainment system, and satellite radio. Ever the egalitarians (Ok, actually, with a nose for additional profit) GMC's product people made many of the SLT2's features available as options on lesser models too.
Over and above the SLTs base offerings, 2007 SLT Acadia buyers could also have availed themselves of tasty treats like a power-operated two-panel sunroof, nineteen-inch wheels, a head-up instrument display, a sat-nav system, a Dolby 5.1 surround sound audio system, and redundant audio controls in the cargo area to facilitate tailgate parties.
The 2007 GMC would seat up to eight passengers, thanks to its third row seat. The Acadia could be equipped with a pair of bench seats for the second and third rows, or a pair of captain's chairs could be substituted for the second-row bench. The third row bench would fold for more cargo capacity. If a buyer opted for the second row bench, that seat was capable of a 60/40-split fold.
Power was supplied by a 275-horsepower, 3.6-liter V6 — producing 251 pound-feet of torque. A six-speed transmission routed power to the buyer's choice of either the front wheels, or all four. The six-speed was calibrated so first gear operated as something of a low range gear to provide additional traction on less than optimal surfaces.
The Acadia's all-wheel drive system was biased ninety percent to the front in normal conditions. However, it was also capable of routing up to sixty-five percent of its pulling (er, pushing) power to the rear wheels if needed.
Properly equipped, an Acadia would tow up to 5,200 pounds.
The Acadia debuted with a suite of six different airbag systems; two dual-stage front air bags for the driver and front passenger, two seat-mounted side-impact air bags in the first row, and two head curtain side impact air bags providing coverage to all three seating rows. In the event of a rollover accident, Acadia's airbags were configured to deploy selectively to provide the most strategically effective protection. Further, the system was integrated into GM's OnStar telematics system such that emergency personnel would be notified in the event of an airbag deployment.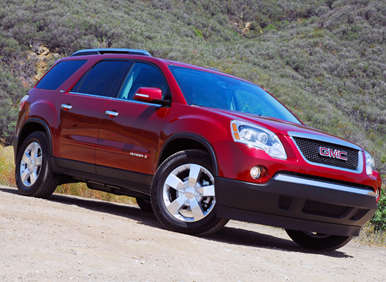 GMC Acadia: 2008
Satellite radio was made available as a standard feature on the SLE-1 Acadia. A second-row console was mounted between the captain's chairs on upper class Acadias, and a rear view camera was offered for the first time—also on the upper trim level SLT models.
GMC Acadia: 2009
Though its engine displacement remained the same, the 2009 Acadia came to market with a power upgrade to the tune of 288 horsepower and 270 ft-lbs of torque. Additionally, its option packages were reworked a bit to give the model a more competitive equipment set.
New features for 2009 included Bluetooth connectivity and real-time traffic reporting.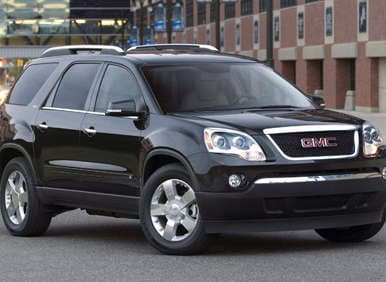 GMC Acadia: 2010
A new SL model led the changes for 2010, causing a redistribution of wealth among Acadia's citizenry. The 2010 SL package contained eighteen-inch alloy wheels, separate a/c for passengers—front and rear, a full complement of power accessories, cruise control and OnStar. Satellite radio fed the Acadia SL's six-speaker CD/MP3 stereo system.
Fog lights, remote ignition, Bluetooth, a power liftgate, rear parking sensors and a back-up camera with a monitor in the rearview mirror graced the SLE. Other features included a leather-wrapped steering wheel, power (fore and aft movements only) front seats, and an auto-dimming rearview mirror.
The 2010 SLT-1s flaunted nineteen-inch wheels, heated mirrors, tri-zone automatic climate control, rear audio controls (with headphone jacks), leather upholstery, and heated front seats. A ten-speaker Bose audio system with a USB audio jack rounded out the package.
To get a 2010 Acadia posing on a set of chrome-blinged twenties, you had to go SLT-2. With them twenties, you also got power-folding and heated auto-dimming (on the driver's side) exterior mirrors. Upscale-looking perforated leather upholstery laced the seats with additional power adjustments for the front (eight-way driver, four-way passenger).
The a'la Carte menu featured a DVD-based video rear entertainment system for SLE and SLT models. The unit married a DVD player in the back seat with a flip-down video monitor, in addition to a 115-volt power outlet and a Bose surround-sound audio system. If you were the lucky kid whose parents flipped for a 2010 SLT Acadia, you also got rear audio controls and tri-zone automatic climate control.
The SLT-1 and SLT-2 entertainment package incorporated an exclusive navigation system, which was unavailable on the SL and SLE. More available tastiness included a second-row center console, a dual-pane sunroof, heated and cooled front seats (thus the perforations). Acadia's Technology package incorporated a head-up display and xenon headlamps.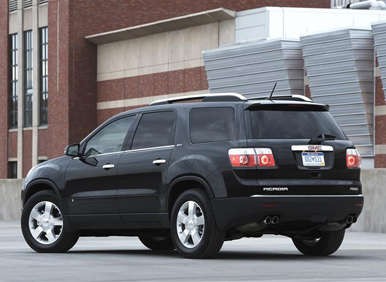 GMC Acadia: 2011
For 2011, GMC finally got around to bringing Acadia to the mountaintop with the 2011 GMC Acadia Denali.
The make's Denali trim level represents the summit (if you will) of its product offerings. In other words, if you took the SLT-2 model we discussed in the previous entry, and added all of the a' la Carte optional items we discussed there, plus a few exterior styling cues, you got a Denali.
Specifically, this means the 2011 Denali package incorporated everything the SLT-2 got, plus twenty-inch chrome wheels with black chrome accents, xenon headlights, additional sound insulation, illuminated sill plates, the "SkyScape" power front/fixed rear dual sunroofs, the head-up display, perforated leather upholstery, heated/ventilated front seats and a combination leather and wood steering wheel.
GMC Acadia: Current Model (2012)
Basically unchanged from 2011, the 2012 iteration of the GMC Acadia is getting pretty close to the model's sell-by date. An all-new Acadia debuted at the 2012 Chicago Auto Show and will be available as a 2013 model.
Page 6
Summary
Effectively ushering GMC's product line into the 21st century's realities — in terms of family-oriented transportation, the GMC Acadia has proven to be a good seller for GMC. And, while the company is probably still a long way away from abandoning the body-on-frame SUV altogether, the success of Acadia has prompted GMC to add another similarly configured vehicle (albeit with a more rugged attitude), called the GMC Terrain, to its model lineup.
While there have been a number of recalls for the mid-size CUV over its model history, the GMC Acadia has proven to be quite reliable and robust. For this reason, we can confidently recommend an Acadia. Before you buy though, make sure you run an Internet search to get a list of all the recalls and ensure your particular vehicle has had its updates.
Similarly, you should always run a vehicle history report against the VIN to make sure the Acadia you're getting is an encumbrance/stress/drama-free example. And as always, turn any vehicle you seriously considering peeling off some scratch for over to a trusted professional mechanic, one knowledgeable in the ways of the vehicle of your choice.