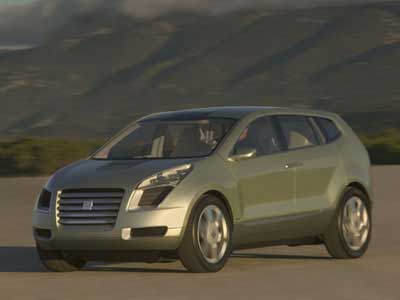 Liquid hydrogen fuel cells are the future of the automobile. Every major automaker is working on the technology, trying to find ways to make it a viable, affordable propulsion system of tomorrow, simultaneously eliminating dependence upon fossil fuels and harmful tailpipe emissions. Those that are not searching for a way to produce fuel cells could become relics on the trash heap of history within ten years. General Motors is actively working on fuel cells with the intent of producing a hydrogen-powered vehicle by the end of the decade. The GM Sequel Concept showcases the automaker's latest fuel-cell propulsion technology, development of which is speeding along at such a torrid pace that GM has been able to double the range and cut acceleration times by half over its existing AUTOnomy and Hy-wire fuel-cell vehicles – in just three scant years.
Skateboard Chassis
Though GM's rapid advance of technology is impressive, what matters most about the GM Sequel Concept is that it's a "skateboard chassis," which means that the liquid hydrogen storage tanks; fuel-cells; by-wire software for steering and brakes; battery packs; and electric motors that power the vehicle are all contained within an 11-inch tall "sandwiched" chassis that protects the components top and bottom. Fully operational as a stand-alone unit, the GM Sequel Concept's chassis can therefore accommodate a variety of body types, from an SUV to a sports car, as long as the wheelbase and track widths remain the same. GM has purposely sized the GM Sequel Concept's foundation to tackle the meat of the market, midsize sedans and midsize crossover suvs.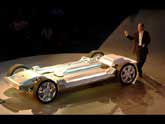 Performance
Currently, the GM Sequel Concept wears a crossover SUV body, able to seat five and carry plenty of cargo. Because the body sits on top of the propulsion system, interior space and comfort is not compromised. Sized similar to a Cadillac SRX, the GM Sequel Concept can accelerate from rest to 60 mph in less than ten seconds, and possesses a 300-mile range between fill-ups. Because the GM Sequel Concept is powered by electric motors in the wheel hubs, it's all-wheel-drive for sure-footed traction and superior performance. GM also claims that by-wire drive systems for the steering and brakes, combined with a perfect 50:50 front to rear weight distribution, make the GM Sequel Concept easier to maneuver while providing responsive handling.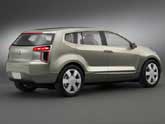 Wrap-Up
Readily available but not affordable, the cutting-edge technology aboard the GM Sequel Concept could hit the road today if an infrastructure to deliver liquid hydrogen existed. The company clearly stated its goal of creating a hydrogen powertrain and structure that is comparable to today's internal-combustion engines in terms of performance and durability by 2010. Not only that, but GM intends to have a system that is affordably scalable to produce a wide range of products. Rick Wagoner, Chairman and CEO of General Motors, called the GM Sequel Concept nothing less than "the reinvention of the automobile." Infrastructure that delivers liquid hydrogen as easily and reliable as today's network of gasoline filling stations must be put into place, because hydrogen-powered fuel cells are coming. Count on it. And count on GM to bring the technology to the mass consumer in something like the GM Sequel Concept within the decade.