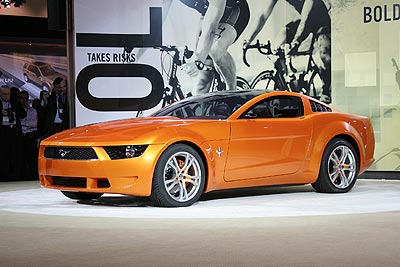 Ford Mustang Giugiaro Concept – Brief: At first, it might come across as sacrilege – allowing some pointy-shoed Europeans to put their design on the current icon of American muscle, the redesigned Ford Mustang. Do what you want with your Bimmers, your Citroens, and your fancy schmancy exotics – but keep your high falutin' pen away from our Pony. That might be the general Mustang fan's attitude, at least until viewing the Giugiaro Concept that made its official debut under the lights at the 2007 Los Angeles Auto Show. Looking just as powerful as the original, this Italian version of a red-white-and-blue classic undergoes a transformation of precision, finesse, and one funky interior.
Ford Mustang Giugiaro Concept - Design
Those triple-lens taillights stay true to current and past Mustangs, though they do so in a uniquely fresh way. Between them is an indented rear panel, which in concept form, is free of any gaps for a trunk or hatch lid. Overhead is a glass roof panel, composed of a UVA-deflecting crystal and created in good ol' Detroit, that stretches from the lower windshield all the way back to the tail (good luck with that in a rollover crash). Also noticeable from this view is the wide rear end, which has been broadened by 80 mm versus a stock 2005 Mustang. The front is 30 mm wider.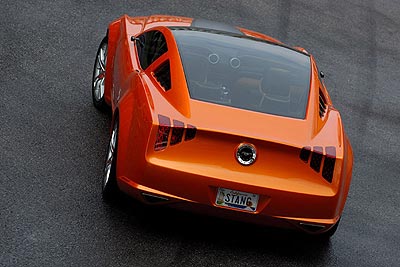 Ford Mustang Giugiaro Concept - Interior
Yikes. We're not huge fans of the new Mustang's so-so interior bits, but one might argue they're all better than some hairy horse hides scattered on the seats (so much for paying respect to the car's namesake). Then again, who knows? Maybe this would be big in Texas. Upholstery aside, the Ford Mustang Giugiaro Concept's interior is reminiscent of the cabin on which it's based, though thoroughly upgraded with rich, lustrous materials, bold chrome accents, four deeply bucketed and bolstered seats, and primary gauges set front and center.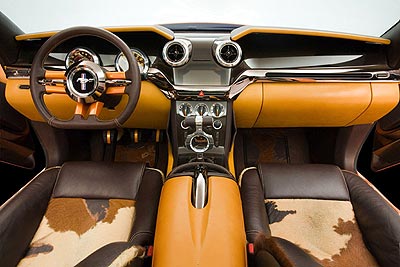 Ford Mustang Giugiaro Concept - Exterior
One of the coolest features on the Ford Mustang Giugiaro Concept is the set of power scissor doors that rise and lower with the press of a flush chrome button on the upper door sill. A single motor quickly and quietly operates the doors, which when raised, unveil extreme fit and finish detail. The side profile also best exemplifies the Giugiaro Concept's shortened rear overhang and powerful front end design, both working to transform the Mustang while simultaneously keeping the car's recognizable shape intact. Filling out the package are 20-inch chrome wheels wrapped in 275/40 rubber up front and 315/35 tires out back.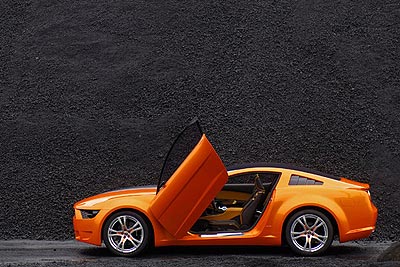 Ford Mustang Giugiaro Concept - Power
Matching the Mustang Giugiaro Concept's good looks is a potent powertrain from Ford Racing. Engineers started with a 4.6-liter V8 and then added a supercharger with 11 psi of boost, Ford GT fuel injectors, a larger air intake system, and a performance exhaust. They ended up with about 500 horsepower, but went one further with specially-tuned shocks, as well as performance springs and stabilizer bars that allowed the car to sit about 1.5 inches lower than a stock Mustang GT. The bad news is you can't buy one of these for yourself; the good news is Ford Racing will be happy to sell you the bolt-on engine and suspension parts.
Photos courtesy of Ron Perry and Ford