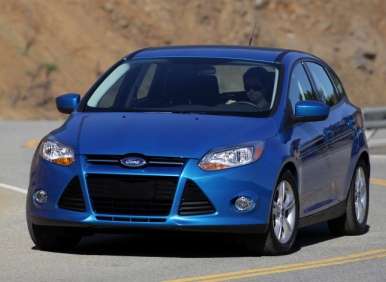 While GM's Tri-shield brand is making much noise by promoting the Buick Verano as America's first compact luxury car, a strong case could be made that the Ford Focus Titanium got there first. Now leveraging, remember, the same fairly premium underpinnings that long had U.S. buyers looking at the European Focus with envy, the Titanium model also packs on enough upscale Ford goodness to realize an MSRP of $22,200 in sedan form and $22,700 as a five-door hatch; the Verano, as a point of reference, begins at $22,585. But even with a long list of standard content, there was apparently one item customers came looking for and couldn't find: a manual transmission. Which is why the Blue Oval recently confirmed a five-speed DIY gearbox would now be offered on both body styles of the 2012 Ford Focus Titanium.
Reading between the lines here, the automaker believes a significant chunk of the customers who come shopping for the car is made of "automotive enthusiasts" and "buyers migrating from higher-priced import brands" who "frequently prefer manual transmissions." Although down a cog as compared to the automatic—and some rivals' manual transmissions, too—Ford's five-speed unit should allow drivers to wring a bit more excitement out of the Titanium models' already upgraded and sport-tuned suspensions, which boast stiffer springs and dampers as compared to other members of the Focus lineup, along with a standard stabilizer bar and control-blade-type rear setup. And combined with the optional Titanium Handling Package, featuring a bevy of optimized suspension components and aggressive 18-inch alloy wheels, the result will likely be the hottest-handling Focus on the road—at least until the hi-po Focus ST breaks out a bit later this year.
Ford has yet to provide any details regarding price or EPA numbers for the manually transmissioned Focus Titanium, but we can perhaps turn to the other Foci to make some educated guesses. Moving from a Focus SE with a five-speed manual to one with an automatic requires an additional investment of $1,095, so a similar price drop wouldn't be out of line on the Titanium. Using that guess-timate, here's a quick rundown of pricing on some of the premium versions of the next-gen mainstream-ish compacts, showing where the Focus Titanium with lower-priced, manual-transmission models would fit in:
Hyundai Elantra Limited (sedan)—$20,595
Ford Focus Titanium (sedan)—$21,105
Ford Focus Titanium (hatch)—$21,605
Honda Civic EX-L (sedan)—$21,995
Mazda3 s Grand Touring (sedan)—$22,900
Chevrolet Cruze LTZ—$23,190
Mazda3 s Grand Touring 5-Door—$23,400
VW Jetta SEL—$23,445
(Interestingly/obviously, these numbers also show a pretty strong value proposition for the Verano, which would fall smack dab in the middle of that list.)
One other thing to keep in mind: the new transmission almost certainly will result in a similar downward trend for the Focus Titanium's fuel efficiency. As is the case with a growing number of automakers, it's now Ford's advanced automatic transmissions that are capable of delivering top fuel-economy numbers. Thus, the most fuel-efficient Focus packs a six-speed PowerShift automatic and reaches 28 mpg city/40 mpg highway/33 mpg combined, while its best ratings with a manual transmission top out at 26/36/30.
As to whether the new Focus Titanium will have an impact on Ford's bottom line, consider these comments from Mark Wexler, Ford's regional manager for Northern California: "Focus relevance to California customers is on the rise. … High-end Titanium models are selling at twice the rate we anticipated, showing that our customers want convenience and technology in their fuel-efficient Focus purchase."
And now, the Focus Titanium will be geared to help even further.