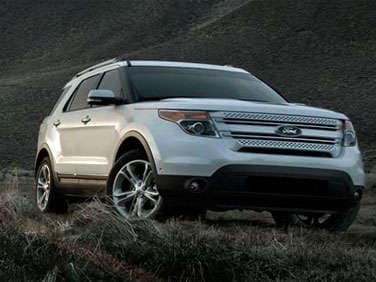 Whether you credit it with, or blame it for starting the 1990's SUV boom, the Ford Explorer is the single most successful SUV ever launched by any auto company.  Routinely selling at the rate of some 400,000 units annually in its early years on the market, the Explorer was the perfect combination of style, utility, and passenger capacity.
Favored both by young families and single adults, the Explorer's adventurous image displaced station wagons in the minds of those who engaged in outdoors recreational activities. It did the same for those who wanted to look like they engaged in outdoor recreational activities too.
At the peak of the model's popularity however, a controversy emerged when Explorer models fitted with Firestone ATX, ATX II, and Wilderness AT tires demonstrated a propensity for tire failure resulting in rollover crashes. The resulting video footage of Explorers beside the highway on their backs with their wheels in the air like hapless turtles, well, let's just say that put something of a damper on sales.
Introduced in 1990, as a 1991 model, there have been five generations of the Ford Explorer offered to date. This retrospective picks up with the second generation Explorer, introduced in 1995.
Ford Explorer Used SUV Buyer's Guide: 1995 – 2001
Based as it had been on the Ford Bronco II, which itself was based on the Ford Ranger pickup truck, the first generation Explorer was decidedly truck-like in its ride and handling. As more and more people started migrating from cars to the Explorer, and expressed a desire for the Explorer to behave more like a car, Ford's engineering team responsible for the SUV began to make changes to add more comfort to the formula.
One such change was the switchover to an independent front suspension system for the second generation Explorer. Previously the model had used what Ford referred to as a Twin Traction Beam front suspension system, the roots of which went all the way back to the Twin I-Beam suspension system first fitted to the Ford F-150 pickup truck in the late 1960's.
The GEN2 version of the hot selling SUV debuted in two models, the two-door Explorer Sport and the four-door Explorer. Both were available with either rear- or all-wheel drive. Adding considerable complexity (and profit) to the ordering process, within each model line there were a variety of trim levels as well.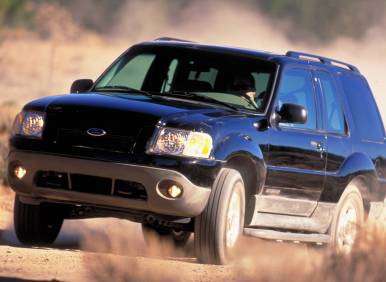 1995
Regardless of model or trim, the 1995 Explorer debuted with a 4.0-liter V6 engine capable of generating 160 horsepower and 225 ft-lbs of torque, on regular unleaded gasoline. A five-speed manual transmission was standard on lower trim levels, while a four-speed automatic was optional. Towing capacity was 4,800 pounds.
The trim levels offered were XL, XLT, Expedition, Eddie Bauer, and Limited. Explorer XL was offered with either two doors or four, Sport was two doors only, XLT was four doors only, and Expedition was two doors only, while Eddie Bauer and Limited were four doors only.
As standard features, the Explorer XL used a set of fifteen-inch steel wheels, bucket seats, power brakes, ABS at all four wheels, vinyl upholstery, power steering, air conditioning, intermittent windshield wipers, and an AM/FM audio system.
Options were a pair of Captain's Chairs, a limited-slip differential, a rear window defroster, a cassette-based audio system, alloy wheels, cruise control, a tilt steering wheel, power windows, dark tinted privacy glass for the rearmost windows, a rear window wiper, power door locks, a set of power operated exterior mirrors, and a roof rack.
Moving up to the two-door only Sport got all of the XL's standard features and added fifteen-inch alloy wheels, along with driver and passenger front airbags. Cloth upholstery was substituted for vinyl, cruise control, a remote rear hatch release, leather steering wheel trim and power accessories (windows, mirrors and door locks) rounded out the Explorer XL offering.
The Explorer Sport's options list featured bucket seats, Captain's Chairs, a center console, a CD changer, foglights, keyless entry, a limited-slip differential, an overhead console, a power antenna, a power operated moonroof, side steps, rear A/C controls, leather upholstery, an alarm system, power seats for the driver and front passenger, an auto-dimming rear-view mirror, a roof rack, a premium audio system by JBL, a cassette player, and rear audio controls.
The four-door Explorer XLT was equipped identically to the Sport in terms of both standard features and options. The four-wheel drive only Expedition was essentially the same setup as the Sport as well, but added chrome wheels and skid plates to the standard offerings. Similarly, Expedition's options list mirrored Sport's, with the addition of a camper towing package. Eddie Bauer was offered with both rear- and four-wheel drive but otherwise was a four-door Expedition. Limited came with everything listed above as standard equipment, except a CD changer, a limited slip differential, and the moonroof. Those items were offered as options.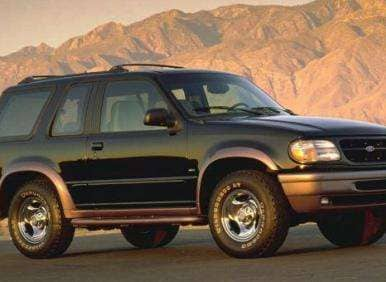 1996
For 1996, a V8 engine was offered for Explorer and fitted to XLT, Eddie Bauer and Limited trimmed versions of the SUV. Paired with a four-speed automatic transmission and all-wheel drive, the 5.0-liter V8 produced 210 horsepower and 280 ft-lbs of torque on regular unleaded gasoline. Towing capacity was upped to 6,500 pounds. Rather than four-wheel drive, the V8 models were all-wheel drive, which means, they were driven by all four wheels all the time, as opposed to the four-wheel drive model's ability to be switched in and out of four-wheel drive.
The V6 engine got an optional overhead-cam variant. Still displacing 4.0-liters, the new configuration produced 205 horsepower and 245 ft-lbs of torque. Offered as standard equipment on the Eddie Bauer and Limited Explorers, it was an option for all the others. Four-wheel drive models got an electronic transfer case and the four-speed automatic transmission was replaced with a five-speed automatic. BTW, here's a bit of trivia, the first American auto to get a five-speed automatic transmission was the (you guessed it) Ford Explorer. Traction control was fitted to all 1997 Explorer models as standard equipment.
All Explorers got a new tailgate, in addition to reworked taillights and a new rear bumper. Two-door XL models were discontinued, the anti-theft system was made standard across the board, and the airbag system was recalibrated to deploy with less force. Steering wheel mounted audio and climate controls debuted, along with new audio systems on the upper trim level Limited and Eddie Bauer models.
After reworking the back end for '98, Ford's Explorer team turned its attention to the rest of the exterior for '99. New fog lamps, rocker panel moldings, wheel moldings, running boards (lighted on Eddie Bauer and Limited), bumpers, and wheels were prescribed. Side impact airbags were introduced as an option for all Explorers. An audible reverse sensing system was added to the optional offerings for all but XL Explorers, along with a rear load leveling suspension system. The Explorer XLS added power windows and door locks, along with chromed wheels, side steps and a roof rack to the XL. The integrated child rear seat option was eliminated.
Eddie Bauer models got a leather wrapped steering wheel with climate, audio and cruise control switches. The trailering package was added to XLT Sport, Eddie Bauer and Limited models with the V8, as standard equipment. XLS became a model in its own right when the four-door XL was conscribed to fleet-only sales and 2000 was the year in which the sit hit the hand as far as the Explorer rollover controversy was concerned. The Explorer's sales numbers dropped precipitously and would never be the same after 2000.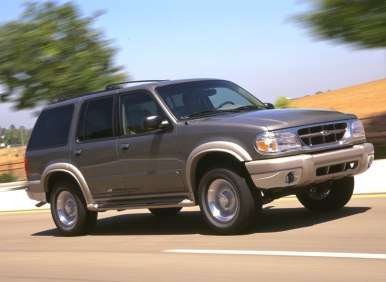 2001
Explorer Sport Trac debuted, taking the Explorer concept full circle by mounting a small pickup truck bed aft of its rear seat. Sport Trac used a longer wheelbase and was longer in overall length to accommodate the truck bed while maintaining rear-seat legroom. The flared-fender box featured a molded in liner and a 12v DC power outlet. The bed could be "lengthened" using the optional tubular cage designed to fit over the Sport Trac's lowered tailgate. The rear bench seat folded and the rear window could be lowered. Offered in rear- or four-wheel drive, Explorer Sport Trac was fitted with the overhead-cam V6 and the five-speed automatic transmission.
In other Explorer news for 2001, the manual transmission option was dropped, along with the overhead valve engine, leaving the overhead cam powerplant as the sole V6 offering.
A mild facelift updated the look a bit and the suspension was reworked in an attempt to make the Explorer more stable.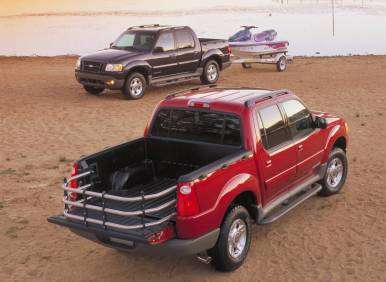 Ford Explorer Used SUV Buyer's Guide: 2002 - 2005
Turned out Ford's engineers had long warned about the tipsiness of the Explorer, particularly in light of the fact the Bronco II—with which the first two generations of the SUV had much in common—was notorious for rolling over as well.
One of the prescribed fixes Ford's engineers had been pushing for all along was a wider stance and a longer wheelbase; both of which were incorporated into the redesign, along with an independent rear suspension system. An added bonus of the independent suspension system was a lower rear floor, which enabled the incorporation of a third-row seat.
Larger door openings made ingress and egress easier, by lowering the step-in height. While Explorer Sport Trac made the jump to GEN3 (though still based on the GEN2 platform) two-door Explorers were discontinued.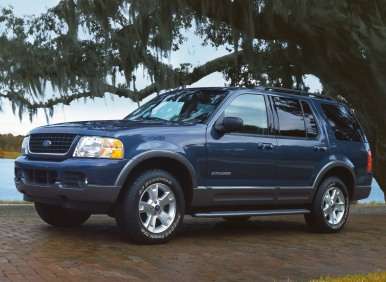 2002
For 2002, four trim levels were offered, XLS, XLT, Eddie Bauer, and Limited.
The base engine was the overhead cam, 210-horsepower 4.0-liter V6, which made 250 ft-lbs of torque. The 5.0-liter V8 didn't make the jump, but was instead replaced by a 4.6-liter overhead cam V8, which made 240 horsepower and 280 ft-lbs of torque. Towing capacity was upped to a maximum of 7,300 pounds (when properly equipped)
Standard equipment for Explorer XLS consisted of a set of sixteen-inch steel wheels, a full-size underbody mounted spare tire, variable intermittent wipers, privacy glass, a rear defogger, and an intermittent rear wiper. There was also a roof rack, painted bumpers, a manual flip-up window in the rear hatch, cargo tie downs, a trailer hitch and wiring, remote power door locks for keyless entry, power adjustable exterior mirrors, and one-touch power windows.
Cruise control, a front console with storage, front and rear cupholders, front door pockets, retained accessory power and power steering were also standard equipment. Additioanlly, he XLS used a tilt steering wheel with cruise controls mounted on it, air conditioning, a cargo area light, front reading lights, and lighted vanity mirrors. The standard audio system was an AM/FM stereo setup with four speakers.
To all of the above, Explorer XLT added sixteen-inch alloy wheels, a height adjustable power driver's seat, lumbar support for both the driver and the front passenger, a split folding rear seat, ventilation ducts for the rear seat, cruise control switches on the leather-wrapped steering wheel, front and rear floor mats, an electrochromatic automatic adjusting inside rear-view mirror, and a 60-watt amplifier, along with a single-disc CD player for the audio system. Traction control, stability control and the third row seat were options.
Explorer Eddie Bauer added running boards, height adjustable power seats for both the driver and front passenger, heat for the driver's seat, leather upholstery, adjustable pedals, a universal remote transmitter, audio and cruise controls on the leather steering wheel, seat memory for three drivers, an external temperature display, and seven speakers for the 290-watt audio system. A six-disc changer replaced the XLT's single disc player and a subwoofer was added to the audio system as well.
Explorer Limited added heat for the front passenger's seat, cup holders for the third row, and rear A/C (for three-row models only).
The 2002 Ford Explorer's safety kit included ABS, child seat anchors, disc brakes all around, child safety locks for the rear doors, an engine immobilizer, fog lights, delayed off automatic headlights, a center lap belt for the rear seat, pretensioners for the front seatbelts, and electronic brakeforce distribution. A late addition to the 2002 model year configuration was Roll Stability Control, which used sensors mounted around the Explorer's body to detect a potential roll over and try to compensate accordingly before tipping over. Ford also introduced anti-skid technology for V8-powered Explorers, which it dubbed "Advance Trac".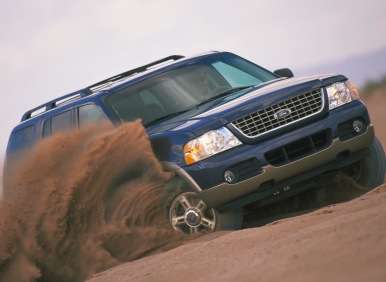 2003
For 2003, the Explorer's feature set was repackaged so a couple of new sets of trim lines could be added. This expanded the Explorer to seven trim lines—XLS, XLS Sport, XLT, XLT Sport, NBX, Eddie Bauer and Limited.
For MY'03, The XLS came standard with an automatic transmission and a CD player. The XLS Sport got alloy wheels, side step-up bars, wheel lip moldings, an upgraded center console and floor mats. Differentiating the XLT models were a chrome grille and metallic interior accents, while XLT Sport got special platinum gloss exterior trim and seventeen-inch machine-finished alloy wheels.
New for 2003, was the Explorer NBX model, which, in addition to unique exterior trim, got its own seventeen-inch alloy wheels. Explorer NBX ran all-terrain tires, a Yakima roof rack, rubber floor mats, and a cargo area liner. The 2003 Explorer Eddie Bauer also got a set of seventeen-inch wheels.
The 2003 Ford Explorer Limited was distinguished by dint of its chromed exterior trim and wheels, leather-upholstery for its center console cover, and its new wood grain interior trim.
Explorer's 2003 option list contained a six-disc, 290-watt sound system, rear-seat climate controls, a power moon roof, and a rear-seat DVD-based video entertainment system.
Lincoln got a luxury version of the Explorer, called Aviator.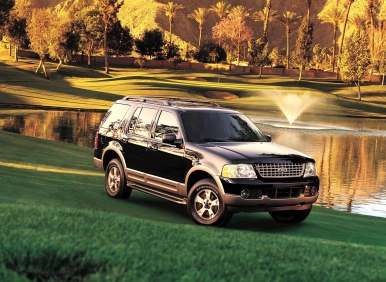 2004
Advance Trac was made available for all but XLS and XLS Sport, NBX got a standard off road package and an optional moon roof. The Explorer's rear A/C option could be had without the third row seat for the first time, Limited and Eddie Bauer got a four bucket seat option, and tire pressure monitoring was added as standard equipment to all trim levels.
Advance Trac finally trickled down to the XLS.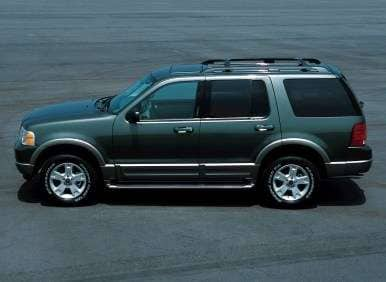 Ford Explorer Used SUV Buyer's Guide: 2006 - 2010
For the GEN4 Explorer, a styling refresh brought a new grille, a new tailgate, and new taillights in addition to an all-new interior treatment. The frame was stiffened to improve ride and handling, The V8 was reconfigured to a 292-horsepower three-valve per cylinder setup with 300 ft-lbs of torque. A six-speed automatic transmission debuted to go with it. Towing capacity held at 7,300 pounds. NBX, XLT Sport, and XLS Sport didn't make the jump from GEN3.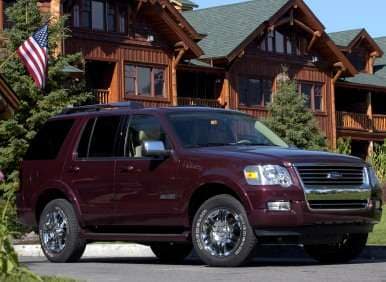 2006
With the demise of all the in-between trims, the 2006 lineup was reduced to four; XLS, XLT, Eddie Bauer and Limited. The 2006 XLS packaged air conditioning, cruise control, and an MP3-compatible CD player with keyless entry, power windows, mirrors and door locks.
A six-way power driver's seat, sixteen-inch alloy wheels, a leather-wrapped steering wheel and rear ventilation ducts were added to the XLS Explorer's features to make the XLT.
To all of that, Eddie Bauer models added two-tone paint, seventeen-inch wheels, all-terrain tires, running boards, wood-grain interior accents, heated leather seats, a ten-way power adjustable driver's seat with memory, and an auto-dimming rearview mirror.
The Limited went with chrome wheels, a dual-zone automatic climate control system, a power-operated front-passenger seat, heated mirrors, and an upgraded audio system with steering wheel controls and an in-dash CD changer.
Optional features included a third-row seat, a navigation system, rear A/C, a DVD video-based rear entertainment system, a sunroof, eighteen-inch wheels, and second-row bucket seats.
Safety gear for the 2006 model year included antilock disc brakes, tire pressure monitoring, front-seat side airbags, the Advance Track stability control system, and Roll Stability Control. Optional for all 2006 Explorers was Ford's Safety Canopy system, which incorporated first- and second-row side curtain airbags with a rollover sensor to keep the air bags inflated longer in a roll over. The 2006 Ford also offered a reverse-sensing system, which could be added to all Explorer models except the XLS.