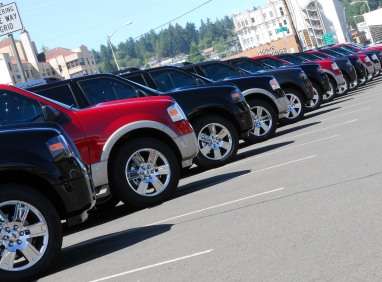 Between Explorer, Excursion and Expedition, Ford has just as many "Exes" as Demi Moore. One of them, the subject of this overview, Ford's Expedition was introduced back in 1997, as a replacement for the Ford Bronco. The O.J. Simpson "slow-speed chase" in Los Angeles — piloted by Simpson's longtime friend Al Cowlings — made that Ford SUV infamous.
And while that bit of trivia undoubtedly had very little to do with Ford's discontinuation of the Bronco, the subject of this overview, the Ford Expedition, did benefit from the Bronco's axing. And while it was Ford's mid-size SUV when it was introduced, today, the Expedition is Ford's largest SUV offering. Additionally, with the conversion of the Explorer to a unibody configuration, the Expedition is the last body-on-frame, truck-based SUV in Ford's lineup.
There have been three generations of the Ford Expedition offered since it was introduced.
1997 - 2002
First offered in late 1996, as a 1997 model, the Ford Expedition was based on the Ford F-150 pickup truck of the time. In a crafty bit of strategy, Ford's engineers positioned the Expedition to be larger than Chevrolet's Tahoe, but smaller than the company's Suburban, with seating for up to nine passengers.
This was accomplished with a bench seat up front, as well as a third row bench seat in the rear of the Expedition. In addition to its remarkable people packing skills, acquiring that first Expedition bought considerable kit as well. Offered in two levels of trim, XLT and Eddie Bauer, Ford's Expedition featured, in addition to the three row seating we referred to above, a choice of captain's chairs in the first and second rows, premium leather upholstered seating surfaces, running boards with illumination, heated outside mirrors, a power-operated moon roof, dual zone automatic climate control, and the body shakin' Ford Mach Audio system with a subwoofer stashed in the back of the Expedition.
Powering that first Expedition was a pair of V8 engines; the 4.6-liter V8 made 215 horsepower and 290 ft-lbs of torque. The big engine was a 230-horsepower, 5.4-liter V8, which delivered 325 ft-lbs of torque. Offered in both rear-drive and four-wheel drive configurations, Expeditions ran their power through four-speed automatic transmissions.
With the 5.4 and a heavy-duty tow package, the Expedition would pull up to 8,100 pounds. The 1997 Expedition also carried a payload of 2,000 pounds.
A special offroad kit included skid plates for additional underbody protection, as well as a limited-slip rear differential. The optional pneumatic suspension system enabled the driver to raise and lower the Expedition as needed for either additional ground clearance, or to make ingress and egress easier when employing the system's "kneel down" mode.
The 1997 Expedition's four-wheel drive system came with a heavy-duty transfer case and was capable of operating in four different drive modes; 2WD-high, Auto, 4WD-high with the differential locked, and 4WD-low with the differential locked.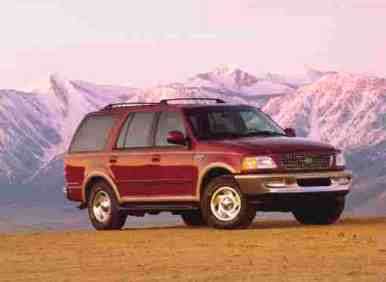 1998
With so much already on offer, Ford let the Expedition ride into model year 1998 with no significant changes.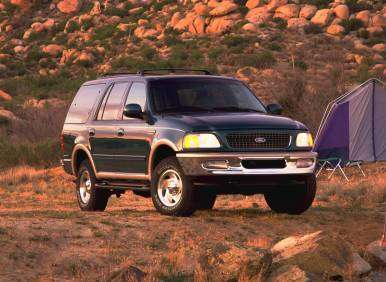 1999
For 1999, the Command Trac four-wheel drive system was revised. Its 2WD-high mode was dropped from the choice of drive configurations, making CommandTrac Expeditions full-time 4WD. Both of Expedition's engines got power upgrades, with the 4.6 being bumped to 232 horsepower and 291 ft-lbs of torque and the 5.4 increased to 260 horsepower and 345 ft-lbs of torque. On the cosmetic side, a new front grille was installed as well as a new front bumper with integrated foglights.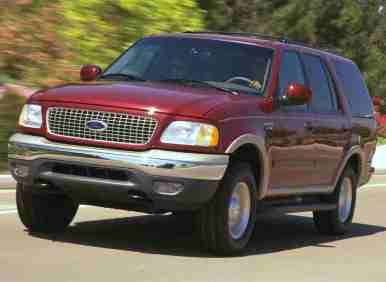 2000
Detail changes carried the Expedition into the last year of the 20th century. Ford's engineers added adjustable pedals to make the Expedition adapt to a broader variety of drivers, and the radio antenna was integrated into the right rear quarter panel window. Auto dimming rearview mirrors were incorporated, turn signal repeaters were added to the side view mirror frames, and sonar backup sensors were installed to aid in backing and reversing maneuvers.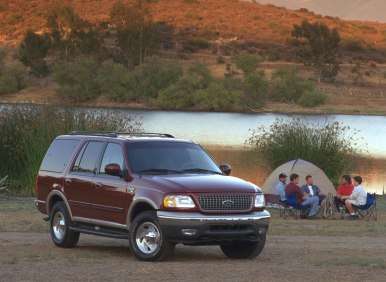 2001
For 2001, rear seat passengers in the base-level XLT Expedition could go incognito, thanks to the addition of rear privacy glass to its roster of standard features. Home Link was added to the list of Eddie Bauer features, 4WD Eddie Bauers also got a class IV trailering package. Captain's chairs were specified as standard equipment for the second row of the upscale Expedition; swathed in leather — of course. Rear seat video entertainment was introduced as an Eddie Bauer option for 2001 as well.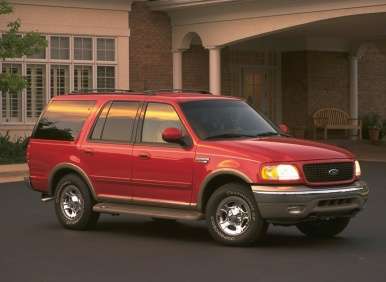 2002
With an impending redesign in the works, 2002 Expeditions ran the same configurations as 2001 models.
2003 – 2006
For 2002, Expedition got an all-independent suspension system, making it the first full-size body-on-frame SUV to run that arrangement. This enabled Ford's engineers to improve the Expedition's ground clearance by nearly an inch and a half. Towing capacity was increased to 8,900 pounds when paired with the heavy-duty tow package and the proper axle ratio.
CommandTrac got its 2WD mode back, and the system got computer controlled terrain sensing technology to regulate slip. The steering system was replaced, the brake rotors were enlarged, and the brake calipers were reinforced as well — all in an effort to improve the towing ability of Ford's (then) mid-size SUV. As remarkable as it seems when you see an Expedition in the flesh, back in 2003, Ford had an even bigger SUV in its lineup, the aircraft carrier-sized Ford Excursion.
With the redesign came three models (XLT, Eddie Bauer and FX4); along with four trim levels; XLT Value, XLT Popular, XLT Premium, and Eddie Bauer. XLT Value was the base model — featuring a CD player, air conditioning, a flip-up rear hatch window and power-adjustable pedals. The next level up, the Popular package, added running boards, rear-seat climate controls and auto-dimming mirrors. Moving farther up the scale to the Premium package brought leather upholstered power seats and a floor console.
The 2003 Eddie Bauer package's trip computer, automatic climate control, reverse sensing system, and in-dash six-disc CD changer, comprised the components of the ultimate pre-packaged Expedition. However, there were standalone options as well; a CD-based navigation system, DVD entertainment system, a power folding third-row seat, heated and cooled front seats, and a tire-pressure monitoring system.
The FX4 model, configured specifically for off road, er—expeditions (you had to know that was coming at some point…) included skid plates, off-road shock absorbers, and tubular running boards. That model was available only with 4WD and the 5.4-liter engine.
Engine choices and output remained the same as they had been since the last engine upgrade in 1999 took the 4.6 to 232 horsepower and 291 ft-lbs. The 5.4-liter V8 returned as well for '03, still producing 260 horsepower. However, its torque output was increased to an even 350 ft-lbs. Ford stuck with the four speed automatic transmissions as well.
Safety gear included four-wheel disc brakes with ABS, electronic brake assist and electronic brake force distribution. Ford's Personal Safety System was the catchall phrase applied to its suite of active restraints including; dual stage airbags, seat belt pretensioners and sensors that determined the intensity of airbag deployment based on the size of the driver and the severity of the crash.
Ford's Safety Canopy System provided side and head impact protection for the both the first and second row passengers. Rollover sensors adjusted airbag deployment for additional protection.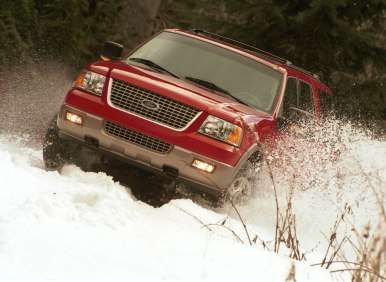 2004
The FX4 nomenclature was dropped in favor of the NBX designation. The XLT Value model was redesignated XLS and the XLT Sport trim level was added.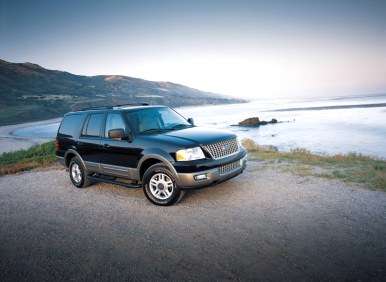 2005
The year of the most significant number of changes for the GEN2 Expedition, 2005 saw the 4.6-liter V8 discontinued, leaving the 5.4 to power all Expedition models. The good news is, it got even more power. For 2005, the 5.4-liter made 300 horsepower and 365 ft-lbs of torque. The four-speed automatic transmission was reworked to incorporate electronic shift scheduling, improving fuel economy and smoothness.
New roof rails were fitted and the Expedition lineup got a new even more high-end model than the Edie Bauer. Called Expedition Limited, it featured chromed roof rails, chromed aluminum wheels, power seats, powered folding side view mirrors and a chromed exhaust tip. The interior of the King Ranch Expedition Limited was laced with both genuine wood trim and simulated wood trim, in addition to "Castano" leather seating surfaces. Also for 2005, Expedition became Ford's largest SUV. Excursion was cancelled in 2004.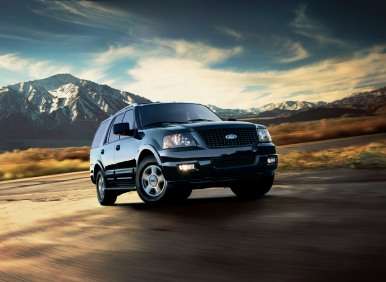 2006
The last year of production for the second generation of the Expedition saw only minor adjustments. Park assist and the SafetyCanopy airbag kit were added to the standalone options list.