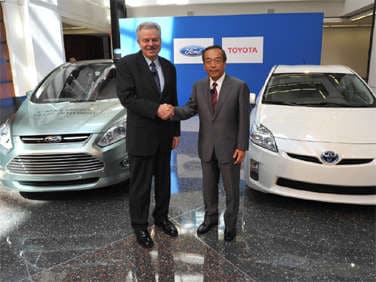 Toyota and Ford will be putting their engineering heads together in order to develop a new hybrid system that is aimed at providing battery power for pickup trucks and sport-utility vehicles. Although the joint hybrid initiative is still in the planning stage, Ford and Toyota plan to have the hybrid system available by the end of this decade.
Both Ford and Toyota currently offer an extensive number of hybrid vehicles across both their standard and luxury Lincoln and Lexus lineups. The new hybrid system will be specifically geared towards rear-wheel drive, truck-based vehicles, a target market that each automaker has been working towards serving independently for several years. Currently, only General Motors offers full-size pickups and truck-based SUVs featuring a hybrid system, in the form of battery-assisted editions of the Chevrolet Silverado, GMC Sierra, Cadillac Escalade, Chevrolet Tahoe and GMC Yukon models. Although not quite as fuel efficient as a standard hybrid sedan, these hybrid trucks do offer up to 25 percent better fuel mileage in city driving.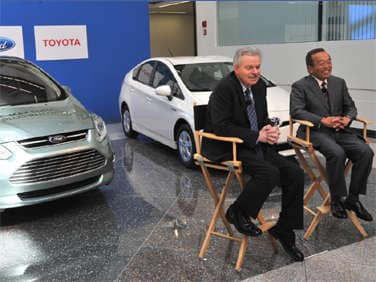 Page 3
Toyota currently offers a rear-wheel drive oriented hybrid system in its Lexus GS and Lexus LS sedans. Ford, on the other hand, has taken a different path towards squeezing out additional miles per gallon in some of its larger vehicles, moving towards turbocharged EcoBoost V-6 and four-cylinder drivetrains in its pickups and SUVs. The decision to adopt a hybrid system for its heavier trucks indicates that the company could be feeling more of a fuel economy pinch than previously anticipated, due to the increasingly restrictive corporate average fuel economy regulations (CAFE) announced this year. It could also be tied to the enthusiasm with which Ford customers have embraced its turbocharged V-6 pickups over the past year, indicating that truck buyers are willing to embrace new technologies in order to achieve better fuel efficiency.
There is a precedent for Toyota collaborating with competitors when it comes to hybrid technology. Currently, Toyota's Hybrid Synergy Drive system is licensed by Nissan, which has used it in the Nissan Altima hybrid model since 2007 as an interim step before developing its own in-house battery-assist technology. Ford itself has also benefited from Toyota's pioneering approach to hybrid design, licensing more than 20 patents that were similar to its own independent hybrid design in 2004.
In addition to hybrid development, both Ford and Toyota will work together to lay the groundwork for the next phase of telematics development. Although the two companies will not be working on a specific telematics system to be shared by their respective products, they will be attempting to create new telematics standards that can be followed in the future.