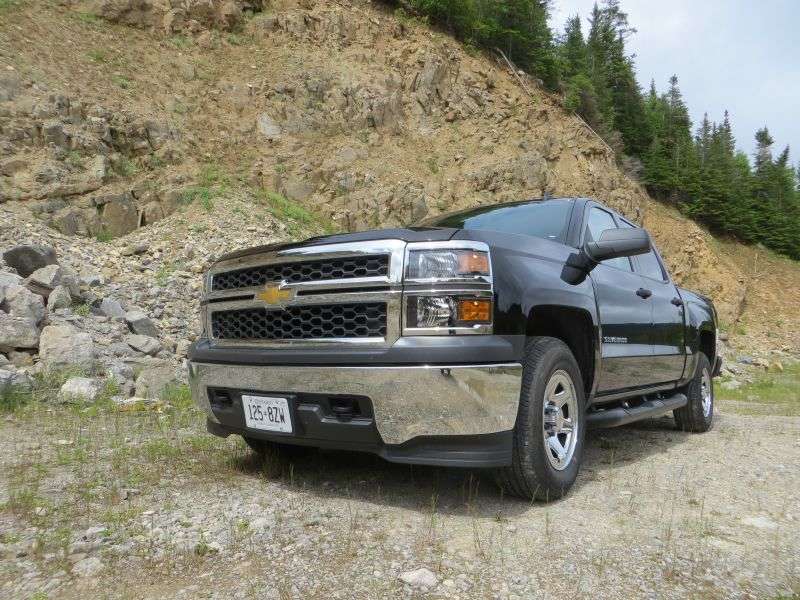 Full-size pickups are bottom-line building blocks for major automakers, which means that the amount of posturing, investment, and advertising associated with this class of vehicle is on a scale seldom seen in other segments.  The 2014 Chevrolet Silverado represents the latest iteration of arguably GM's most important nameplate, which means that it's carrying the world on its shoulders as it moves out into the marketplace against stalwarts like the Ford F-150 as well as the recently-upgraded Ram 1500.
I was given the chance to pilot the 2014 Chevrolet Silverado along the scenic coastline of Newfoundland, Canada, and discovered that Chevrolet has been able to make significant progress with the redesigned Silverado in a number of important areas.  Still, one question lingered during my time with the truck: is it different enough from what came before to help Chevy not just keep current customers in the fold, but also win new ones?
A Talented Under-Hood Trio
Brace yourselves, pickup truck fans - the 2014 Chevrolet Silverado finally gives Bowtie drivers the V-6 engine they deserve.  After so many years of languishing under the faint praise of being 'reliable' but little more, the all-new 4.3-liter, six-cylinder engine available with the base model Silverado now boasts a competitive 285 horsepower and 305 lb-ft of torque, figures that leave its predecessor in the dust.  Power delivery from the direct-injected V-6 is unhurried and competent, and the motor quietly makes a case for itself amongst budget-conscious pickup shoppers.
Not one, but two direct-injected V-8 engine options are also in the cards for the Chevrolet Silverado.  A 5.3-liter unit marks the entry point into eight-cylinder power, and this motor is good for 355 horses and 385 lb-ft of torque.  Outperformed by Ford's twin-turbo EcoBoost V-6 as well as its 5.0-liter V-8, its stand-out fuel mileage of 16-mpg city and 23-mpg highway positions the Silverado's 5.3-liter as a gutsy and efficient contender for those seeking a well-rounded package over pure straight-line performance.  The Silverado's drag strip credentials are defended by its top-tier 6.2-liter engine, which eclipses even the mighty Ram Hemi V-8 by way of 420 horsepower and 450 lb-ft of torque.  Each of these engines comes with a cylinder deactivation feature as standard equipment.
Although I did not have the chance to sample the still-unavailable 6.2-liter V-8, the smaller eight-cylinder in the 2014 Chevrolet Silverado performed admirably when towing, with the cargo bed full of firewood, and empty on the open road.  My only real complain about the Silverado's volume drivetrain had more to do with its transmission than the engine itself, as the six-speed autobox was often uncertain as to which gear it should be in when climbing hills.  This lead to higher rpms than one might expect from such a powerful motor. 
In an off-road scenario, consisting of a mild hill climb as well as rough gravel roads, the Silverado's Z71 package performed up to spec, and its descent control feature combined with two-speed four-wheel drive made short work of whatever obstacles cropped up in its path.  Highway driving was composed, and around town the Chevrolet's chassis did a commendable job of eating up potholes and responding quickly to steering inputs.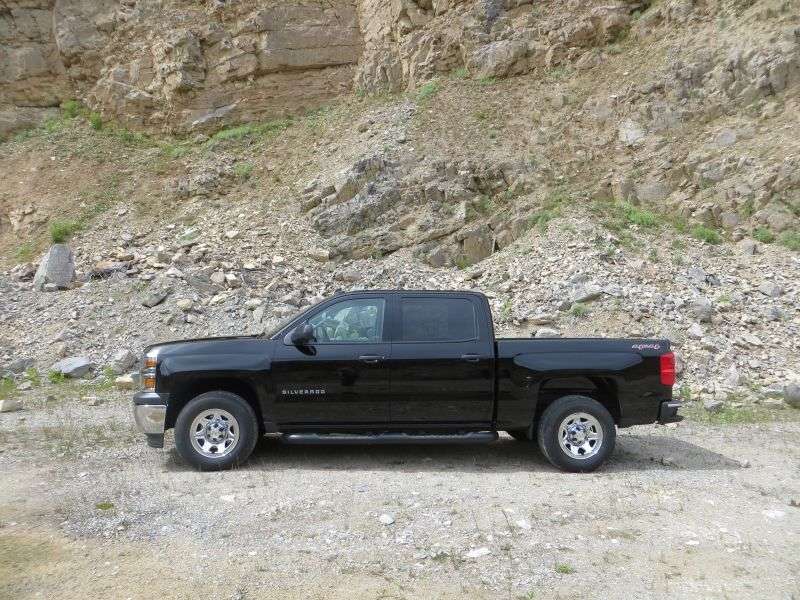 Enormous Cabin, Exceptional Practicality
It wasn't just the 2014 Chevrolet Silverado's on-pavement demeanor that had me penciling it in as a viable daily driver pickup - the truck's passenger compartment also turned in a virtuoso performance when it came to sheer utility.  Features such as the Chevrolet MyLink's eight-inch touchscreen interface as well as the leather thrones afforded the LTZ trim level were appreciated, but what really grabbed my attention was the copious amount of room afforded the Silverado's front and rear passengers.  Fold up that back bench in four-door Crew cab models and you've also got an enormous 'trunk' to compliment its up-to-eight-foot cargo bed.  Interior storage nooks and crannies abound, including a deep and configurable center console, door and console side pockets, and even a twin-door glove box mounted in front of the passenger.
For luxury truck fans who have been frustrated by the Silverado having to play second fiddle to its GMC Sierra sibling's Denali edition, there's some good news for 2014: the new High Country trim, which installs 20-inch rims, a chrome grille with body-colored bumpers, upgraded leather, and a louder sound system inside the pickup.  The Chevrolet Silverado High Country also gains standard all-wheel drive, which differs from the Denali's option of either all-wheel drive or low-range four-wheel drive.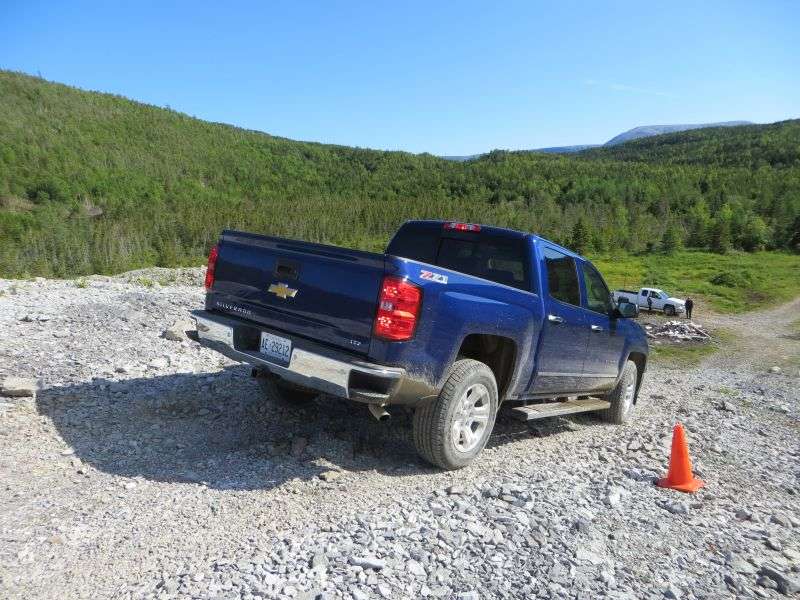 A New, Familiar Face
A New, Familiar Face
General Motors decided against giving the 2014 Chevrolet Silverado the kind of dramatic new visual design that one might have expected given the amount of time the previous model was on the market.  Fortunately, its stacked headlights, rectangular grille, big-and-square fender swells and hood, and general upright appearance work well for the pickup, linking it to its utility-focused past while simultaneously cleaning up its lines for modern drivers.  Useful inclusions such as inset steps on either side of the rear bumper also serve to indicate that the Silverado is a task-focused truck that doesn't need to engage in styling shenanigans in order to attract customers.
Will the 2014 Chevrolet Silverado inspire Ford and Ram owners to abandon their loyalties and defect?  It doesn't seem likely, for while the Silverado is a compelling entry into the full-size pickup sweepstakes, it's not quite capable of delivering a 'kill shot' to either the Ram or the F-150 in any important category.  For those who currently driver a Silverado, however, the new model is a welcome update indeed - and it's also definite bait for Toyota Tundra drivers disappointed with the sizzle, but no steak revision afforded that particular truck for the current model year.