The All-American game changer.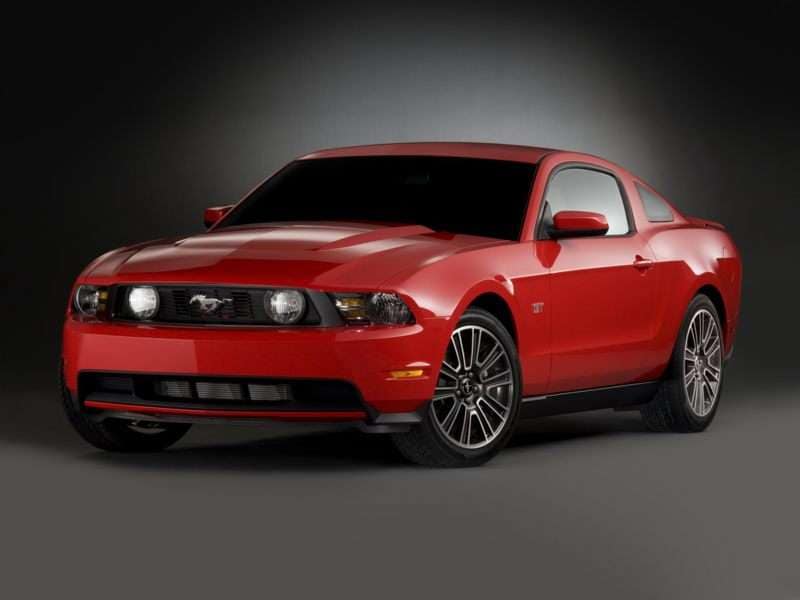 ford mustang
Apple pie. Baseball. Ford Mustang. Is there a vehicle that's more of a quintessential American icon than the Ford Mustang? Doubtful. Through its 47 year production history, 9 million units have been produced and you'd be hard pressed to find anyone that hasn't at least heard the Mustang name…unless they've been hiding under a rock for the past 47 years. Even through its ups and downs, (really Ford, the Mustang II?) the Mustang is the rare vehicle that garners fans regardless of age, race, gender, or locale. As of late, the Mustang has been a good vehicle, though the competition has more than caught up, and buyer's interest has shifted from pony cars to portly cars and more recently, puny cars. But why is that? Surely it's not because drivers don't want to have fun. No, it boils down to finances, and unfortunately many times, pony car dreams are dashed in favor of 40 mpg numb commuting appliances.
No more! proclaims Ford. It's time, America, to wake up and have fun, without sacrificing fuel efficiency. How about a Mustang with frugality that makes a Civic owner blush? Ford managed it, but did they really push the fun pedal through the floor? Yes, and yes. The 2011 Mustang is everything a proper American icon should be. Aesthetically, the Mustang was fully refreshed inside and out for 2010. A world-class interior was housed inside a muscular, retro-ish pony car exterior, however under the hood still lived the anemic and thirsty 4.0-liter boat anchor V6, and the top GT sported a barely class acceptable 315 horsepower 4.6-liter V8. Sorry 2010 Mustang buyers, 2011 puts two all-new stables under the hood. Finally. Photos by Chris Allen
Page 2
Benchmarking the Audi A5 for interior quality, Ford put together an interior that's retro, usable, and comfortable with materials that blow its competition out of the water. Recalling my time in a Camaro, the Mustang is far superior. Everything you touch is soft and quality. Like my index finger turned into a woodpecker, I tapped every panel I could see and found no creaks, squeaks, or chintzy plastics. The metal that looks like aluminum, actually is aluminum. The steering wheel is perfect size, and the horizontal spokes are just wide enough for a comfortable 9 and 3 hand position. The leather wrapping the steering wheel feels like real quality leather, and the seats are so comfortable and supportive that after hours of driving both twisty and highway roads, I felt little fatigue. NVH, or Noise, Vibration, and Harshness, was a major focus for engineers when developing the new 2011 Mustang. While driving, road noise is minimal, providing near library levels of silence when cruising at 70…aside from a slight burble from the exhaust reminding you you're in a Mustang.
Noises like tire noise, road debris, and wind noise are kept out, while muscular engine noises are piped in to serenade you on your journey. The engine noise is never obnoxious; however it increases in intensity depending on your pressure on the throttle. A welcome treat because you are in a Mustang, after all. If it's more than engine audio you desire, also inside is Ford's first implementation of Sync in a Mustang.  Sync is far more than just voice search for your 80-gig iPod music library. The basic sync system ($390 option for base Mustang, standard on the rest) offers voice search, turn-by-turn navigation without a navigation screen, vehicle health reports, and so much more my head's still spinning. Most noteworthy, in my opinion, is the vehicle health report. No more confusion about your next oil change, or what the obnoxious check engine light that just illuminated on the dash means. When such instances occur, you can tell your car to e-mail you a report, so you stay informed on what exactly is going on under the hood. This service, along with turn-by-turn voice navigation is available for free for 3 years, and then $5/month after that. The only other thing you need is a Bluetooth enabled cell phone for your car to phone home.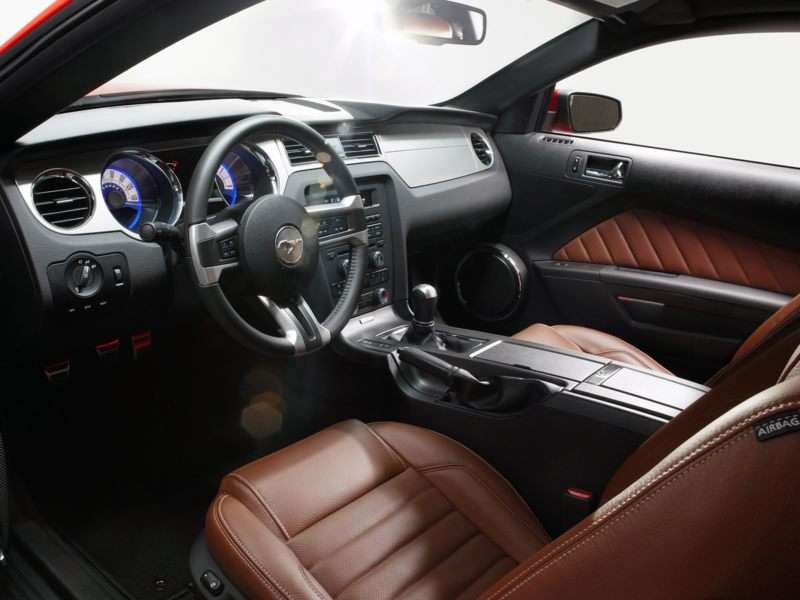 305 horsepower, 31 mpg/hwy. Those are the numbers to keep in mind when thinking of the base 2011 V6 Mustang. This is the first time ever those numbers have accompanied one other, referring to the same power plant. Yes, the new 3.7-liter V6 is the first engine in history to achieve over 300 hp and 31 mpg. These numbers are mated to an all-new 6-speed automatic, and an all-new 6-speed manual is standard. That third pedal's going to cost you though, to the tune of 2 mpg on the highway, down to 29mpg. Impressive numbers look great on paper, but what's it like on the street? To anyone other than the purest of enthusiasts, it's fantastic. This engine has adequate power, however the 280 ft.-lb. peak torque doesn't roar up until 4,250 RPM, so to get the real rush, you've got to rev it high.
That's ok because when you do, you're rewarded with a thrust of torque that's simply uncharacteristic of past V6 Mustangs. Speaking of uncharacteristic, the sound of the V6 is unbelievable. All V6 Mustangs, including the base, are equipped with dual exhaust that Ford engineers painstakingly tuned to match the classic Mustang rumble. The result is an exhaust note that V6 engines just don't make. Burly and muscular, this V6 barks like a V8, bites like last year's V8 while leaving your wallet full of green. Oh, and those 6-speed transmissions? Very good. Sampling first the 6-speed manual, the clutch pedal is adequately weighted, with a progressive uptake that makes it very simple to launch and drive smoothly. The shifter is surprisingly short and precise, making the act of switching cogs almost as simple as breathing. Sitting in wonderful Los Angeles stop-and-go traffic, that "adequately weighted clutch" got somewhat heavy, and the lack of a dead pedal for a place to rest my left foot meant some serious leg aerobics, resulting in a sore ankle when I arrived at my destination. No such issues with the 6-speed automatic, as the clutch pedal is omitted in favor of letting the car shift itself. Shifts were purposeful, however a tad sluggish and seeing as how you've got to wind the V6 engine up a bit to get to peak power, passing and merging on the highway can be a bit delayed while the transmission finds the optimal gear. Keep that in mind though, and the V6 will get you in and out of any situation with aplomb.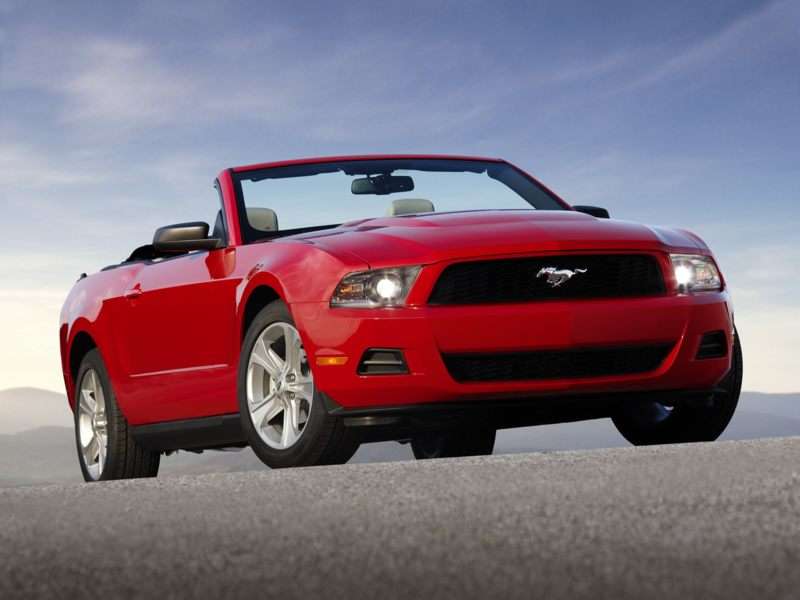 Page 4
Then there's the new 5.0-liter V8. "I'm on a roll and it's time to go solo, rollin' in my 5.0, with my rag-top down so my hair can blow…" I just quoted Vanilla Ice, and no, I'm not proud of it. It is a great display, however, of how iconic the 5-liter V8 in the late 80's, and early 90's Mustang GT's was. In 1996, Ford tossed the 5.0 in favor of the 4.6-liter V8 that resided under the hoods of GT's all the way until now. While not necessarily a bad engine, the 4.6 never quite had the oomph of the 5.0…and with the new Camaro and Challenger camps putting down 400 ponies, the original pony car needed to step it up. Finally for 2011, the five-point-oh is back to the tune of 412 horsepower and 390 ft. lbs of torque. Even Mr. Ice would've kept the rag-top up, as laying into the go-pedal could result in rapid hair loss, making subsequent cruising for honeys rather difficult.
The new 5.0 is a force to be reckoned with. Barely suffering from the same high-winder persona of the V6, the V8's 390 lb.-ft of torque culminates at the same lofty 4,250 rpm redline (for the sake of fuel economy, no doubt). To its benefit though, is 110 extra lb.-ft, making the V8 pretty lethal when passing or merging, erasing any prior issues I had with the V6. Acceleration is immediate and explosive. The sonorous, classic mustang sound is intoxicating, but you shouldn't blame inebriation when Johnny Law pops you doing 20-over. Watch the speedo if you can, because the needle sweeps by 60 in less than 5 seconds. After my first initial acceleration run, I found myself jabbing the throttle at any possible moment, giggling like a lunatic each time.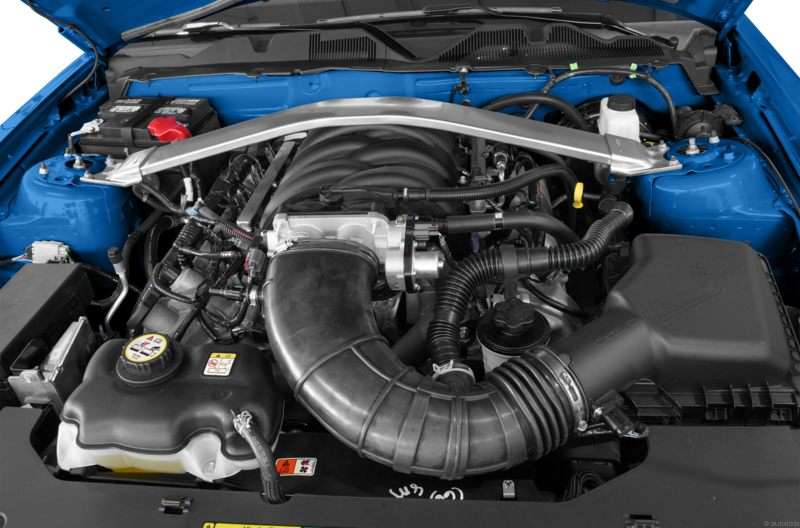 The 5-liter is rambunctious to say the least; a perfect engine for the new hot Mustang. It's the handling though (of both the V6 and V8), that's really the headline of the story for yours truly. The Mustang and the cars it competes with aren't really known for their canyon carving ability. They're somewhat big and heavy, and ¼ mile times tend to be more coveted than skid pad numbers. The Mustang however, is a very capable handler.
Even with the solid axle present in the rear, handling is very flat. During spirited driving on uneven canyon roads, the car hunkered down and never felt unsettled. The grip provided by the 18" Pirelli's was astounding. The steering is laser precise and the new electric power assist provides appropriate weight while still accurately communicating what the front tires are up to. The optional Brembo breaks on the V8 provide retina dethatching levels of halting power, keeping the go in check with woa. The whole experience was so unlike any muscle car I've driven that I was doing double takes at the pony on the steering wheel with each curve. The Camaro handles well, but feels like a gran tourer at heart. The Mustang feels more like an athletic sports car, despite lugging around 3,600 lbs of heft. Ford provided me with an auto cross course to put the Mustang through its paces, and at the limit, the Mustang is refreshingly predictable. With traction control full off, tail out shenanigans are but a throttle bump away, however never do you feel like you're not in control. Confidence inspiring is sometimes an over-used term, however it fits the Mustang just right. The car is amazingly tossable and a complete and utter blast to drive. Ford has changed the game. When Chevrolet introduced the Camaro last year, it was a serious contender, with its top power trains and all independent suspension. The Camaro is still a "muscle car". Adequate on twisty's, blasty fast in a straight line, it fits everything a modern muscle car should. For 2011, Ford delivers a truly world class sports car. Sure, it still feels like a traditional muscle car, but it offers so much more. A class-leading interior, European handling prowess, and styling and powertrains only Dearborn could concoct, the Mustang manages all of these feats without losing an ounce of its All-American essence.