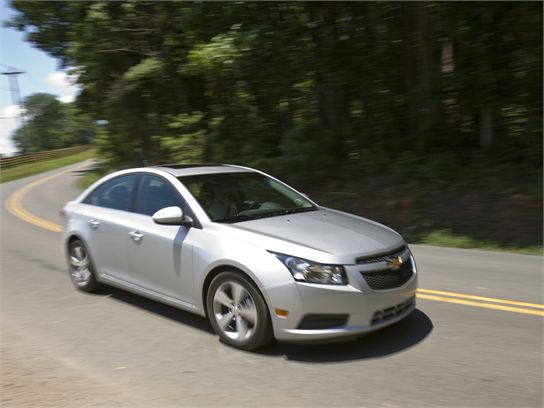 It comes as no surprise that small cars have never really been big in the United States. Not just due to physical dimensions, but also consider that aside from a few imported stand-outs, tiny, cheaply-made econo-boxes have been the bane of the U.S. small car market for years. Small cars don't typically provide the profit margin of a large fully loaded truck-based SUV, so that's where manufacturers placed emphasis. As a chicken before the egg debate: were SUVs popular because buyers wanted them, or because they were simply the best offering from most manufacturers? We've heard it from everywhere. Save gas, save money, save the polar bears, it's time my fellow consumers to downsize to a cheaper and more fuel efficient vehicle. The good thing is downsizing won't be a penalty for much longer. I present to you, the 2011 Chevrolet Cruze.
Developed internationally between North America, Europe, and Asia, the Cruze is a truly global car. Already selling well in Europe and Asia, Chevrolet's new compact car aims to prove what GM can do with a small car when it puts its mind to it. I'm glad it has, as the disappointing Cobalts and Cavaliers or yore are a distant memory the moment you see a Cruze in person. While no design revolution, the Cruze is certainly attractive. The high belt-line, swooping front fenders, character split-grille, and 18" wheels come together in a design that's fluid and organic while being aggressive and practical. The tall greenhouse hints at interior space and usability, and is admittedly one of the most tell-tale signs that the Cruze is a traditional small car. Thankfully, this is the last time "traditional small car" crosses your mind.
Interior Overview
Once inside, it's a bit hard to believe that you're inside a compact car by Chevrolet. Never has such a vehicle felt so up-scale. Interior design is excellent and the quality of materials and fit and finish is among the best you'll find in the segment. Most notable is the ample headroom provided by the low seating position and the high roofline. At its lowest setting, I could still fit a few Calculus textbooks on my head, which at 6"4', is quite a feat. The Cruze is so commodious, that I even had to move the seat forward a bit for maximum comfort. Something I have never done in a car of this size. Rear seat room is lacking though, as I found with the front seat adjusted the way I like, I couldn't even pretzel into the rear seats. With the front seat adjust for an average sized person; I fit with just enough headroom, though still cramped legroom. The front seats are very comfortable, and I experienced little fatigue after hours behind the wheel. The steering wheel is just the right size, and with a tilt and telescoping capability, could be adjusted to any position. Controls mounted on the steering wheel spokes allow your thumbs to fall just at the right position, and the layout is intuitive enough to get the hang of controls without taking your eyes off the road after minimal acclimation. The leather-covered padded dashboard on my LTZ tester was a pleasant surprise, as was the gloss piano-black
plastic trim around the radio and center stack. The Cruze benefits greatly from a loaded option sheet, and everything is reined together in an intuitive and easy to understand center stack configuration. My full-loaded Cruze LTZ tester featured Bluetooth phone connectivity (no audio streaming that I could find though), navigation and a nine-speaker Pioneer Audio System. I found the optional Pioneer Audio system to sound a little muddy. Tweaking the digital Bass, Treble, and Mid-range settings helped cure the issue a tad, though it still wasn't perfect. It is perfect for windows-down motoring though, as cranking the volume knob resulted in little distortion, and sharing your tunes with the vehicle next to you would be no issue.

Drivetrain Review
The new navigation system worked well, though it did block out entering new destinations while moving. Safety is important, but when my driving partner in the passenger seat tried to get us back to the hotel, we had to pull over to do so. An annoyance that is a concession to safety, but an annoyance none-the less. Chevrolet engineers were quick to point to OnStar, which is included for the first six-months free, and can be accessed while driving. I've never quite understood OnStar, but aside from turn-by-turn navigation, Chevrolet's about to roll out a new reason to renew your subscription. Chevrolet Connect is a new feature that will be released on the Cruze that connects your OnStar-equipped vehicle to your smart phone. In the form of a free downloadable app, you will be able to lock and unlock your car from anywhere, beep the horn, remote start, and monitor tire pressure along with other vitals. You'll have to be an OnStar subscriber, but I love the idea of abolishing doubt around your vehicle. Did you remember to lock the doors? It doesn't matter...you can check from anywhere.
Under the hood, all but the base Cruze feature a 138 horsepower 1.4-liter turbocharged 4-cylinder engine.  Historically, smaller displacement engines can be a bit on the annoying buzzy side, but Chevrolet spent plenty of time focusing on the engine noise and damping, to the point where it hardly makes a peep at start-up and idle. When accelerating, the engine is slightly audible, but what you hear is a tuned European sound that is in no way annoying and dangerously close to sounding sporty. Acceleration is far from blistering, but merging on the highway and passing slower moving vehicles is accomplished without issue. The 6-speed automatic transmission does a reasonable job of finding the optimal gear for passing, though multiple downshifts are usually required, leaving your foot on the floor for a few split-seconds too long. Six gears certainly help with cruising, so for an everyday driver, my gripes are few.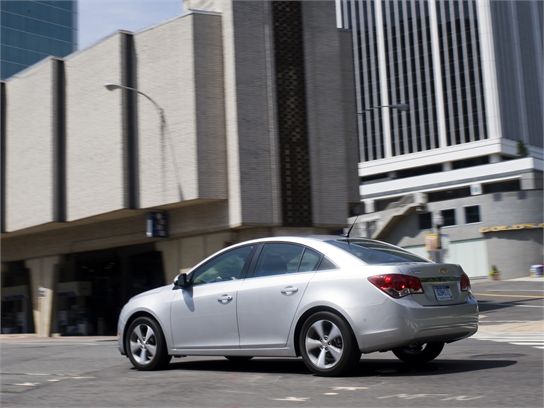 Drive and Conclusion
Benchmarking the Honda Civic, Chevrolet engineers strove to build a car with a comfortable around town demeanor that was also somewhat fun to toss around back roads. The result is more complaint than corner carver, so the Cruze isn't the best choice for spirited jaunts down a twisty road, but it's not the worst either. I found the ride on the highway and in the city very comfortable and smooth, though taught enough to be reminiscent of the Cruze's European origins. The steering is precise, though feel is predictably lacking, and effort is just a tad too light to be truly sporty.  As the road ribbons, the Cruze is ready to play, but body roll and lack of steering feel keep it from being a true joy when you push it. Still, there are worse choices in the segment. Starting at $16,995, the base Cruze LS comes equipped with a 1.8-liter naturally aspirated 4-cylinder and a 6-speed manual transmission, 10 air bags, stability control, anti-lock brakes, OnStar with 6 months free, air conditioning, power windows and locks with keyless entry, driver info center, aux-input for MP3 players, and XM satellite radio with 3-months free. That's a pretty loaded base vehicle.
Even the top-of-the-line LTZ model starts at $22,695 packing features such as the 1.4-liter turbo engine, power driver's seat, heated front seats draped in leather with a leather wrapped steering wheel, cruise control, Bluetooth phone connectivity, auto climate control, rear parking assist and 18-inch wheels. Going on sale in the third quarter of 2010, Chevrolet has a hit home run with the Cruze. This is the first compact car that Detroit can truly be proud of, and others are sure to follow suit. Considering how much great car you get for the money, you'll be doing yourself a disservice if you buy a new car (regardless of size) without at least looking at a Cruze first.