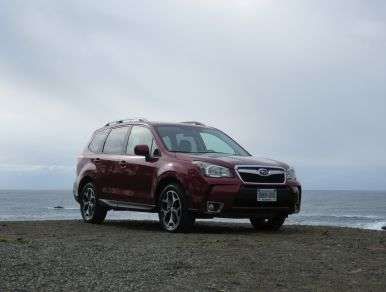 What happens when a car company takes the time to carefully nurture a customer base through a continual process of refining existing models rather than introducing a rotating cast of nameplates on a regular basis in an effort to see what will stick with shoppers?  You end up with vehicles like the 2014 Subaru Forester.  The all-new Subaru Forester is a compact sport-utility vehicle that has been methodically crafted to not only please some of the most loyal return buyers in the industry, but also incorporate enough new technology and capability to tempt owners of other SUVs to trade in their current rides for a sample of what the Japanese brand has to offer.
I recently found myself in Ucluelet, British Columbia, Canada in order to put the 2014 Subaru Forester through its paces along the wet logging roads and through the curving mountain passes that denote this particular part of Vancouver Island.  The experience left me impressed with the evolution of this tall wagon from its inception in the 1990s as a practical curiosity to its current status as perhaps the best all-around SUV to have ever worn the Subaru badge.
What's Old Is New Again
Aside from a few experimental phases with the compact Impreza, Subaru's isn't know for taking major styling leaps when updating its major models.  The 2014 Subaru Forester is no exception, with the overall shape of the vehicle staying faithful to the previous year's model.  It would be a mistake, however, to assume that underneath its similar skin the Forester hasn't undergone a serious re-think. In fact, according to project manager, Takuji Dai, the 2014 Subaru Forester shares only five percent of its components with any other Subaru model, including the previous-generation of the vehicle. 
1.4 inches longer, 0.6 inches wider, and with a wheelbase that is one inch greater than the model it replaces, the Forester is now larger than rivals like the Honda CR-V, which translates into much improved passenger room.  This is especially true for those riding in the rear of the vehicle, where an additional 1.4 inches of legroom and scalloped seat front seatbacks improve overall comfort.  The cabin also 'feels' larger due to the fact that the dashboard has been pushed forward and the driver and front passenger been given more shoulder separation.  Subaru fans will also immediately notice the much taller seating position afforded to the first two positions, addressing a common complaint of previous Forester owners.
The back of the 2014 Subaru Forester is not only bigger, but it's also easier to access thanks to wider rear door openings as well as a re-designed door sill that is intended to provide extra grip for small feet as they scurry in and out of their car seats.  The front door openings have also been expanded, and the front stepover has been reduced to make it more convenient to slide past while still preventing dirt and slush from entering the vehicle.  A slightly larger total cargo capacity and a flatter rear load floor with the back row folded forward round out the Forester's interior improvements, and a power lift gate is finally available for the first time with the SUV.
Now that I've covered most of the changes that have been made to the Subaru Forester's cabin, it's time to take a look at what has remained the same.  Although the dashboard and door panels receive a fresh treatment in terms of appearance, the SUV's materials, controls, and entertainment features are largely cut from the same cloth as that of the previous generation vehicle.  What this means for buyers is straight-ahead presentation of gauges and switchgear along with plain interior accoutrements that maintain that aura of Subaru timelessness.  Unfortunately, this also means a stereo system that looks out of place in 2013, even when dealing with the upgraded unit in the top-tier Limited trim.  This is a familiar refrain when discussing the passenger compartment of almost any Subaru, and while it will not deter return buyers it might give cross-shoppers pause when examining the more decked-out cabins of other small suvs.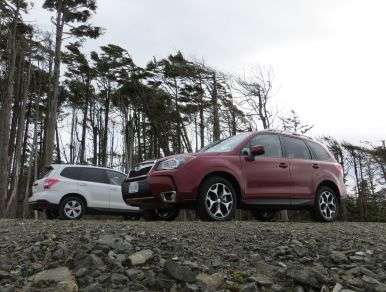 A Much Better Driving Experience
The 2014 Subaru Forester's styling enhancements and roomier interior are only part of what makes this model the latest-and-greatest addition to the brand's sport-utility lineup.  Simply put, the 2014 edition of the Forester is the best-driving version of the vehicle to have ever reached American shores, and this is true from the entry-level model all the way up to the sporty XT edition.
It makes sense to start with the core of every Subaru product: the vehicle's standard all-wheel drive system.  The company has been able to improve the responsiveness of the Forester's torque management feature by incorporating sensor inputs from the SUV's stability control system, including steering wheel angle.  The 2014 Subaru Forester also has another gizmo installed on versions of the vehicle that come with its optional continuously-variable automatic transmission: X-Mode.  X-Mode, which is activated via a console-mounted switch, allows for low-speed hill descent control as well as increased uphill or low-traction grip by way of using the brakes, throttle, and gearing in conjunction to prevent wheel spin.
I was able to test out X-Mode both on a steep incline / decline made of rocks and sand, as well as on a set of metal rollers, and in both cases it functioned exactly as advertised and kept the Forester moving forward at a safe rate of speed.  Combined with the SUV's 8.7 inches of ground clearance - which is in the same ballpark as that provided by the Jeep Grand Cherokee - it's safe to say that the Forester has far more off-road capability than will ever be used by the average driver.  On the slick, wet pavement of Vancouver Island's interior roads, where the rainforest keeps every thing moist and cool during the winter months, the Forester's all-wheel drive system also provided excellent traction and stability at all times with only a hint of understeer.  Body movement was far less pronounced than in past versions of the SUV, and ride comfort was also noticeably improved.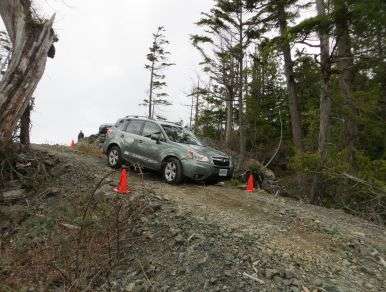 A One-Two Boxer Punch
The base 2014 Subaru Forester makes use of the same 170 horsepower, 2.5-liter four-cylinder engine found underneath its hood last year.  Also capable of producing 174 lb-ft of torque, this motor can now be matched with one of two new transmissions: a six-speed manual (standard) and a continuously-variable automatic.  The latter replaces 2013's ancient four-speed autobox and improves highway fuel mileage by five miles per gallon (32-mpg) and three miles per gallon in city driving (24-mpg).  Not only that, but the CVT is much, much quieter than one would expect when yoked to a small displacement engine.  When compared against the six-speed manual, whose ratios required constant shifting in order to stay in the 2.5-liter's power band (and whose shifter was particularly reticent to step down from fifth to fourth gear), I actually preferred the automatic.  This is a tribute to Subaru's engineering effort in not only enhancing fuel efficiency but also drivability at the same time.
The Forester XT also returns for 2014, but it brings with it more than a few surprises.  Tapped as the performance-oriented version of the SUV, the vehicle's 2.0-liter, four-cylinder engine is borrowed from the BRZ coupe but swaps out that model's Toyota-sourced direct-injection system for an in-house version lifted from the Japanese-market Legacy sedan.  More importantly, it also slaps on a turbocharger in order to boost output to 250 horses and 258 lb-ft of torque, which is an appreciable improvement over last year's 224 ponies and 226 lb-ft of twist.  It's important to note, however, that these numbers are only available on 93 octane gasoline: both the Forester's engineering group and the vehicle's owner's manual indicate that using anything less can result in lower engine output.  Fuel mileage for the turbo SUV is listed at 23-mpg city and 28-mpg highway, which beats 2013's base model.
The XT also gains its own unique 'high torque' version of the base CVT, featuring three drive modes.  I, or 'Intelligent' is designed to putter around at cruising speeds, while 'Sport' and 'Sport Sharp' (accessible via steering wheel-mounted buttons) introduce six and eight-speed 'virtual' gear ratios that dramatically alter the character of the vehicle's power delivery.  Sport Sharp became my go-to setting whenever I was behind the wheel of the Forester XT, and it allowed the CVT to not only bang off rapid 'gear changes' via its well-positioned shift paddles, but it also gave the SUV enough oomph to reach 60-mph in roughly 6.1 seconds. 
The additional strengthening welds and tuned suspension package that now comes with the XT model helped the vehicle feel extremely buttoned-down even when flung through corners at a rate of speed one wouldn't normally associate with such a tall wagon.  Combined with its unique front fascia, dual exhaust tips, and other design tweaks, the 2014 performance trim is more than just the engine upgrade it was before.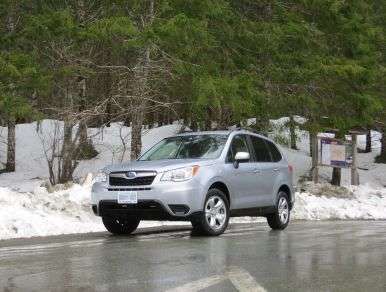 An Excellent Evolution Of The Breed
The 2014 Subaru Forester preserves the individualistic identity that has helped to define Subaru models since time immemorial, but although it shares many of the characteristics – and quirks – that have come to be expected from the automaker, it is also able to move past cult status into the realm of mainstream competition.  It's not going to appeal to everyone, but as we have seen time and again in recent years one-size-fits-all automotive design is hardly a philosophy that drives the production of outstanding vehicles.  To quote the sage words of a Subaru executive, "you can't eat market share."  The mere presence of the XT model in the Forester lineup also indicates that Subaru remains committed to providing a performance outlet to those buyers who wish that their WRX hatchbacks were just a little bit bigger.  You might be able to scope out a crossover that's more engaging to drive, less expensive, or larger and more comfortable inside, but it's unlikely that you will find an SUV at the Forester's price point that will deliver the same combination of fun, capability, and affordability.