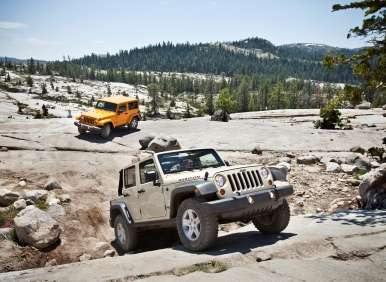 There's an old saying that it's more fun to drive a slow car fast than a fast car slow, but driving a cool convertible—at any speed—just might be the most fun of all. And today, thanks to a recent ragtop renaissance, there are a surprising number of open-air choices available across the pricing spectrum. There's no need to feel overwhelmed, however, since Autobytel has helped to narrow down the field by uncovering five of the coolest convertible cars in the country.
Cool Convertibles 2012: Chevrolet Corvette 427 Convertible
Inspired by the 1960s classic of the same name, the new Chevy Corvette 427 Convertible is nothing less than the most powerful, best-performing drop-top 'Vette ever offered by the Bowtie brand. Which really isn't a surprise when you consider that it leverages many of the same go-fast goodies available in the range-topping Corvette Z06 and ZR1 models—including a 427-cubic-inch LS7 V8 that can unleash 505 hp and 470 lb.-ft. of torque. With that motivator beneath the hood and mated solely to a six-speed manual transmission, this one of the coolest convertibles of 2012 delivers red-hot performance: It can rocket from 0-60 in 3.8 seconds, cover the quarter-mile in 11.8 seconds and post a top speed in excess of 190 mph.
Certainly helping matters is the car's low curb weight of 3,355 lbs., enabled by the extensive use of carbon-fiber components including its raised hood, Z06-style fender, floor panels, and available front splitter and rocker panels.
The Corvette 427 Convertible doesn't cut corners when it comes to cutting corners, either. The car boasts GM's high-tech Magnetic Ride Control system—one of the world's fastest-reacting damper setups—as a standard feature, as well as lightweight suspension hardware specifically tailored for responsive high performance.
The price for this cool convertible? $75,925, and it's available at dealerships now.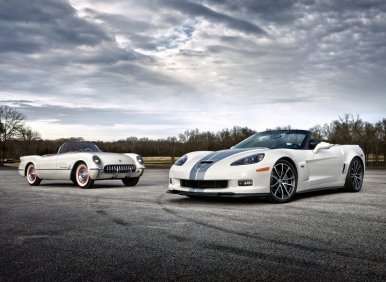 Cool Convertibles 2012: Fiat 500c
The least expensive of Autobytel's coolest convertibles of 2012 is the FIAT 500C—priced from $19,500—but drivers shouldn't let that low MSRP lower their expectations here. The 500c provides the same stylish and dynamic ownership experience as the 500 itself, but brings a unique, powered cloth top that can be positioned to provide three differently sized daylight openings.
Plus, the 500c also delivers the highest fuel-economy ratings of any of Autobytel's coolest convertibles of 2012, showcasing an EPA line of up to 30 mpg city/38 mpg combined.
And the fashion-forward do have a haute couture alternative in the 500c by Gucci. The noted Italian fashion house worked very closely with Fiat to design a car that: "represents the perfect blend of two stylistic approaches which, each in its respective field, has made Italian style so famous and influential all over the world, focusing, as ever, on attention to detail, [and] the ongoing pursuit of quality materials, in the spirit of simple yet refined elegance."
The FIAT 500 by Gucci isn't just among our coolest convertibles for 2012; it also was named the Best Small Convertible of the Year in the Southern Automotive Media Association's annual drop-top celebration known as "Topless in Miami."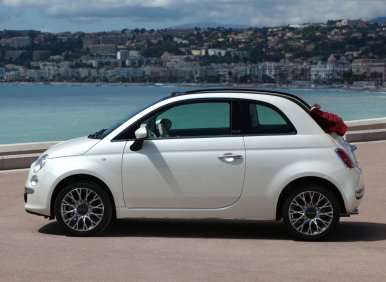 Cool Convertibles 2012: Mazda MX-5 Miata
The Mazda MX-5 Miata continues to reward drivers seeking the essence of open-air driving, so Autobytel has rewarded the car with a place on our list of cool convertibles for 2012. Of course, it was tempting to provide the Miata with two places on the roster, since it offers owners a double dose of drop-top fun.
The standard choice is one of the simplest cloth tops ever seen, and can be opened with just one hand, without having to leave the driver's seat. For a more modern approach, and a more coupe-like silhouette, the Miata also comes with a power retractable hard top that opens and closes in an industry-best 12 seconds. And both  fit neatly into a storage well located behind the car's rear seats, meaning trunk space is the same regardless of whether its top is up or down.
With a price of admission that begins at $23,470, the Miata comes ready to rock with a peppy and responsive I4 engine that makes 167 hp/140 lb.-ft. of torque, a five-speed manual transmission, and a highly capable suspension that relies on a double-wishbone setup at the front, a rear multi-link suspension, stabilizer bars at both ends, gas-filled shocks and a front strut-tower brace for enhanced rigidity.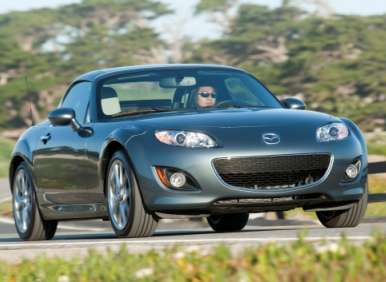 Cool Convertibles 2012: Jeep Wrangler Unlimited
The only four-door vehicle to make it onto Autobytel's cool convertibles of 2012 list also happens to be the only four-door production convertible in America: The Jeep Wrangler Unlimited.
Now, that "Unlimited" appellation was meant to indicate the vehicle's extra set of doors, but applies equally well to its open-air abilities. For starters, the Wrangler Unlimited offers both hard and soft tops. The former brings a three-piece, modular unit that includes a rear wiper/washer, rear defroster, full metal doors, deep-tinted glass and storage bags, and is offered in both black and (on the Sahara and Rubicon models) body color. The latter features a 55- by 60-inch sunroof that can be peeled off to let the sun shine in without having to remove the entire top.
On the other hand, both tops come off entirely, as do the Wrangler Unlimited's doors and windshield, for unrivalled open-air driving fun.
And remember, while 2012's only trail-rated cool convertible boasts the off-road skills needed to handle some of the world's toughest terrain—including best-in-class water-fording abilities, best-in-class approach/departure angles, and best-in-class ground clearance—its also delivers surprisingly civilized on-road manners: The Wrangler Unlimited is priced from $25,545 and that includes a fully modernized interior that can be upgraded with creature comforts like heated seats and the award-winning Uconnect connectivity/infotainment system.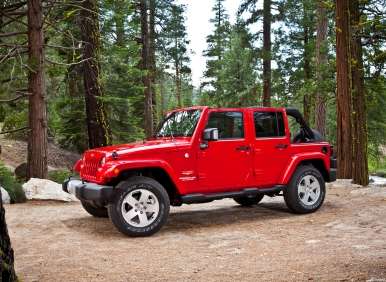 Coolest Convertible of 2012: Ford Shelby GT500
Convertibles have long been part of the muscle-car scene, so it's no surprise that when the Blue Oval launched the ultimate muscle car—the 200-mph 2013 Ford Shelby GT500—a convertible was part of the package. Not just any convertible, though. It shares all the performance enhancers on display in the coupe, like a supercharged all-aluminum 5.8-liter engine that is the most powerful production V8 in the world. The bottom line: 650 horses, 600 lb.-ft. of torque and one of the coolest convertibles of 2012.
Yet, while "It might just seem like we're putting a bigger engine into the car," according to Jamal Hameedi, chief engineer for Ford's Special Vehicle Team (SVT), "It's been a balanced approach through and through. We've completely redone the car to be even more sophisticated in terms of handling and control than the prior model."
Also included in the cool convertible's $59,200 price tag are a Brembo braking system, launch control, driver-selectable ride modes and steering settings, unique aero pieces, a redesigned quad-exhaust setup, and new wheel choices, while available performance upgrades can bring a Torsen limited-slip differential, SVT-designed, Bilstein-built electronic adjustable dampers, and more.
As expected from a premium Ford product like this, the automaker's SYNC with AppLink technology is standard, too, providing voice and touchscreen control over a wide range of vehicle systems and infotainment resources.