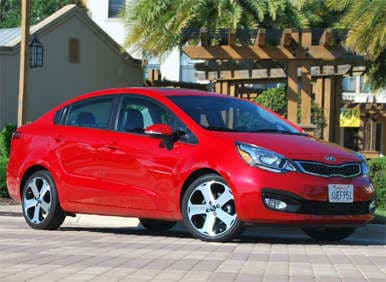 If you're looking to choose from a wide variety of small sedans for 2012, you're in the right country: American buyers have a particularly strong penchant for the four-doors-and-a-trunk body style, even in the lower weight classes, and that's reflected by the lengths that automakers go to in implementing the sedan appearance onto smaller canvases. The results can be inconsistent, to say the least, but lately, with the growing overall focus on more compact, more fuel-efficient vehicles, those efforts are paying off in appealing designs that blend U.S. customers' preferred car configuration with the fuel-economy benefits found in modestly sized hatchbacks.
It's a combination of features that's showcased by all entries on Autobytel's recommended list of small sedans for 2012.
Best Small Sedans for 2012: Cadillac ATS
Could the upcoming Cadillac ATS be literally THE best small sedan of 2012? Well, perhaps not, but it's certainly going to be on the short list, thanks to a bevy of unexpected advantages. The ATS is a serious shot across the bows of the BMW 3 Series, with a lightweight chassis, world-class aerodynamics, Cadillac's innovative CUE driver interface, Brembo brakes, Magnetic Ride Control with three driver-selectable damping modes and three superior powertrain choices: The ATS's standard powerplant is a 201-hp I4 engine that can deliver 191 lb.-ft. of torque and up to 33 mpg highway; the mid-range option relies on turbocharging to extricate 272 hp and 260 lb.-ft. of torque from just 2.0 liters of displacement; and the ultimate hi-po preference will be a 3.0-liter direct-injection V6 tuned to make 321 hp and 275 lb.-ft. of torque—more naturally aspirated power than any other player on Autobytel's roster of best small sedans for 2012.
That hardware is then firmly ensconced in the latest expression of Cadillac's sharp-edged design language, set off by taut lines and an especially tasteful headlamp treatment that can be enhanced with vertical LED accent lighting
Also fairly compact is the Cadillac ATS' MSRP, which starts at $33,095.
Best Small Sedans for 2012: BMW 3 Series
The BMW 3 Series is the proven leader among compact sport sedans and was completely redesigned for the 2012 model year. Needless to say, it also remains the gold standard on Autobytel's list of best small sedans for 2012.
Yes, the starting point for the 3 Series is quite a bit higher than that for the Cadillac ATS—the BMW 328i opens at $36,500, more than three large over the MSRP of the Cadillac—but it bests the ATS in just about every performance metric. Comparing the entry models of both lines, the 3 Series offers 39 more horsepower and 64 more lb.-ft. of torque while posting 0-60 times nearly 2 seconds quicker than those of the ATS: With an automatic transmission, the 328i can go from a full stop to a mile-a-minute in 5.8 seconds; it takes a similarly transmissioned ATS 7.5 second to do the same thing.
On the other hand, those two models have the exact same EPA scores, and the 328i with a DIY gearbox—not offered on the starter ATS—can reach 23 mpg city/34 mpg highway/27 mpg combined.
Remember, too, BMW also offers the 335i, with 335 hp and 330 lb.-ft. of torque on tap, and a hybrid version of the 3 Series—the ActiveHybrid 3—that's still waiting on its EPA marks.
Best Small Sedans for 2012: Dodge Dart
It's been a long time coming, but the Chrysler Group is finally launching its first next-gen compact and has earned a place among the best small sedans of 2012 with the all-new Dodge Dart. It offers everything drivers demand in a new-school small sedan in 2012, including an affordable entry price of $15,9995, a high-efficiency version in the form of the Dart Aero, high-tech connectivity features like the award-winning Uconnect system, and a trio of advanced powertrains:
The base engine is a 2.0-liter TigerShark I4, worth 160 hp and 148 lb.-ft. of torque, which will see EPA ratings of up to 25 mpg city/36 mpg highway/27 mpg combined with a six-speed manual transmission.
A bigger, more powerful 2.4-liter TigerShark powerplant will provide 184 hp and 171 lb.-ft. of torque in the Dart R/T; fuel-economy ratings are still TBD for this engine, but it will feature the breakthrough MultiAir technology for enhanced efficiency.
The other premium choice is a 1.4-liter I4 with MultiAir, turbocharging and an output of 160 hp/184 lb.-ft. of torque. With this engine beneath the hood, the Dart is expected to post an EPA line of 27 mpg city/39 mpg highway/32 mpg combined with a six-speed manual gearbox, and reach at least 41 mpg highway with a dual-clutch automatic.
Topping it all off: A genome packed with Alfa Romeo DNA.
Best Small Sedans of 2012: Kia Rio
The ability to create an attractive small sedan for 2012 requires significant design expertise, something for which Kia has become well known. In fact, the recently introduced Kia Rio subcompact—available in both sedan and hatchback body styles—already has taken home international design awards from two of the globe's top arbiters of style, the Industrial Design Society of America and the Design Zentrum Nordrhein Westfalen, based in Germany.
But the beauty of the Rio sedan is much more than just skin deep. It also offers innovative powertrain technologies like Kia's "Idle Stop & Go" system. The first such feature in its class, the setup stops the engine when the Rio stops, then automatically restarts the powerplant as soon as the driver's foot leaves the brake. In addition, the Rio is one of just two mainstream subcompacts to feature an engine with gasoline direct injection.
It's no wonder the Rio also happens to offer best-in-class EPA ratings of up to 31 mpg city/40 mpg highway/34 mpg combined.
The least-expensive of Autobytel's best small sedans for 2012 is stickered from $13,600, and that includes standard content like dual body-colored and heated side mirrors, a bold black-mesh grille, a chrome bumper-mounted air intake, air conditioning, a comprehensive vehicle-stability management system, and more.
Best Small Sedans for 2012: Chevrolet Sonic
Another brand that seems to have gotten the hang of designing subcompact sedans is Chevrolet. The four-door version of the Chevy Sonic is chunky—but not clunky—and has a fairly imposing presence for a small sedan from 2012. It also can be configured to reach the 40-mpg mark with a potent turbocharged I4 engine and six-speed manual transmission, capable of delivering 138 hp, a best-in-class 148 lb-ft. of torque and an EPA line of 29 mpg city/40 mpg highway/33 mpg combined.
The Sonic's cabin comes in for high praise as well, showcasing a stylish, asymmetrical instrument panel that combines an analog tachometer with a digital speedometer for an appearance that looks better than it sounds. Which helps explain why this best small sedan of 2012 also was included on Ward's list of 10 Best Interiors for 2012, even with an MSRP that starts at just $13,865.
For the new model year, the Sonic sedan will get another key customer satisfier, too, adding the Chevrolet MyLink infotainment system as a standard feature on the LTZ trim (and as an available option on the Sonic LS and LT). MyLink leverages an owner's smartphone to provide voice-controlled access to music, video, photo galleries, phone books and more, including app-enabled navigation along with Pandora and Stitcher Internet radio.