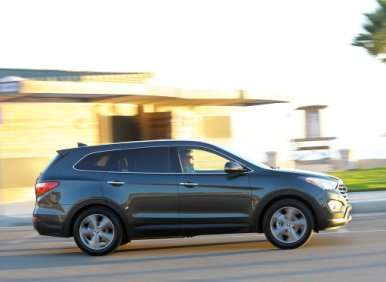 With full-size station wagons out of the picture, many owners who want the benefits of seating in the "way back" prefer to choose crossovers with 3rd-row seating for their transportation needs. The best 3-row crossovers offer more refinement and efficiency than the remaining three-row body-on-frame SUVs, and a wider variety of designs than minivans, and they actually come in a variety of sizes, too, providing even more choices for customers.  As for the best crossovers with 3rd-row seating, here are some of Autobytel's top choices:
Best Crossovers with 3rd-Row Seating: 2014 Acura MDX
The 2014 Acura MDX represents the cutting-edge of our list of best 3-row crossovers, going on sale in the middle of June as an all-new, next-generation entry. This time around, the MDX is breaking tradition to offer a two-wheel-drive edition that is nearly $1,000 less than the most affordable 2013 Acura MDX, and it offers new benchmarks for fuel efficiency in the MDX lineup. Also, that efficiency—backed by EPA grades of up to 20 mpg city/28 mpg highway/23 mpg combined—is complemented by an advanced 290-hp V6 engine and features like JewelEye LED headlights, Acura/ELS premium audio, and AcuraLink connectivity, infotainment and navigation technology.
Like many crossovers with 3rd-row seating, the MDX offers a rear-seat entertainment system, too, but it's no ordinary setup. Acura boasts a 16.2-inch screen that can show either wide-ratio video or two separate images side-by-side, from two separate video sources.
And drivers who do prefer the advantages of Acura's Super Handling All-Wheel Drive can rest easy knowing the latest version is still available for the 2014 MDX to deliver sports-car-like handling in good conditions and traditional AWD performance in bad.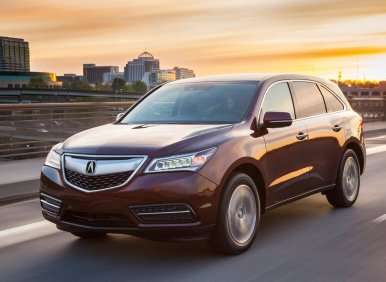 Best Crossovers with 3rd-Row Seating: 2014 Chevrolet Traverse
Helping owners take full advantage of all three rows is the 2014 Chevrolet Traverse, the longest of our best crossovers with 3rd-row seating. The Traverse is about an inch longer than minivans like the Honda Odyssey, stretching a full 203.7 inches, and although it isn't quite as roomy as a minivan, it does deliver the most interior space in its own class and supplies seating for up to eight.
Naturally, the Traverse also matches the rest of the best 3-row crossovers by providing available upgrades like an all-wheel-drive system and rear-seat entertainment solutions.
Further helping the Traverse earn kudos as one of the best crossovers with 3rd-row seating are two new driver-assistance technologies: Forward Collision Alert, which warns the driver if the Traverse is getting too close to the vehicle ahead of it, and Lane Departure Warning, capable of alerting the driver if it detects the Traverse is leaving its lane without an activated turn-signal indicator.
Other changes to the 2014 Traverse are minimal, but that's primarily because Chevy thoroughly refreshed it for the previous model year, with new interior and exterior styling, improved driving dynamics, an industry-first front-center air bag, and the brand's MyLink infotainment and connectivity system.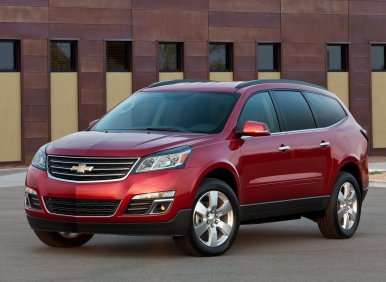 Best Crossovers with 3rd-Row Seating: 2014 Dodge Durango
The 2014 Dodge Durango makes an ideal choice for drivers who want a less common—but no less impressive—entry among the best crossovers with 3rd-row seating. And it's not just that the Durango attracts less attention than some of its rivals; the Dodge also offers uncommon content, including a new eight-speed automatic transmission with rotary-style shifter, exclusive "racetrack" LED tail lamps incorporating 192 individual LED lighting elements, and the segment's only rear-seatentertainment system that can play back both traditional DVDs and Blu-Ray discs.
The Durango is uncommonly luxurious as well, with premium features ranging from a Uconnect infotainment/connectivity system with 8.4-inch touchscreen to a heated steering wheel and heated (and ventilated) seats.
In addition, to consolidate its place on our list of best crossovers with 3rd-row seating, the Durango delivers best-in-class V8 (7,400 lbs.) and V6 (6,200 lbs.) tow ratings. And note: Those two engines aren't just any powerplants. The former is a 5.7-liter HEMI that makes 360 hp and 390 lb.-ft. of torque, while the latter is the 3.6-liter PentaStar V6 that is a multi-time honoree of the annualWard'sAuto 10 Best Engines awards.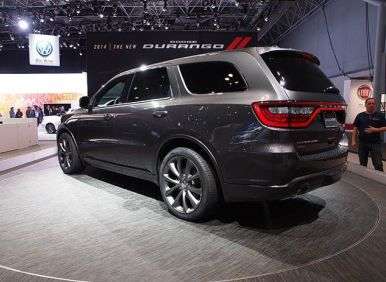 Best Crossovers with 3rd-Row Seating: 2013 Hyundai Santa Fe
Yet another all-new contender in the best 3-row crossovers category, the 2013 Hyundai Santa Fe is the big brother to the brand's two-row choice, the Hyundai Santa Fe Sport. But distinguishing it from its sibling—and its rivals—are features like the only standard engine in the segment to be fitted with direct-injection technology. More specifically, the Santa Fe brandishes a 3.3-liter V6 that pumps out 290 hp and 252 lb.-ft. of torque, providing the same fuel economy as the Honda Pilot but with 40 extra horsepower and a max tow-rating advantage of 5,000 lbs. (a full 3,000 lbs. higher than that of the Honda).
Of course, the Santa Fe is no mere utilitarian workhorse. As you might expect from a vehicle named one of the best crossovers with 3rd-row seating, it also can serve up premium enhancements like Active Cornering Control all-wheel drive, Driver Selectable Steering Mode, a panoramic sunroof, Hyundai's Blue Link telematics technology, heated front and rear seats, a 12-speaker Infinity Logic 7 audio system, family-friendly YES Essentials seat cloth, third-gen navigation tech with an eight-inch color touchscreen and integrated rearview camera, and second- and third-row climate vents.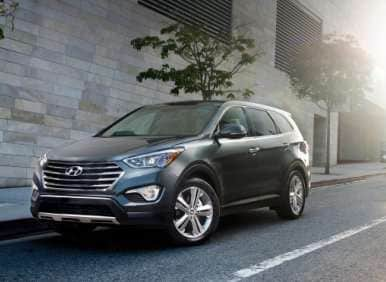 Best Crossovers with 3rd-Row Seating: 2013 Nissan Pathfinder
With the 2013 Nissan Pathfinder, being singled out as one of the best crossovers with 3rd-row seating is just one of the many prizes it's captured this season. In fact, in the past three months, the Pathfinder has been recognized by:
Ward'sAuto, choosing the Pathfinder for its list of 10 Best Interiors of 2013
Kelley Blue Book, which named it the No. 1 selection on KBB.com's roster of 10 Best Family Cars
Parents magazine and Edmunds.com, teaming up to rank the Nissan as among their list of 10 Best Family Cars
AutoTrader.com, citing the Pathfinder in a recent honor roll of Five Best Interiors under $30,000
Clearly, that's some kind of cabin in the Pathfinder, even when compared to Autbytel's previously mentioned best 3-row crossovers, and it's enhanced by a unique seating system that allows the second row to be tipped forward for easier access to third, even if there's an (unoccupied) child seat in the middle set of seats. Helping matters, the Pathfinder also leads its segment in passenger volume—and fuel economy, too. It can ring up an EPA line of 20 mpg city/26 mpg highway/22 mpg combined by pairing its 260-hp V6 engine with an Xtronic continuously variable transmission.