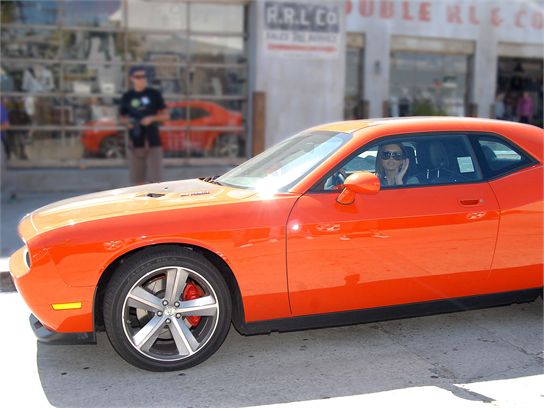 We wanted to do a feature called Short Celebrities and Their Compact Cars, but Danny Devito drives a massive S-Class, and it's been a while since we've seen the 5'7" Tom Cruise in public (and we doubt he drives a Smart Car). Anyway, sports cars are way more interesting, and there is no lack of options to choose from. Here are some of our favorites from the past two months, and you'll have to wait till the end to see who is driving this Hemi Orange Pearl Dodge Challenger.
Photo Credit: Splash News
Page 2
Paul McCartney spends a good deal of his time in London so we aren't going to knock him for driving a last-generation Chevrolet Corvette when he comes to the States. They don't sell a lot of them in Europe, and the differences between a C5 and a current-generation C6 Corvette are probably lost on him. That said, we'd hope the difference in which side of the street to park on would not be lost on the former Beatle. It apparently has.
Photo Credit: Splash News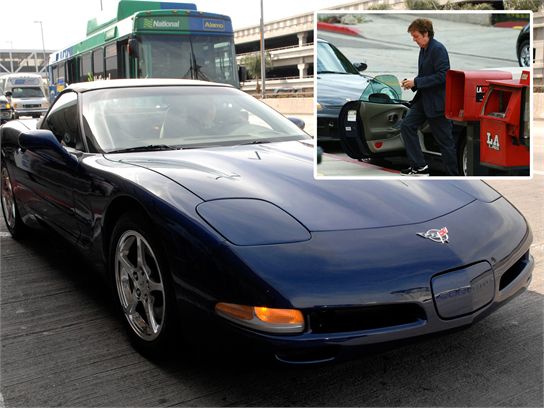 Page 3
There is actually a huge difference between the last generation and the current generation Corvette. The interior is way improved including a leather-wrapped dash that significantly adds to the Corvette's level of refinement, and the base engine is a mighty 430 horsepower. What hasn't changed is the value the Corvette offers; at a starting price of $48,565 you get a ton of car with the same amount of performance as cars costing way more. Even the top-level ZR-1 is a relative bargain at $103,000 considering it can keep pace with just about any supercar on the market.
Photo Credit: Chevrolet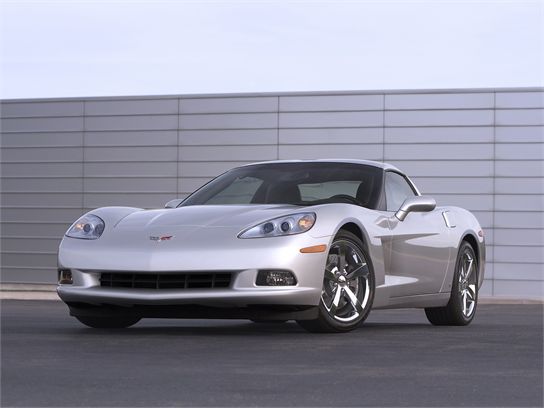 Page 4
"Gentleman start your engines driving the Ferrari California Today 453 horse power 7 gear tranny. Speed limit? We'll see..." That would be a message sent out to all of Ashton Kutcher's 1,000,000+ followers on Twitter, and here is the photographic evidence, straight from the set of Five Killers, to prove he wasn't messing around. Tom Selleck is back on screen for this movie too, and if he hasn't been in a Ferrari since his Magnum P.I. days, my how things have changed.
Photo Credit: Splash News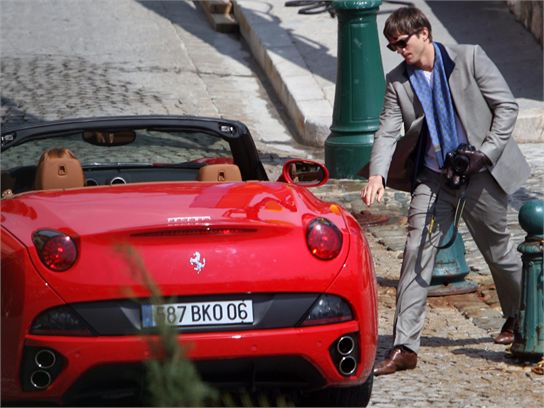 Page 5
The Ferrari California is significant because it is the first retractable hardtop convertible offered by the Italian dream maker. It's also significant because the engine sits up front and the trunk actually has room for stuff. While we wouldn't go calling it practical just yet, but it does offer more livability than many of its predecessors. As Ashton pointed out, the engine is a monster and Ferrari claims it can do 60 mpg in under 4 seconds.
Photo Credit: Ferrari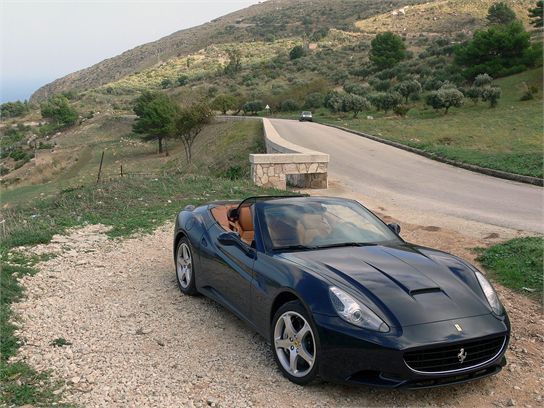 Page 6
Hot coffee, massively powerful Lamborghini -- if that isn't a spill waiting to happen then call us captain of the Exxon Valdez. And what's sillier looking, a baby blue Lamborghini or a baby blue Lamborghini driven by a dude with a matching baby blue vest? Apparently he's a big fan of the color; until he auctioned it off recently, he kept a right-hand drive version of the same one back in England.
Photo Credit: Splash News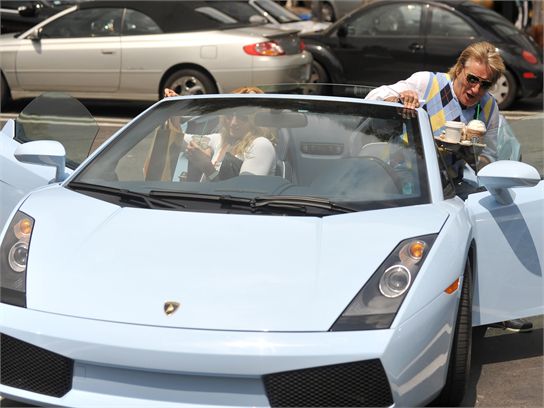 Page 7
The follow up to Rod Stewart's Gallardo Spyder, the 2009 Lamborghini Gallardo LP560-4 Spyder was unveiled back in November at the 2008 LA Auto Show. It is an evolutionary design with sharper edges, less mass, and of course, a more powerful engine. No retractable hardtop here though; the 2009 LP560-4 Spyder comes with a canvas top that takes about 20-seconds to disappear, so don't get caught in a downpour. Expect this celebrity-magnet to start around $220,000, and yes, you can probably get it in baby blue if you ask nicely and pay more.
Photo Credit: Lamborghini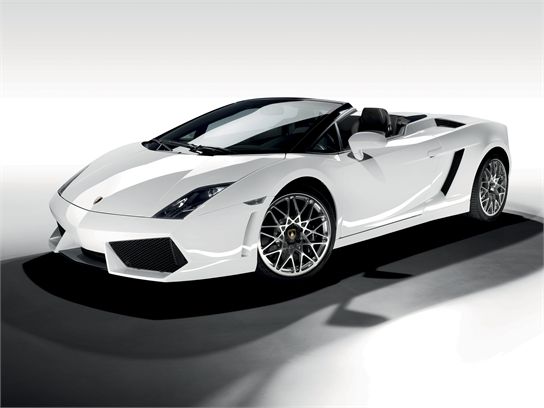 Page 8
Owning the keys to a Tesla is entry to an elite club. No surprise there are plenty celebrities in this club, including seven-time Oscar nominee Dustin Hoffman who after movies like The Graduate and Rain Man just looks at home in a convertible. Rumor is "Weird Al" Yankovic put a deposit down for the upcoming Tesla Model S, so perhaps this isn't such an elite club anymore.
Photo Credit: Splash News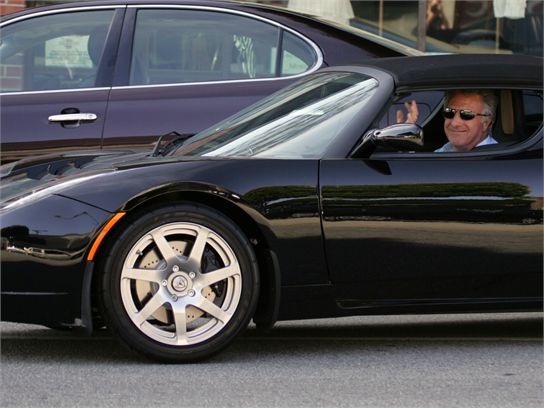 Page 9
It goes 0-60 in 3.9 seconds, looks amazing, and runs on batteries. If it sounds like a dream, well that's probably why Dustin Hoffman has such a smile on his face. With a range of 244 miles, you can get a whole day of electric cruising in no-problem. Is $101,500 too expensive for your tastes? An equally gorgeous 4-door sedan, the Model S, should be out in a couple years for half that price. Photo Credit: Tesla Motors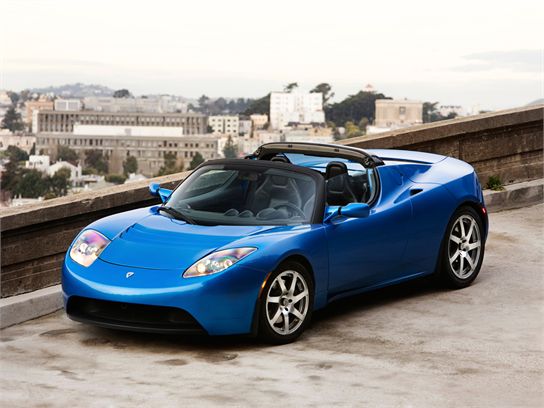 Page 10
Without girlfriend/chauffer Samantha Ronson in the picture right now, it's back behind the wheel for Lindsay Lohan. She has always had an affinity for Mercedes-Benzes, and back in February she bought a new Mercedes-Benz SL550 convertible. Apparently Vanity Fair is quite concerned with what she should be driving, and produced an entire video entitled: What Should Lindsay Lohan Drive? Yeah, we're as speechless as you.
Photo Credit: Splash News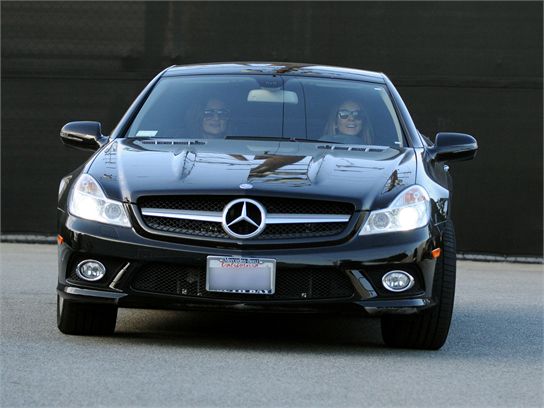 Page 11
While some might argue that the SL550 is more of a top-down luxury cruiser than a sports car, anyone who has pushed one to 60 mph in under 5.5 seconds or thrown the suspension into sports mode will beg to differ. With a seven-speed automatic transmission and computer-controlled shock absorbers, this is one of the most technologically advanced convertibles on the road.
Photo Credit: Mercedes-Benz