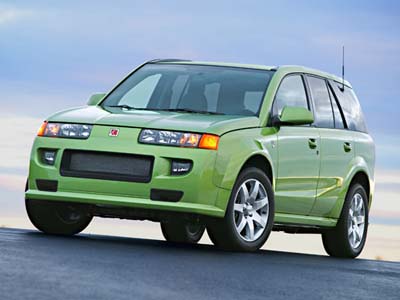 Jill Lajdziak's has come a long way, since her first job was as a Car Collection Manager at a dealership. Today, Lajdziak is the General Manager of Saturn, admired within General Motors Corporation, and thought to be an up-and-comer. Her most recent move up the ladder of success, in March of 2004, put this 43-year-old business leader in a position that oversees the overall growth of Saturn and its product lines. Her responsibilities include Saturn brand and product development, marketing/advertising, and ensuring that the brand properly integrates with the field organization to implement programs.A graduate of the University of Wisconsin, Lajdziak has a B.S in business marketing and management. Other positions at General Motors include: 1997 Executive Director, Marketing and Retail; Network Development, Saturn Corp.; 1995 Executive Director, Customer/Retailer Operations and Strategies, Saturn Corp.; 1986 Manager, Retailer Selection, Saturn Corp. 1980 District Sales Manager, Chevrolet. Autobytel.com caught up with Lajdziak recently during the press days for the Saturn Red Line products, the VUE and the ION, and asked her some questions about the future of Saturn. What makes a brand strong? Anyone who wants to build a great brand first has to understand itself. Over the past few years, Saturn has done a great deal of research and analysis to clearly identify what the brand is, and what about Saturn is relevant to today's consumers. Saturn has to move up the spectrum, creating more value for our customers, our retailers and GM as a whole.
Page 2: Brand
Saturn retailers helped us change a consumer's frame of mind about how they should be treated during the vehicle purchase and ownership experience. People want to be treated right, like our no hassle, no haggle sales strategy. People go out of their way to visit Saturn to get that experience.The concept of surprising and delighting people is a brand characterization that makes Saturn unique and we will continue to capitalize on it. A great brand is relevant. This year, we're going to focus on Saturn's ideals. We'll do it with an all-new advertising campaign, all-new creative and a focus on each and every touch point with our customers. What is Saturn's new marketing campaign about? Our advertising and other communications are talking about the product in a balanced and uniquely Saturn way. The simple fact is, we're Saturn, and we're about an experience that automotive consumers can't get anywhere else. How is Saturn changing? The brand, in my mind, remains the same. We still put people first by nurturing the customer's experience. What's different is that we are expanding and significantly enhancing our product offerings. Beginning with the Relay, a crossover sport van, Saturn will double the brand's portfolio within the next 30 months. Following the Relay, Saturn will introduce its customers with a roadster from GM's Kappa architecture followed by an all-new midsize vehicle, and a larger SUV.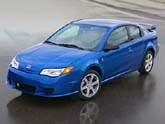 Page 3: GM
What is Saturn's role and importance to General Motors? Our mission as a brand remains very much the same. Very early on our mission was to attract conquest sales, to attract those consumers who may not consider another GM product. That is still our mission today.More than 70 percent of Saturn sales represent conquest business. What does being different mean today? I think different means we occupy a unique space in the market. What has been the response to advertising the thirty-day return/exchange program? What you are referring to is our 30-day exchange program. While the program is well accepted, a very limited, about one percent of consumers, chose to exchange their vehicles after purchase. The reasons vary - from wanting a different color or equipment to upgrades. How many vehicles does this affect per year? About one percent of consumers exchanged their vehicles since the program began. How do dealers feel about not having a midsize car for another year? It's not an ideal situation because it impacts retailer's volume. The good news is that it is temporary. We will introduce an all-new midsize vehicle based on the Epsilon platform during the '06 calendar year. Several new products will help to make up for the lost volume. We recently introduced the Ion and Vue Red Line performance vehicles. We will make a number of improvements and enhancements on the Ion sedan this fall, as well. The Relay crossover sport utility van will be introduced in late-fall.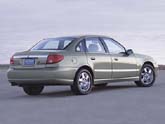 Page 4: Kappa
Calendar year 2006 will be very important for Saturn. We will launch the Kappa-based roadster, the mid-size Epsilon and the big brother to the Vue.What is the future of polymer panels? We will continue to use polymer panels in our current Ion and Vue, where practicality and durability are among the highest priorities of our customers. We will not use polymer panels across the entire product portfolio. For example, the new Relay crossover sport van has a steel body, as it shares architecture with other GM brands. Sales have dipped slightly. What are your plans for boosting sales? Calendar-year-to-date, Saturn VUE sales increased 18 percent over the same period last year. We are in the ramp up of Ion Red Line and seeing a steady month-over-month sales increase. While Ion sales are off slightly CYTD, I'm confident the improvements being made in the '05 model will help Ion sales. We have a strategy to increase total brand sales, however, it's still a little too early for me to give you details. As we grow the portfolio and increase the number of retail facilities, volume will ramp up significantly. How is Saturn's fleet business? Sometimes we have to make tough calls and I made one recently. We basically got out of the fleet business. That's the right decision for the brand long term. Good brand health is not necessarily having high fleet numbers. Anything else you'd like to say about Saturn? I'm very optimistic about the future of Saturn. We've made the right product decisions to improve the Ion and Vue, will add a vehicle that seats more than five passengers and double the portfolio over the next 30 months. The combination of great product and the Saturn customer experience will serve our customers well.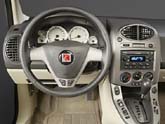 Page 5: FAQs
Who is Jill Lajdziak? Lajdziak is the General Manager of Saturn. Her responsibilities include Saturn brand and product development, marketing/advertising, and ensuring that the brand properly integrates with the field organization to implement programs.How are Saturn sales? Sales are down, based on June 2004 sales figures. Saturn is hoping that an infusion of new product will help energize the brand, including a two-seat roadster, a minivan-styled crossover and a larger SUV. Does Saturn still have dent-resistant panels? Yes, but not on all vehicles. The coming Relay, which will be shared with Buick will have metal sides, and it's a safe bet that the Saturn two-seater will not have polymer panels.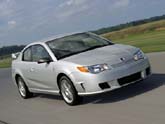 Page 6: Notes
Spotlight: 2004 Saturn Ion Red line Base price: $20, 950 (includes $565 transportation) Engine: 2-liter supercharged inline-4 (200 hp, 200 lb.-ft. of torque (estimated) Transmission: 5-speed manual (Getrag) Wheelbase: 103.5 in. Length: 185 in. Width: 67.9 in. Height: 55.8 in. Head/leg/hiproom: front: 38.9/42.2/49.4 in.; rear: 36.5/32.7/48.3 in. Curb weight, lbs.: 2,590 Fuel economy: 24 city/30 highway mpg (estimated)