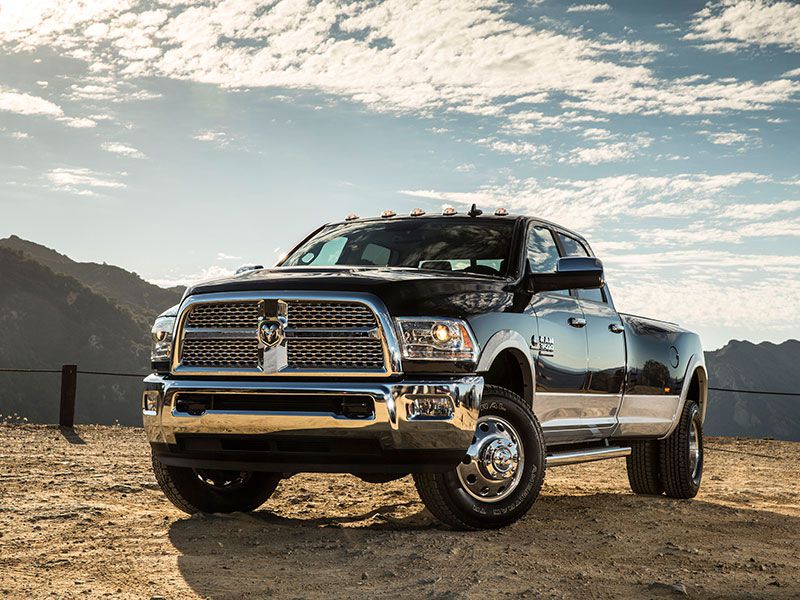 2016 RAM 3500 ・ Photo by Fiat Chrysler Automobiles
Truck buyers are some of the most loyal customers in the market. Their loyalty often extends beyond the badge on the tailgate to the badge under the hood. Big trucks are often powered by big diesel engines, and there are three top names in the segment. GM's Duramax brand fights against Cummins and Ford's Power Stroke for diesel supremacy.
So, between all three, which one is best? Die-hards will have their picks regardless of facts, but let's take a look and figure it out for ourselves.
Years on the Market
Cummins was founded in 1919, making it 99 years old at the time of this writing. The Duramax V8 found in General Motors products has been around since 2001. Ford has been using Power Stroke engines since 1994.
Even if you trace the GM and Ford engines back before their respective brand names, nobody beats Cummins with years on the market. If being older makes you wiser, then Cummins is the wisest of the bunch.
Cummins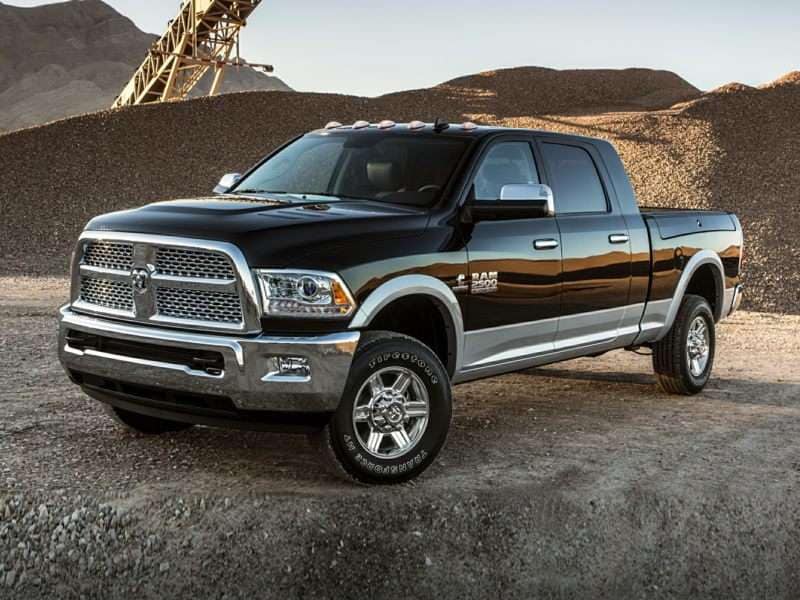 Photo by Fiat Chrysler Automobiles
Maximum Torque
Heavy-duty trucks need to tow things and to tow things you need torque. Every heavy-duty pickup truck on sale today is capable of towing more than 26,000 pounds, which requires a commercial driver's license, so one could argue torque numbers are purely academic.
Whatever. The more torque, the better. The 2018 Ford F-Series Super Duty makes 935 lb-ft of torque. The 2018 Chevrolet Silverado HD and GMC Sierra HD Duramax engine make 910 lb-ft. In the Nissan Titan XD, the Cummins engine makes 555 lb-ft, but in the 2018 Ram Heavy Duty, the Cummins makes 930 lb-ft of torque. While your seat probably can't tell the difference between 910 and 935, bragging rights count.
Power Stroke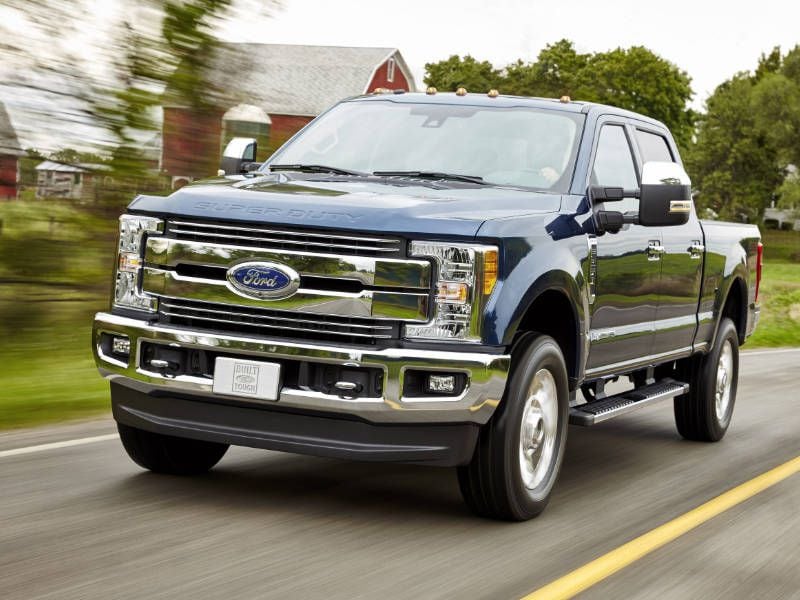 Photo by Ford
Maximum Horsepower
Speaking of bragging rights, horsepower is a big deal with sports car owners. But that doesn't mean that a truck buyer doesn't want to have the most. Torque may be the determining factor in towing, but horsepower also plays a role. The higher the horsepower, the faster the truck will accelerate with or without a trailer. If you accidentally pull out in front of someone towing a large load, you'll appreciate the extra oomph that comes with more power.
Ford's Power Stroke makes 450 horsepower for 2018, GM's Duramax makes 445 horsepower, and the Cummins in RAM trucks makes 385 horsepower.
Power Stroke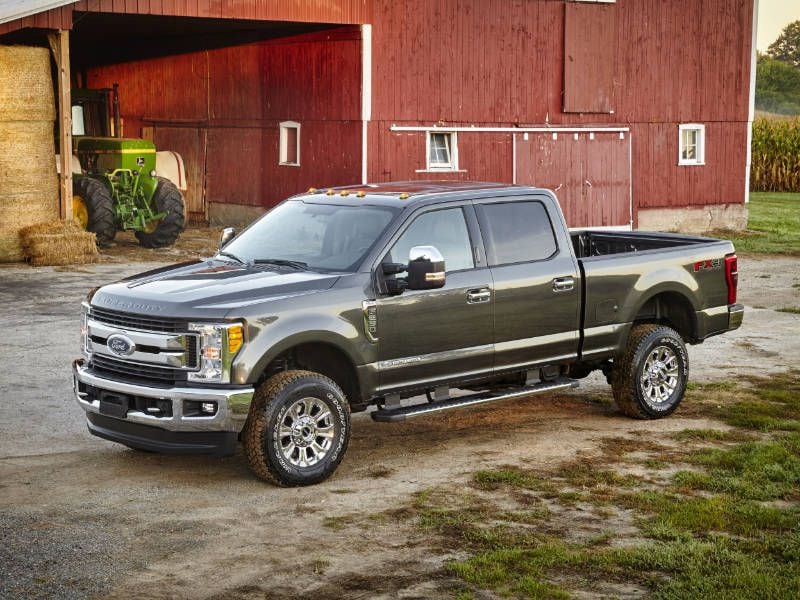 Photo by Ford
Maximum Towing
A truck's structural design can limit how much it can tow, but a strong engine is required to make it all possible. Which truck tows the most, when comparing maximum towing configurations? 
The Cummins in the 2018 Ram can tow up to 31,210 pounds. In the Silverado, the Duramax helps tow up to 23,300 lbs. The Power Stroke in the 2018 Super Duty can tow up to 34,000 pounds. (All of the towing numbers adhere to the SAE J2807 universal standard for vehicle tow ratings.) Just a reminder: To legally tow over 26,000 lbs in the U.S., you'll need a CDL.
Power Stroke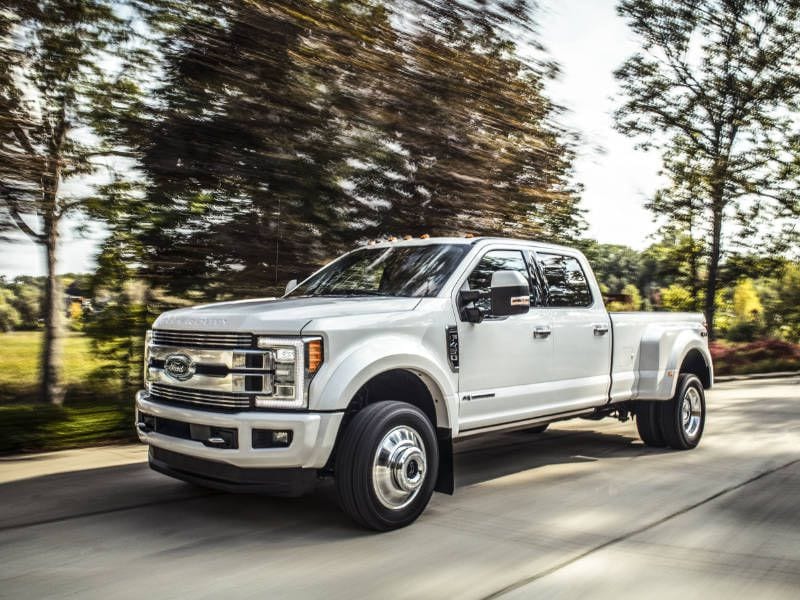 Photo by Ford
Fuel Economy
Heavy-duty trucks, like the ones we've been talking about, aren't required to undergo fuel economy testing like normal cars and SUVs do. The diesels in these big trucks are for doing work. But the big diesel names do appear in smaller trucks that do require fuel economy testing.
Of the big names in diesel, the Power Stroke and Duramax currently show up in smaller trucks. The Chevrolet Colorado and GMC Canyon offer a 2.8L diesel four-cylinder that gets up to 30 mpg on the highway. Ford has a Power Stroke diesel in the F-150 coming this year, and it's targeting a rating of at least 30 mpg on the highway. That'll give the bigger truck the edge.
Power Stroke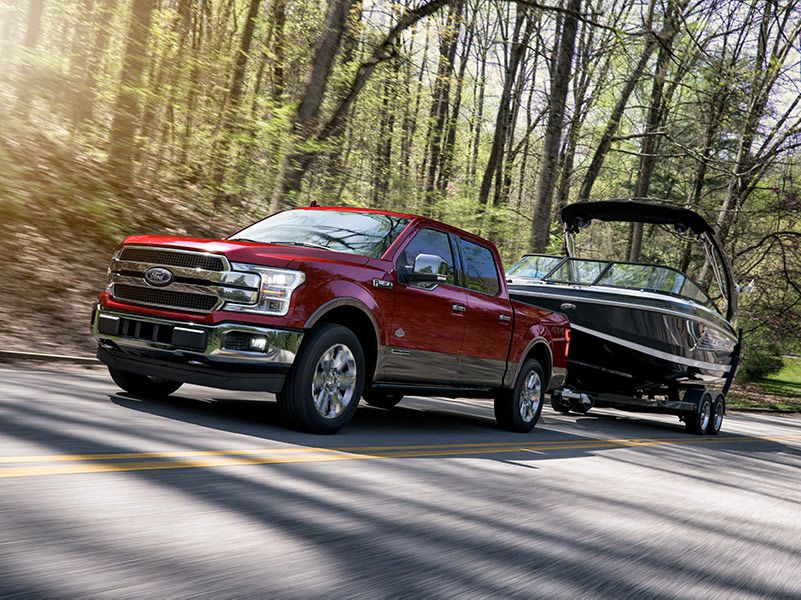 Photo by Ford
Warranty
An engine is only as good as the guarantee that it'll work. That's why warranties matter. A longer warranty doesn't mean that you won't have issues, but it does mean that you'll get your issues fixed at no cost. It also means the manufacturer reasonably assumes your engine will last at least that long. Among light-duty trucks, the best powertrain warranty you'll find is 100,000 miles. Nissan's is bumper-to-bumper on the Titan XD with the Cummins, but again it's capped at 100,000 miles. That's not to say 100,000 miles of protection isn't a lot — it is — but there is a better option out there if you look hard enough.
Ford's Power Stroke, specifically in the medium-duty Class 6 and Class 7 trucks, is warranted for 250,000 miles. Those are special-purpose commercial trucks, not something you'd buy as your truck to commute in, but that's a heck of a warranty. 
Power Stroke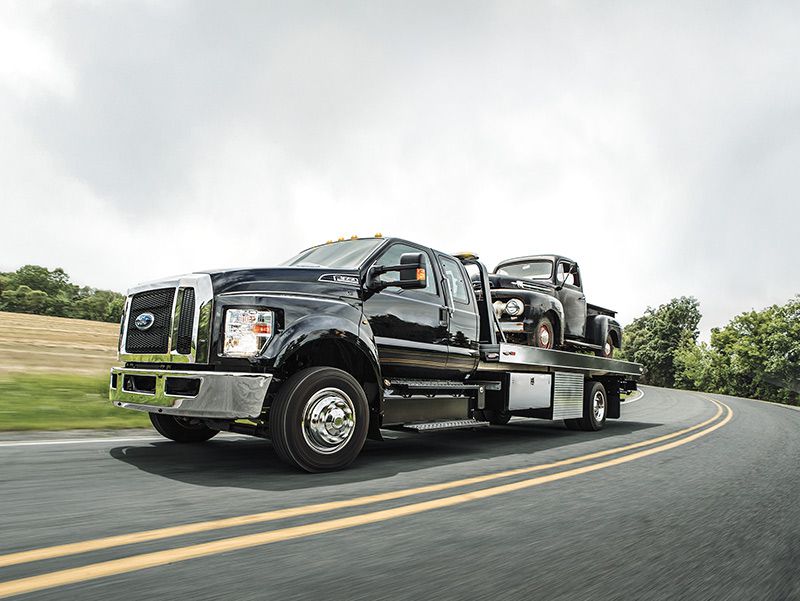 Photo by Ford
Popularity
Truck makers don't break down sales of their models by engine type sold, but that's just one way to determine popularity. Google offers a utility to show you which topics are the most popular on the site.
Over the past five years, Power Stroke and Duramax have been duking it out for second place in the search engine rankings at Google. But crushing them each and every time is Cummins.
Cummins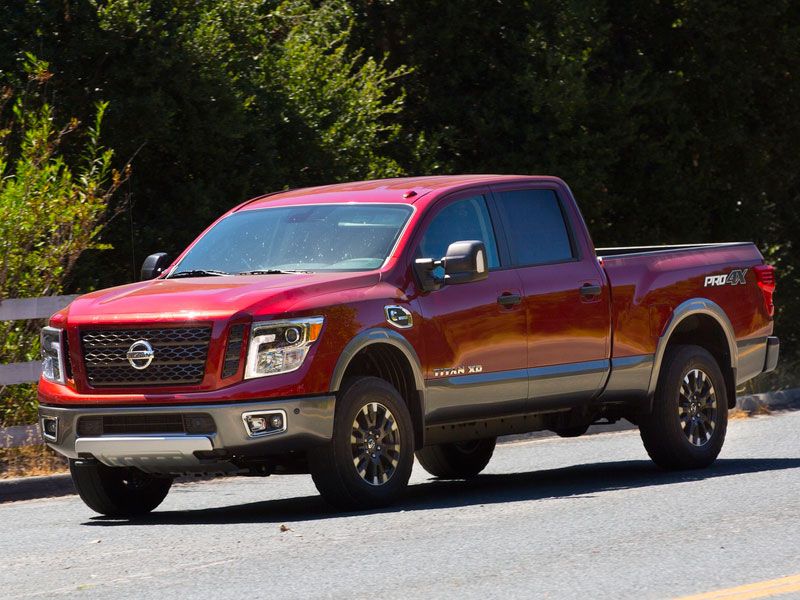 Photo by Nissan
Future Diesel Offerings
We've mentioned that the Ford F-150 Power Stroke diesel version is about to go on sale. Ram has said its non-Cummins EcoDiesel is returning with the 2019 model, and General Motors announced a Duramax diesel for the Silverado 1500 and Sierra 1500. Combine that with the Cummins diesel available in the Titan XD and Ram Heavy Duty, and the Duramax and Power Stroke offerings in their respected heavy-duty trucks, and there's a diesel engine for everyone and every need.
The winner in this category is the customer. Truck buyers appreciate choice, and the truck makers and engine manufacturers are catering to that.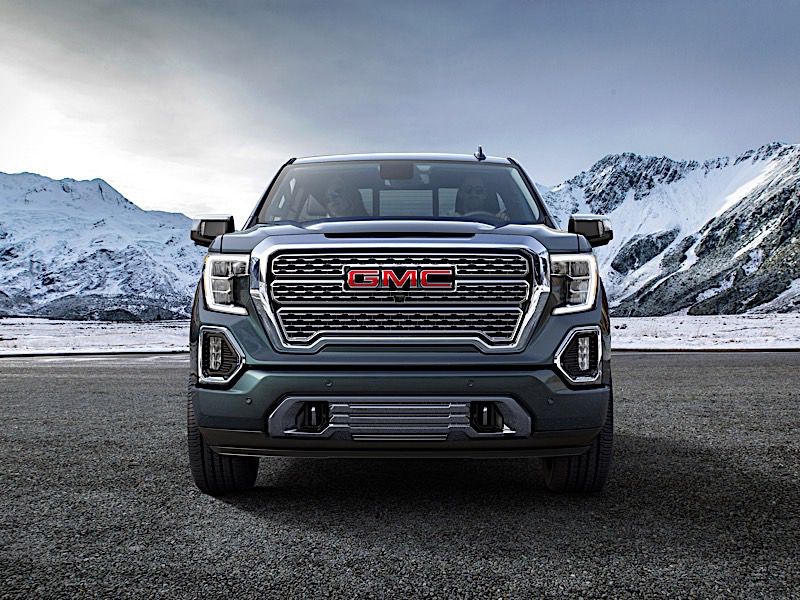 Photo by General Motors
Final Verdict
Picking the best diesel engine brand is the easiest way to get into a fight, and the results of this head-to-head will likely cause just that. Many of the categories depend on the specific timing of this article. In 2017, for example, the Duramax would've won the horsepower category. Only the 2018 updates for Ford's Power Stroke pushed it into the lead.
That also means that in a few months, the list might change again. Automakers and the engines that power them are in a never-ending duel for pickup truck supremacy. But that doesn't mean that there isn't a winner based on the engines you can buy right now. 
Power Stroke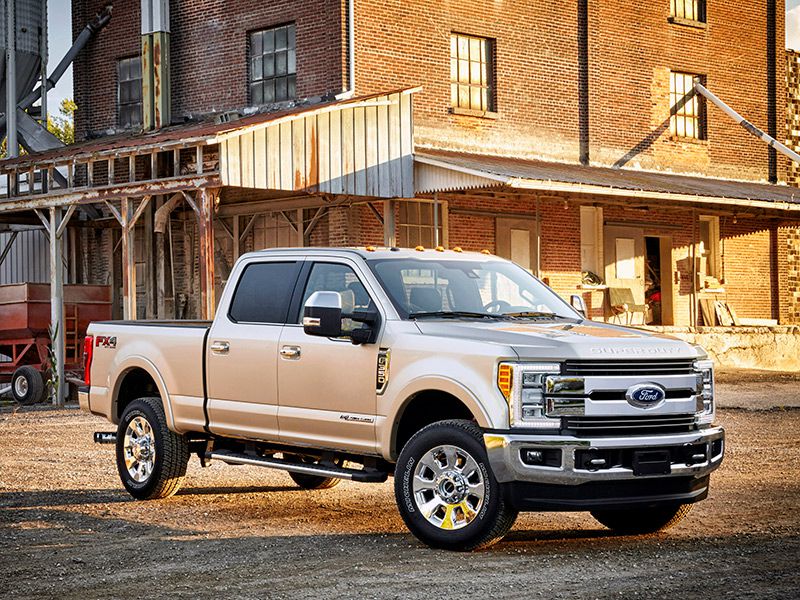 Photo by Ford