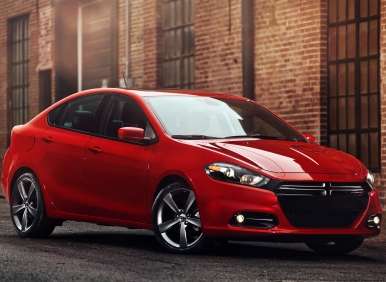 The 2013 Dodge Dart is scheduled to slip into the crowded compact vehicle market towards the end of the year. While the competition in the small car class is fierce, the new Dodge sedan has been earning early praise thanks to a zippy drive, spacious interior and high level of customization options. Keep reading to take an early look at the 2013 Dodge Dart and review specs, features and pricing.
Styling: 2013 Dodge Dart
While the Dodge Dart boasts plenty of recognizable Dodge embellishments, the vehicle is a bit of a departure from the sheer block of muscle found in its larger vehicles. Based on the Alfa Romeo Giulietta, the Dart promises above-average performance without being excessively power hungry.
Review the dimensions of the 2013 Dart, and you'll see that it is now the biggest vehicle in the compact class (this is good news for rear passengers). The vehicle's interior is also impressive – especially once you move up the trim chain. Soft-touch materials and stylish embellishments are available throughout. This focus on styling helps give the Dart a major advantage over top segment leaders like the Honda Fit and Toyota Corolla. This is doubly true when you realize the Dart's bolstered interior doesn't come with all that much of a price increase.
View more 2013 Dodge Dart photos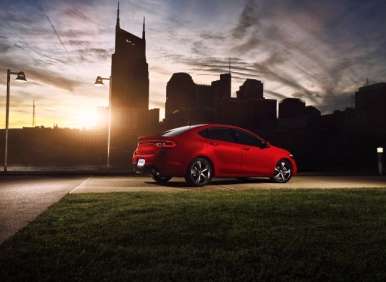 Performance: 2013 Dodge Dart
The general consensus from early reviewers is that the Dodge Dart, while not especially quick off the start line, is extremely fun to drive. This is due largely to strong cornering and suspension. The base engine is a 2.0-liter four-cylinder engine that promises 160 horsepower and 148 lb-ft. of torque. However, many reviewers recommend upgrading to the more playful 1.4-liter four-cylinder turbocharged engine. Doing so will result in a boost in vehicle power, as well as an increase in fuel efficiency.
The upgrade engine is expected to return 27 mpg in the city and 39 mpg on the highway (32 mpg combined). In comparison, the base engine is listed at 25 mpg in the city and 36 mpg on the highway (29 mpg combined).
As if that weren't enough, a fuel-efficient Dodge Aero will also be available. Dodge says this turbocharged trim will manage 41 mpg on the highway.
Later in the year, a Dodge Dart R/T will hit dealerships. This model comes stacked with a 2.4-liter four-cylinder engine that teems at 184 horsepower and 171 lb-ft. of torque.
Review full 2013 Dodge Dart specifications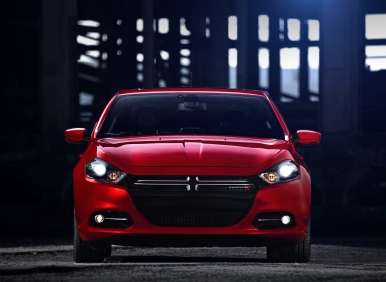 Safety: 2013 Dodge Dart
Standard safety features for the 2013 Dart include antilock disc brakes, traction control, stability control and eight airbags (including front knee airbags). Available options include rearview camera, blind-spot monitoring system and cross-traffic alert. The vehicle has yet to be tested by either the Insurance Institute for Highway Safety (IIHS) or the National Highway Traffic Safety Administration (NHTSA)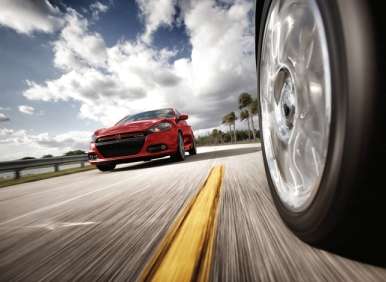 Pricing and Features: 2013 Dodge Dart
Initial asking price for the Dart is listed at $15,995. Given the vehicle's size and level of interior quality, this price is competitive with class leaders. Standard equipment includes 16-inch wheels, height-adjustable driver's seat, four-speaker stereo, tilt/telescoping steering wheel, CD player and auxiliary input. For just a bit more, you can add power accessories, keyless entry and air conditioning.
A variety of options packages are available that allow you to customize your Dodge Dart in a number of ways. A few highlighted upgrades include SXT foglamps, Uconnect Voice Command, active grille shutters, underbody aerodynamic enhancements, remote ignition, touchscreen interface, power driver's seat, Bluetooth and 18-inch wheels.
The top-of-the-line Dodge Dart Limited trim starts at $19,995.
Find a 2013 Dodge Dart dealer near you.