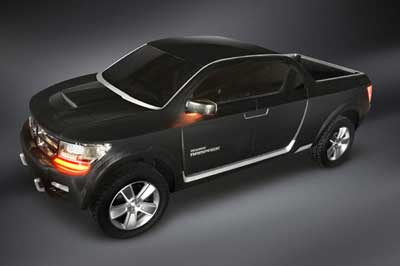 Call it a Ridgeline for big boys, the ultimate home improvement hauler, or an over-the-top example of trying to stuff every single trick of the trade on top of four wheels. At the 2006 Chicago Auto Show, Dodge debuted a concept called the Rampage, a truck that did so many things, offered so much versatility and choice, that it would – should they ever build it – send legions of yuppies straight into therapy.
What it is
Just imagine the confusion. Bolt on a hybrid powertrain, and poof – you've got great fuel economy, too – and it's good for the environment!
Thank goodness they aren't going to build it. Then again, if they did, Dodge would offer the most versatile truck on the market, one that would make that look like a midget. Initially posed as an example of what they could do, it may be that the Rampage is a design exercise showing some of the innovations coming soon to a Ram truck. Or it could be a concept headed to production, a Honda/Avalanche fighter. Take a 5.7-liter Hemi V8, put it in a truck shell that's built on a minivan platform, add front-wheel drive and an independent suspension, and there you go – the most versatile car, er, truck, er, SUV, er, minivan, on the planet
Thank goodness they're going to build it. See, we're already confused. All we know for sure is that we love the Rampage's innovation: First, there's those hiding seats, which is really just DaimlerChrysler's minivan Stow 'N Go system built into a truck. Those sliding rear doors? Ditto. Combine the width of a Dodge Ram with the overall length of a Dodge Dakota, install seating for five and a five-foot cargo box, add a power midgate and an enclosed area under the bed and there you go – ready for business, in 2010 or beyond. The look is also innovative, and may signal some design elements for future Rams.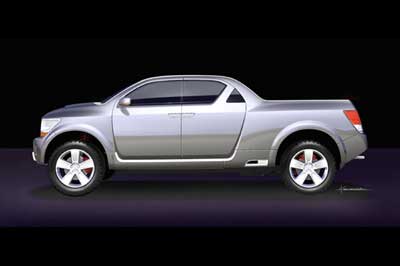 Why it matters
If you ever launched a rocket, if you ever tried climbing the tallest tree on your street, you know why the Dodge Rampage Concept matters. If no one took chances, why, the Pontiac Aztek would never have been built…okay, more appropriate examples are the internal combustion engine, the light bulb, and the Internet – and thank goodness for that last one. Aside from the remarkable grab bag of features and tricks showcased in the Rampage, such as the sliding doors, Stow 'N Go seating and power midgate, what's also interesting is what Dodge does with it: don't put building ithe Rampage past 'em – after all, they sell a thing called the Mega Cab. More likely, however, is that some of these innovations may show up in future Ram truck generations.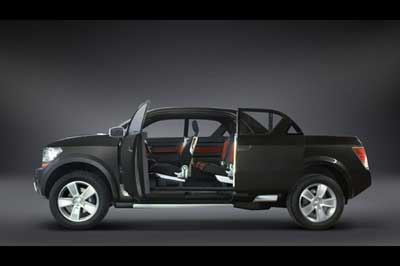 What's under the hood
As with all good things Dodge, the Rampage Concept has the 5.7-liter Hemi in it, and you already know what that means – it flat out hauls, to the tune of 345 horsepower at 5,400 rpm, and 375 lb.-ft. of torque at 4,200 rpm. The engine is connected to a five-speed automatic transmission. Big, oversized 22-inch wheels and an independent front and rear suspension flatten out the road, as does the estimated 5,000 lb. curb weight.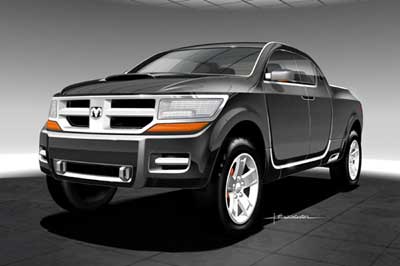 What's inside
Dodge built the Rampage to showcase its interior features and equipment, and sure enough, the truck contains a smorgasbord of cool items, starting with the Stow 'N Go seating system, the rubberized interior materials, and a "floating" center stack that makes navigation, climate, radio, and other controls portable. Behind the rear seats, the back retracts into a midgate, which in turn folds down into the forward part of the cargo bed to extend cargo capacity. With both the midgate and one or more of the passenger seats in a stored position, lengthier items can be carried without having to lower the tailgate. Behind the midgate, the five-foot box offers many utility options, including retractable cargo hooks and built-in formations arranged to secure 2"x4" lumber. The three-position tailgate can be deployed upright, folded down 98 degrees, or dropped further to an angle of 117 degrees. The Rampage also has an enclosed storage space under the bed (hmm, echoes of Ridgeline) big enough in which to stack 4'x8' sheets of plywood.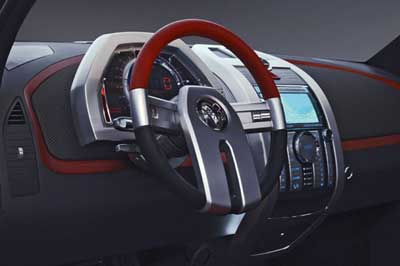 What it looks like
Think snub-nosed bullet. Or short missile. Smooth, aluminum and with a shortened hood that maximizes passenger space, the Rampage has extreme dimensions not usually seen on a truck. The nose and the bed are abbreviated in order to expand passenger space and interior cargo room; this is possible due to the versatility of the cabin, with its fold-away seating, rubber surfaces and power midgate. Altogether, it's a smooth yet aggressive style, thanks to traditional Dodge styling cues such as that in-your-face grille.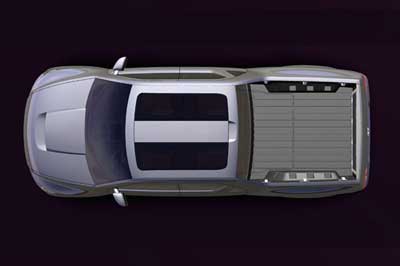 What we think
As far as fantasies go, the Dodge Rampage Concept is a good one. As far as an exercise in DaimlerChrysler innovation goes, it's a great package, a perfect way to reveal the potential versatility that could be brought to Dodge, Chrysler and Jeep products.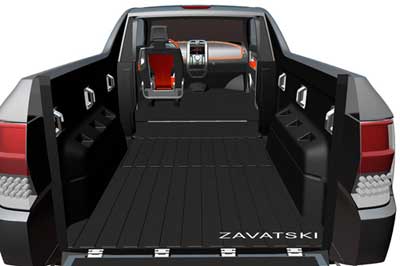 Key specifications
Engine Size and Type: 5.7-liter V8 Hemi Engine Horsepower: 345 at 5,400 rpm Engine Torque: 375 lb.-lb. at 4,200 rpm Transmission: Five-speed automatic Curb Weight: 5,000 lbs. (est.) Length: 215.1 inches Width: 80.0 inches Wheelbase: 142.2 inches Height: 74.3 inches
Photos courtesy of DaimlerChrysler