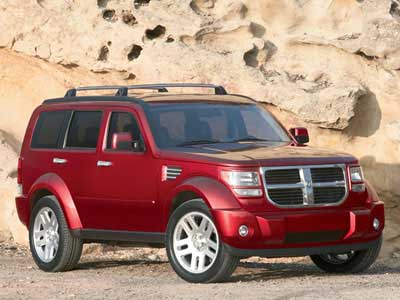 Hubris is integral to Dodge's aggressive brand character, and lately the company has been able to easily back it up with terrific product. But during the introduction of the Dodge Nitro Concept at the 2005 Chicago Auto Show, Chrysler Group Senior Vice President of Design, Trevor Creed, slipped into a state of marketing dementia unmatched since the Pontiac Aztek dropped into the market with a dull thud despite the exhortations of the GM public relations squad. Calling the Dodge Nitro a concept vehicle that could become a reality, Creed said that if produced the Nitro would have the best engine, the best brakes, the best handling, the best towing capacity, and the best interior roominess of any midsize SUV. That's just silly. Let us set the record straight.
Jeep Basis
In concept form, the Dodge Nitro Concept is based on the existing Jeep Liberty, a compact sport-ute known for none of the attributes that Chrysler says would make a production version "best" at everything. The Dodge Nitro Concept is equipped with the Liberty's 210-horsepower, 3.7-liter V6 engine; four-speed automatic transmission; full-time 4WD system; 4,115-pound curb weight; and independent front and solid axle rear suspension. In the Liberty, this doesn't add up to anything "best" except off-road capability, and we doubt the 20-inch wheels and 255/50 Michelin Diamaris tires on the Nitro make that big a difference in the handling department. In fact, press releases for the Dodge Nitro state a top speed of 108 mph, a zero-to-60 mph time of 9.6 seconds, and a quarter-mile trap time of 16.9 seconds. Maximum cargo volume for this alleged midsize SUV is a measly 66.9 cubic feet. See what we mean about a smokescreen?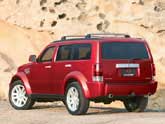 What's Cool
Here's what's cool about the Dodge Nitro Concept. It looks terrific, and something like this slotted under the full-size Durango makes sense. Dodge needs a smaller SUV, and when it arrives, we hope it looks just like the Nitro. With bulldog front styling, a chopped-top roofline, squared-off edges, and flared fenders, the Nitro exudes attitude. Details such as side vents (which look like those on the Range Rover Sport), an integrated tow hitch, and chrome exhaust outlets enhance the Nitro's stylish and aggressive appearance. Inside, Dodge jazzed up the Jeep Liberty's cabin by adding a three-pod gauge cluster with electroluminescent lighting, lots of satin silver trim, and brushed aluminum pedals. Black leather seats with red inserts provide a sporty ambience, and the cargo area features ultimate utility thanks to a textured vinyl floor that slides out for easy loading and unloading. Modular storage bins and a first-aid kit are also included.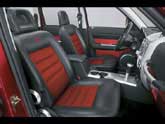 Wrap-Up
Despite our gripes about public relations spin that could qualify as a Category 1 hurricane, the Dodge Nitro Concept is a great idea. It looks terrific, fills a hole in the Dodge truck lineup, and would make a compelling alternative to many entries in the small(er) SUV segment.
Photos courtesy of DaimlerChrysler