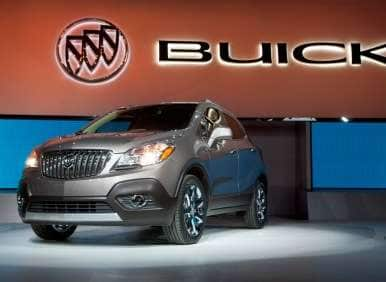 The Buick family welcomed another SUV to the fold this week with the introduction of the 2013 Buick Encore compact crossover at the Detroit auto show. The Buick Encore, which will go on sale early next year, gives the premium car its very first small sport-utility vehicle and a new weapon in its battle against rivals Acura and Lexus in the premium niche.
The 2013 Buck Encore - the fifth new Buick model to take the stage in Detroit in as many years - wears legitimately diminutive duds. The crossover does not resemble a shrunken Enclave so much as a somewhat taller version of the recent Buick Verano compact sedan. Offering just under 50 cubic feet of cargo space and a more commanding view of the road ahead thanks to its taller stance, the Buick Encore is intended to offer young, well-heeled buyers an alternative to a conventional wagon or larger, less maneuverable sport-utility vehicle.
Buick has announced a 1.4-liter, turbocharged four-cylinder as the drivetrain of choice with the small crossover. Rated at 140 horsepower and 148 lb-ft of torque, this engine is shifted through a six-speed automatic transmission and can be matched with either a front-wheel or all-wheel drive setup. Like most of the vehicles in the Buick lineup, the Encore has been heavily insulated against road noise through the use of foam, laminated glass and a new active noise cancellation system that is part of the brand's "QuietTuning" design process. The noise cancellation features use a system of microphones to monitor the acoustic properties of the passenger compartment and then actually sends sound waves out through the vehicle's stereo setup help to keep the Encore's cabin as peaceful as possible.
One of the most interesting aspects of the 2013 Buick Encore is the fact that its very small dimensions coupled with its focus on comfort rather than sport places it in a somewhat exclusive segment of the market. Although Buick's press materials compare the Encore to both the BMW X1 and the Audi Q3 in terms of passenger and cargo room, these crossovers that have yet to make it to American dealers. Ostensibly, Buick Encore shoppers could also be looking at vehicles such as the Acura RDX or the Infiniti EX, but these models are more athletic in terms of image than the Encore. Buick may have successfully found a crossover niche that has yet to be occupied by any other premium car company, which could bode well for the Buick Encore's fortunes when it hits showrooms in early 2013.