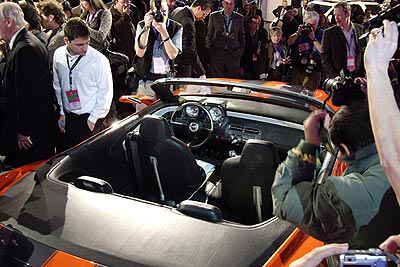 2007 Detroit Auto Show Concepts – Photo Gallery: Automakers look forward to car show season for the chance to reveal new products and start building the buzz that will get buyers into showrooms. Enthusiasts, however, dig on the concept cars. Those handcrafted glimpses into the future that, even if they never materialize, make us drool and remind us that passion is just as important as product.
Acura Advanced Sports Car Concept
The Acura Advanced sports car Concept is a glimpse of what will eventually fill the NSX-shaped hole in Acura's lineup. An exotic sports car with a front-mounted V10 engine powering the rear wheels and packed with technology, it promises to be as revolutionary today as the NSX was when it debuted 15 years ago. As a longstanding favorite around here, we miss the NSX and eagerly await its replacement.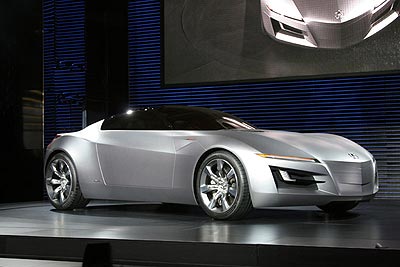 Audi Q7 V12 TDI Concept
Who says diesels can't be fun? Not Audi, which has made a lot of hay with its Le Mans-winning diesel engine. Not content with winning races, Audi has stuffed a V12 TDI diesel under the hood of this monster-mouthed Q7 crossover, one that churns out 500 horsepower and an incredible 700 lb.-ft. of torque. It also promises to be relatively fuel efficient and, most surprisingly, boast low emissions. Diesel's come a long way, baby.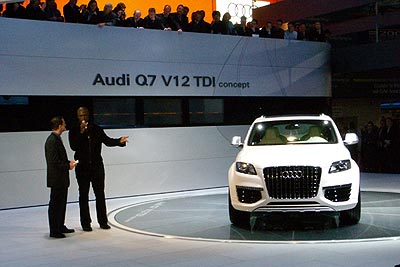 Chevrolet Camaro Convertible Concept
The next Camaro is easily the most anticipated new car in GM's recent history. The Camaro Convertible Concept is here to keep the excitement going and say, hey, there'll be a drop-top version, too. The Convertible Concept looks great, dipped in Hugger Orange with black racing stripes down the middle. It's surprising how little changed from the previous concept to this one. Does it mean that GM won't be significantly altering the design for production? Or are the coupe and convertible just a matched set? We're really pulling for the former.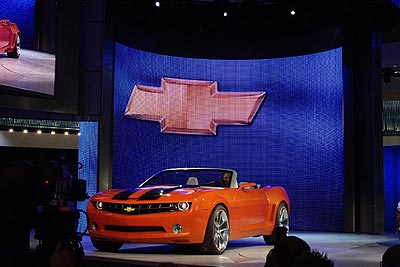 Chevrolet Volt Concept
About 180 degrees away from its Camaro Concept is the Chevrolet Volt. This plug-in electric vehicle boasts an onboard generator that can recharge the lithium-ion battery pack on the fly. It goes about 40 miles on a charge, after which the generator kicks in to make electricity. It's not a hybrid; the engine never directly powers the car, but it could represent a significant economy advantage for drivers with 40-mile round trip commutes, as long as they plug in at night to recharge (about 6 hours). It's a clever idea, albeit one that must wait for battery technology to catch up.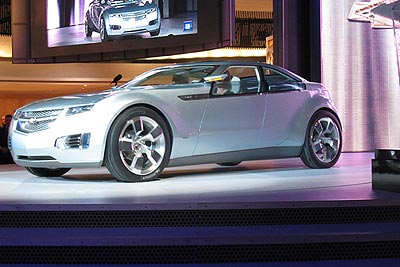 Chrysler Nassau Concept
The Nassau Concept represents the future look of Chrysler design without revealing a specific future model. Built on the 300 platform, the hatchback body was designed for four passengers, and the 120-inch wheelbase Nassau was designed to appear smaller than the 300 by using short overhangs and shaved corners. Interior dimensions remain large with the intent of providing SUV-sized interior volume in a more car-like package. The Nassau is powered by a 6.1-liter, 425-horsepower V8 from the SRT lineup, rides on 22-inch wheels and is constructed of carbon fiber panels with the exception of the steel doors.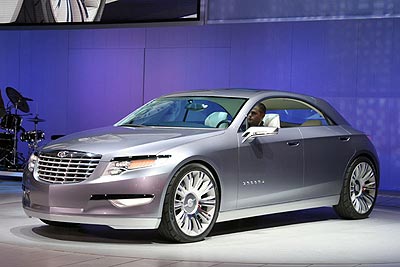 Ford Airstream Concept
Sometimes concepts indicate future production plans. Other times they're just design studies. The Ford Airstream Concept falls into the latter category. A collaboration between Ford and fifth-wheel camper maker Airstream, the Airstream Concept is a big, shiny, retro-futuristic, CUV, hydrogen-fuel-cell, camper, transportation pod…thing. You'll never see this one make it to production, but it does showcase Ford's HySeries fuel-cell platform. It also showcases what happens when you watch right before designing a concept car.
Ford Interceptor Concept
The Interceptor Concept is based off Ford Mustang mechanicals, and could only be brawnier if it tore a phone book in half. The steroid-induced styling looks a lot like the Chrysler 300C from some angles, but overall it resembles a refreshment of Ford's own 427 Concept from a few years ago. Either way, it's a striking sedan, one that speaks to gobs of horsepower and is aimed at a responsible family man who still likes to lay massive strips of rubber from time to time.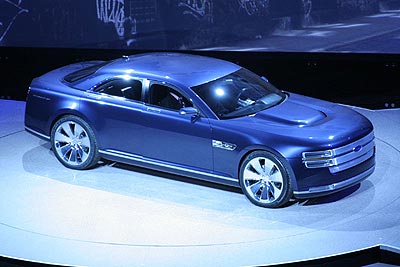 Holden Efijy Concept
What's a nice Aussie doing in a place like Detroit? Showing off the Holden EFIJY concept, a pillarless custom coupe that uses Corvette underpinnings mated to a retro body that recalls the FJ Holden from the 1940s. FJ…EFIJY…get it? The name may be cutesy, but the mechanicals sure aren't. The V8 pumps out 645 horsepower, and it features air-adjustable shocks and the ubiquitous concept car LED headlights. What's it doing in Detroit? Just looking cool, and it's doing a great job.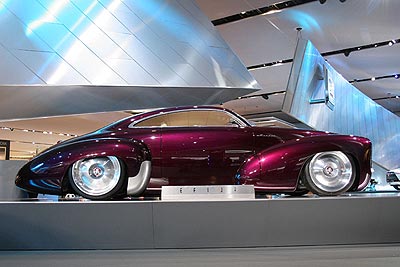 Honda Accord Coupe Concept
The Accord Coupe Concept is a thinly disguised version of the upcoming 2008 Accord Coupe. No groundbreaking style here, but it is an attractive coupe, and when you take away concept-car cues like the big wheels and showy bumpers, you're left with a cleanly styled and, dare we say, slightly aggressive coupe that whets our appetite for Honda's eighth-generation breadwinner.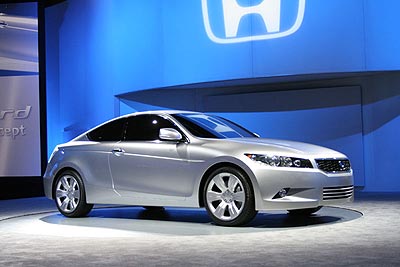 Hummer H3 Open Top Concept
The Hummer H3 Open Top Concept is an eminently buildable vehicle, and we're not sure why this Jeep competitor doesn't already offer a way to let sunshine in. A huge ASC-engineered sunroof lets you enjoy the outdoors you've just endured all those boulders and rutted roads to get to. Of course, the 20-inch Rozzi wheels, lambskin leather upholstery and Spectra tri-coat paint might not appreciate all that rock busting but hey, this is a concept, not a Paris-Dakar race car.