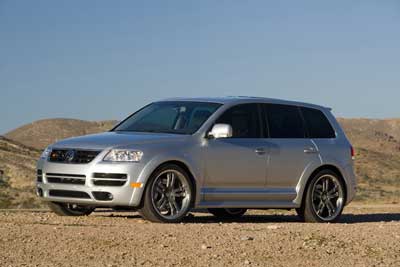 Despite rising gas prices and the proliferation of hybrid vehicles, there is no shortage of performance-oriented SUVs on the market. Vehicles range from the Cadillac SRX with 320 horsepower, a Land Rover Range Rover Sport with up to 390 horses, and the upcoming Jeep Grand Cherokee SRT-8 with 415 ponies extracted from a 6.1-liter Hemi V8. Even the 268-horsepower Toyota Highlander Hybrid is billed as a performance SUV, at least by its maker. For its part, Volkswagen offers the Touareg, cousin of the 450-horsepower Porsche Cayenne. But in stock form, VW's SUV offers between 240 and 310 horsepower. While the Touareg makes admirable power, especially with its V8 engine, Volkswagen engineers decided to test their SUVs limits by creating the Touareg R GT Concept. In place of the standard V6, V8, or V-10 turbodiesel engine is a 3.2-liter V6 with twin Garrett turbochargers that cranks out 500 horsepower that's distributed to all four wheels via VW's 4XMotion system. Rounding out the package are 22-inch alloys and a full body kit. SRT? Porsche? Puh-lease.
What it is
In virgin form, the Volkswagen Touareg R GT Concept SUV was a stock 2005 model with a 240-horsepower V6, a six-speed automatic transmission, and 4XMotion all-wheel drive. However, to be worthy of the R GT badges affixed to its exterior, this exercise in design and power needed a host of tweaks. Among the changes was the introduction of a 3.2-liter V6 with twin turbochargers, upgraded brakes and suspension, custom wheels, and a full body kit. Inside, the Volkswagen Touareg R GT Concept was fitted with a host of electronic toys and luxurious appointments.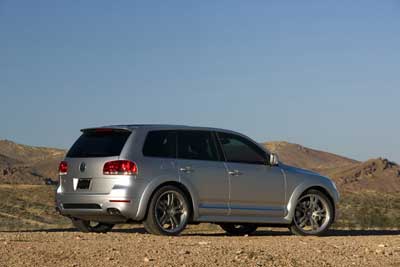 Why it matters
Upon its introduction the Volkswagen Touareg R GT Concept shared the stage with two other vehicles – the Passat R GT Concept and the Jetta R GT Concept. All three vehicles offer at least 500 horsepower, all-wheel-drive, upsized wheels, and various electronic and racing add-ons. The R GT line signifies Volkswagen's desire to reach the aftermarket community – those individuals who want more than the stock Jetta or Touareg. The Touareg R GT Concept speaks to possible buyers as well as those current owners who want to experiment with modifications.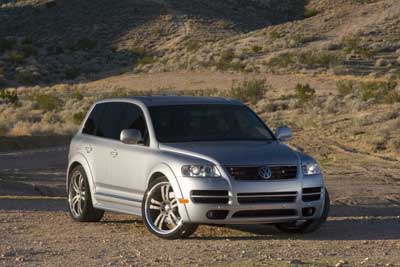 What's under the hood
What really separates the Volkswagen Touareg R GT Concept SUV from the stock version is the monstrous powerplant found under the hood. That dark cavity is home to a 3.2-liter V6 with twin Garrett turbochargers, twin intercoolers, upgraded intake and exhaust manifolds, and ceramic-coated down pipes. Total output reaches 500 horsepower. Power is managed by a six-speed automatic transmission that distributes grip to each wheel via VW's 4XMotion all-wheel-drive system. Controlling the Touareg R GT's ride is a KW Variant 3 coil-over suspension and Brembo brakes; front rotors are 380mm in diameter and the rear rotors are 330mm. The whole package meets the road with 22-inch Avus alloy wheels with 295/30 Michelin Diamaris tires.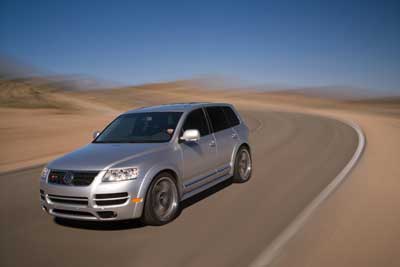 What's inside
Unlike many concept cars, the Volkswagen Touareg R GT looks like your average upscale SUV, albeit with a few features not found on any factory options list. Such items include two Apple iPods up front, Sony PlayStation units in the back of each front headrest, and quick-fit racing harnesses. Those harnesses are attached to sport bucket seats with black leather edges and gray suede inserts. Accenting the seats are Bugatti alloy trim pieces.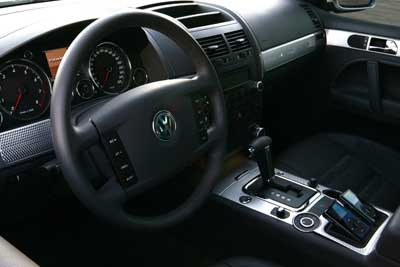 What it looks like
When standing next to the Volkswagen Touareg R GT Concept, the first thing you notice is how low the vehicle looks, likely the result of the new suspension setup and the lower body kit that runs around the entire truck. The front end features a tall front bumper with expansive air inlets, much like those on the Porsche Cayenne. Small fog lights are found at the very bottom. Along the sides are rocker panel extensions that extend from the flared front wheelwells to the rear. With the deletion of the roof rack, the side profile is cleaner than that of the stock version. With the flared wheelwells, wider tires, and lower stance, the Volkswagen Touareg R GT Concept has an aggressive appearance from the rear. At the top there's a spoiler that sits flush with the roofline and a revised bumper sits below. Included is a rear air dam and cutouts for dual chrome exhaust tips. Finally, chrome and orange R GT badges are affixed to the liftgate and front grille.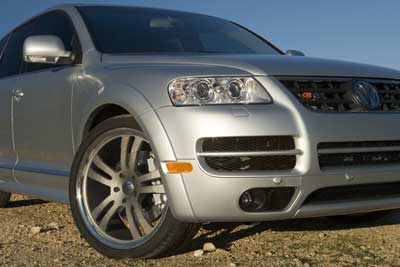 What Volkswagen says
Volkswagen officials are just plain giddy about their new R GT concept vehicles. Among them is the Touareg R GT, a new twist on your average SUV that VW engineers promise will give new meaning to "fun to drive." Track results are not currently available, but Volkswagen promises that the Touareg R GT Concept SUV has been built to be equally impressive on the track as it is on paper. Of the R GT concept line in general, which also includes the Jetta and Passat, chief designer Derek Jenkins claims that the Volkswagen suits in Wolfsburg need to hear directly from enthusiasts that these are vehicle and accessories they want. Apparently, the brain-trust in Germany questions the U.S. buyer's interest in powerful all-wheel-drive vehicles that look cool.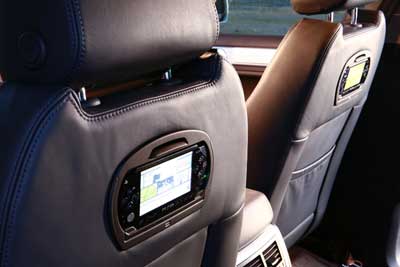 What we think
Over the years, Volkswagen vehicles have been available with good power, decent handling, and attractive features like alloy wheels and body add-ons. But Volkswagen has never ventured into full-on performance territory, leaving that to the aftermarket community with which it holds only loose ties. If the Touareg R GT Concept is Volkswagen's way of asking, "Should we build a line of true performance vehicles, even if they come in limited quantities and are appropriately priced?" we'd of course have to require an example of our own for a full evaluation. But in the mean time, the answer is a resounding "Yes."
Photos courtesy of Volkswagen of America