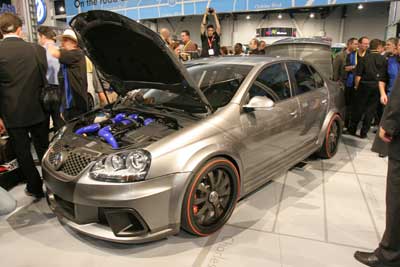 Here's an experiment: Ask the next 20 people you meet to name a performance car currently built and sold by Volkswagen. You may think they're giving you a wary stare, but it's really a look of confusion. Chances are the results will be something like this: A) "I dunno…the New Beetle?"; B) "The Golf R32. And, dude, stop invading my personal space."; C) "That'd be the Golf GTI."; D) "Get real. Volkswagen hasn't built a decent performance car in years." Given Volkswagen's list of vehicles available with potent V6 and turbocharged four-cylinder engines, that last statement is quite a stretch, but it's true that the focus on an all-around performance car has been absent. Enter the Jetta R GT Concept car, which debuted at the 2005 SEMA Show in Las Vegas. Starting with a basic, front-wheel-drive 2005 Jetta, Volkswagen teamed with HPA Motorsports to build a killer sedan, one fully prepped for the track and sporting 550 horsepower. Feel free to share that information with the guy who answered D above.
What it is
Think of a plain, little Dodge Neon. Now slap in a Viper ten-cylinder engine. That's equivalent to the Jetta R GT Concept created by Volkswagen and HPA Motorsports. Engineers started with a front-wheel-drive 2005 Jetta 2.5L with an automatic transmission. HPA, a company that specializes in VW engine and drivetrain conversions, disemboweled the stock car and retrofitted it with a twin-turbo V6 and 4Motion all-wheel drive. In addition, treats like air jacks and Recaro seats were tossed in for flavor. What is it? One bad-ass Jetta.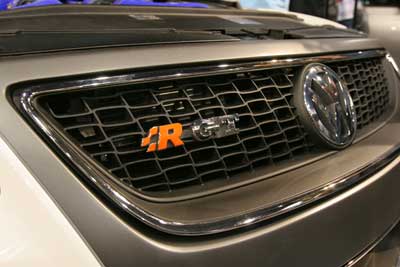 Why it matters
Though a 550-horsepower Jetta won't be hitting the lots anytime soon, the presence of Volkswagen and, in particular, the R GT model at the 2005 SEMA show is important. The automotive aftermarket is a huge industry due not only to the number and variety of products, but also because of the people who buy those products. Tapping into that stream of business can prove to be a gold mine for specialty and mainstream manufacturers. With its debut at SEMA, Volkswagen signals its commitment to tuners and customizers, and the Jetta R GT Concept takes a large step toward marrying the images of Volkswagen and aftermarket possibilities.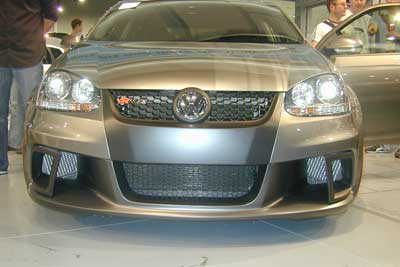 What's under the hood
Go to your local Volkswagen dealer and the most he'll be able to offer is a Jetta with 200 horsepower. A Golf R32 puts out 240 horses. That's a fair amount of power, but it's nothing compared to what VW and HPA motorsports have packed into the Jetta R GT Concept. Under the hood is a 3.2-liter V6 with twin Garrett turbochargers that's good for 550 horsepower. The setup also includes dual intercoolers, modified exhaust and intake manifolds, ceramic-coated down pipes, and an upgraded fuel system. A Direct Shift Gearbox (DSG) transmission is bolted to the motor, with power distributed to all four wheels via VW's 4Motion all-wheel-drive system, yet another feature unique to the Jetta R GT Concept. Also featured are a race-bred coil-over suspension and a fuel cell. Perhaps the coolest add-on, besides the twin-turbo six-cylinder, is an air jack system – plug an air hose to a connector below the rear bumper and the Volkswagen Jetta R GT is lifted about a foot off of the ground at all four corners, making tire changes quick and easy. That's a capable package that requires some heavy-duty stopping power. The braking system consists of WRC-spec Brembo discs and calipers all around, measuring 380mm in front and 330mm in the rear. In comparison, the 2006 Volkswagen Jetta GLI is fitted with rotors that measure 288mm in front and 260mm out back.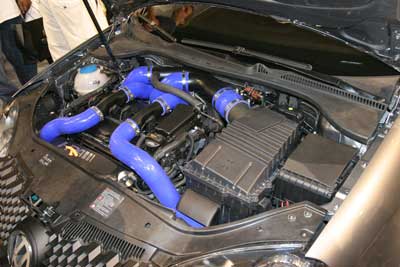 What's inside
With 550 horsepower and all-wheel drive, it's only appropriate that the Volkswagen Jetta R GT Concept feature an interior that keeps passengers firmly planted and safe. To that end, a six-point integrated roll cage has been installed and racing harnesses keep the driver and three passengers stuck to Recaro bucket seats sourced from the Golf R32. Those chairs are covered in black leather and suede, and carbon fiber trim is used throughout. Finishing off the race-ready look is an F1 style digital display sitting atop the steering column.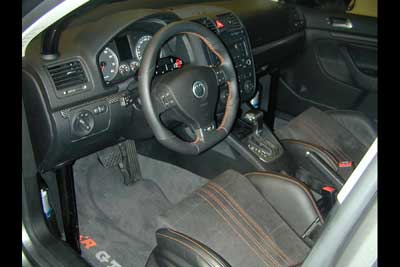 What it looks like
In reference to the Volkswagen Jetta R GT Concept's aggressive look, chief designer Derek Jenkins said, "We wanted the front end to have a stealthy, sinister quality." And so it does, thanks to massive air inlets, a reworked front fascia that reaches out to the asphalt, and a bright orange and chrome R GT badge affixed to a honeycomb grille insert. Move to the side and what stands out most are the 10-spoke Avus alloy wheels measuring 19 inches by 9.5 inches rolling on orange-lined, 265/30 Michelin Pilot Sport2 tires. Those are for street use; 18-inch Avus alloys with 265/30 Michelin Pilot Sport Cub tires are reserved for the track. Also evident are flared wheel wells and faint silver stripes in the smoke gray paint. The rear features revised taillights and a new fascia that incorporates huge dual exhaust outlets.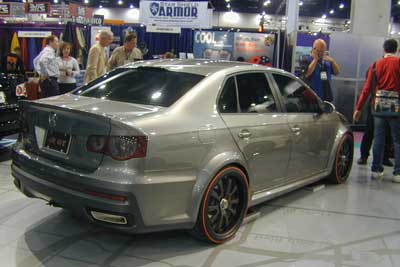 What Volkswagen says
To say that Volkswagen representatives are excited about this car would be tantamount to suggesting that a few people have a bone to pick with Osama bin Laden. The men and women who worked on this car, from both Volkswagen and HPA Motorsports, are clearly proud of the Jetta R GT Concept, from its 550-horspower motor to its full set of Recaro seats. The motive behind this build was to look at a stock Jetta and ask "What if…?" Specifically, could a Jetta be transformed into a so-called supercar with a high-powered V6 engine and capable all-wheel-drive handling? Obviously fond of a challenge, the design team responded with a resounding "Yes."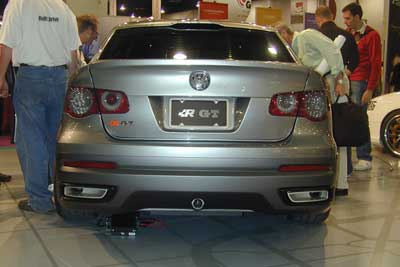 What we think
Oh, c'mon. Volkswagen partners with HPA Motorsports, an aftermarket company that specializes in VW conversions, to transform a mediocre sedan into possibly the most impressive manufacturer-sponsored concept to be unveiled at the 2005 SEMA show. Why? It's a concept that truly gets people excited because it looks so damn. Unlike most concept cars, the Volkswagen Jetta R GT still bears a resemblance to the stock Jetta – you can still see the body lines, the front and rear lights, and parts of the dash. Plus, the Jetta R GT passes on the bright show car paint job, instead focusing on those stealthy looks, that monstrous powertrain, and an interior that speaks to the true driving enthusiast. What's not to like?
Photos courtesy of Ron Perry and Thom Blackett