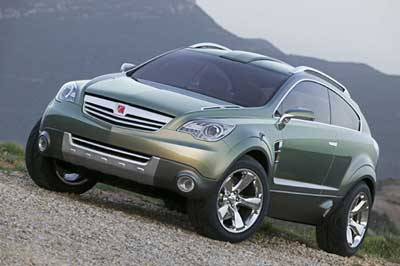 In an effort to establish a clear-cut brand identity in America, Saturn is working with GM's European division Opel on future products, including the next-generation Vue crossover SUV. And while some might think this strategy a poor one that hearkens back to the bad old days when a Cadillac Cimarron was a Chevy Cavalier with a fancy grille slapped on the front, it's not what you think. Since Opels aren't sold in the U.S., and since they are roundly admired for their design and road manners, and since GM must find global synergies, this marriage between the two is a perfect solution. Take the Saturn PreVue as a case-in-point. This sporty crossover SUV concept was first shown at the 2005 Frankfurt Auto Show as the Opel Antara GTC, and debuted in Saturn trim at the 2006 New York Auto Show. A three-door sport-ute that combines the appearance of a coupe with the powerful stance and utility of an SUV, the handsome Saturn PreVue features a classic hardtop design without a B-pillar. Frameless windows and short overhangs emphasize its sporting nature, and Saturn says it embodies the sporty, aggressive, and emotional brand character that is emerging in its products. Other details include a brushed aluminum grille, jeweled LED front and rear lights, side vents, exhaust outlets embedded in the rocker panels, flush door handles, and polished 20-inch wheels.
Why it matters
Essentially, the Saturn PreVue is a preview of the next Saturn VUE. That rakish roofline won't make production, and the next Vue will get four doors and a squared-off tail for added cargo capacity. But many of the PreVue's design elements will translate to the all-new Saturn VUE when it arrives in a year or two.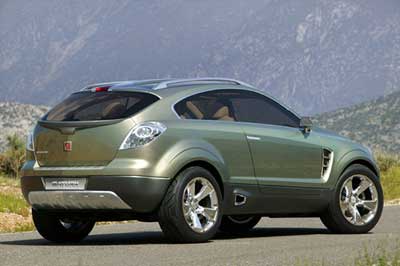 What's under the hood
The Saturn PreVue is equipped with a two-stage turbocharged Ecotec common-rail diesel engine that makes 212 horsepower and 295 lb.-ft. torque at 1,400 rpm. A six-speed automatic transmission sends power to all four wheels. The next-generation Saturn Vue is unlikely to get a diesel engine offering, but will almost certainly be available with a supercharged four-cylinder or a V6, as well as the hybrid drive system that arrives in the Green Line edition later this year.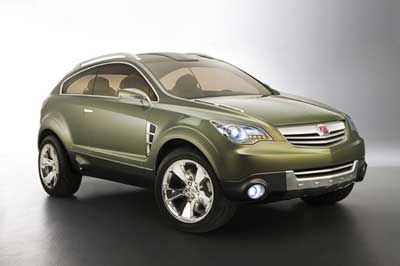 What's inside
There's plenty of fantasy inside the Saturn PreVue, not the least of which are the four individual bucket seats mounted to monorails for a clean, roomy appearance. To access the rear chairs, the front seats power forward with the touch of a button. The PreVue is also equipped with sisal natural fiber flooring, and carbon fiber seatbacks. Other elements could easily translate to a production vehicle, like leather upholstery, stainless steel and aluminum trim, turquoise instrument lighting, rear seats that fold flat into the floor, and a panoramic sunroof. One slick feature of the PreVue is a leather storage bag that can be mounted between the front or rear seats, or can be removed for shopping and sightseeing excursions.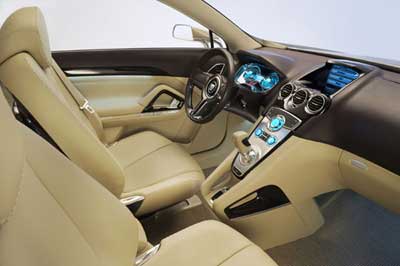 What we think
Based on the debuts of three new Saturns for 2007 – the Aura sedan, Outlook SUV, and Sky roadster – it appears that General Motors is finally giving the brand the kinds of products it has needed since it launched in 1990. These debuts, combined with the Saturn PreVue's handsome look, smart design, and innovative details, bode well for the next-generation Vue. Saturns might actually become vehicles you want to buy for the product, rather than the service.
Photos courtesy of General Motors