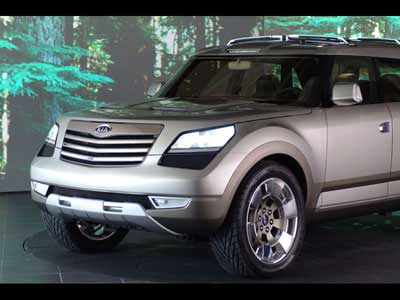 In little more than a decade, Kia has blossomed from a virtual unknown to the sixth largest import car company in the U.S. And the end of this run toward success is not in sight, as evidenced by a 14-percent increase in year-over-year sales for 2004. This Korean-based company now pulls rank on Volkswagen, Mazda, and BMW in terms of sales figures in the U.S. And the company has no plans for slowing down anytime soon. The Kia Mesa concept, a large six-passenger SUV, highlights Kia's potential growth in the future. According to Peter Butterfield, President and CEO of Kia Motors America, the Mesa was created in direct response to the dealers' desire for a large SUV.
True Off-Roader
To make sure that the Kia Mesa concept is capable off-road, it features body-on-frame construction, a fully boxed frame, full-time four-wheel-drive with low range, and a limited slip differential. Under the hood is the Kia Sorento's 3.5-liter V6, controlled by a five-speed automatic transmission. This might sound like a weak motor for a full-size SUV, but rest-assured that the Kia Mesa has been designed to accept a wide range of future engines. Downhill Assist Control and Hill-Start Assist Control have been added to the Kia Mesa to afford drivers more vehicle control. A large horizontal searchlight mounted above the windshield offers extra illumination for those nighttime camping sessions. Other handy features include power retractable running boards and a trailer hitch that is hidden behind a power footstep. Accented by huge 22-inch alloy wheels, the Kia Mesa features a clean shape that is enhanced by muscular wheel flares. The large chrome grille makes a powerful statement, and the wrap-around glass is meant to mimic a turret. The Kia Mesa's design conjures up a sense of understated power.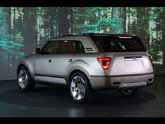 Interior
While the exterior may draw praise, passengers will be most affected by the interior, and Kia designers have spent an equal amount of time addressing that area. Each of the six passengers is treated to a bucket seat – a central center console separates the seats in each row. Overhead dual glass panels allow plenty of light to enter and give a feeling of spaciousness. Brushed metal is located on the instrument panel and doors, while the seats are wrapped in leather. Bluetooth connectivity allows passengers to stay in touch in hands-free style and with their own personal cell phone, while side curtain and knee airbags help to keep them safe. Despite its concept status, the Kia Mesa makes a bold statement about what the company is capable of, and given the dealers' craving for a large SUV to sell, chances are this is one concept that will eventually make it to production.
Photos courtesy of Kia