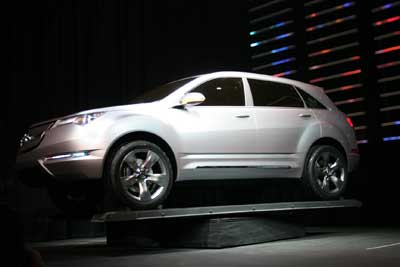 Completely redesigned and boasting what Acura calls "best-in-class" safety and V6 power, the MD-X Concept introduced at the 2006 New York Auto Show previews the all-new 2007 MDX that arrives this fall. Like its predecessor, the new 2007 Acura MDX is a seven-passenger sport/utility vehicle, but this time around the emphasis is on the portion of that equation. In addition to a stronger V6 engine and as much safety technology as its manufacturer could pack into it, the 2007 Acura MDX also features accoutrements such as an Acura/ELS premium surround sound system with XM satellite radio, a HandsFreeLink wireless communications system that works with Bluetooth-enabled cell phones, a navigation system with real-time traffic reporting, and a collision mitigation braking system that can detect an impending accident and take action to reduce speed and prepare the safety systems before impact.
Why it matters
When Acura first entered the luxury suv market with a rebadged Isuzu Trooper called the SLX, few manufacturers were offering leathered-up, premium-brand sport utes. But that first effort found few buyers, so the 2001 MDX arrived complete with seven-passenger seating and a ride/handling mix that leaned toward the car rather than truck side of the spectrum. Now, with the 2007 Acura MDX, the company is going after true on-road performance in a marketplace more crowded than ever, and is looking to distinguish its flagship SUV as a vehicle designed exactly for the way its affluent, professional buyers live most of the time – on the road, not the dirt.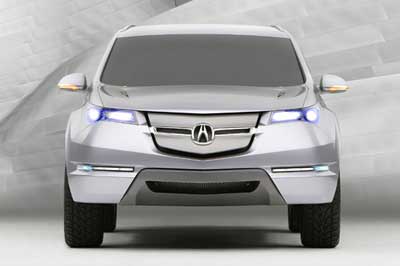 What's under the hood
Acura's not saying what's under the 2007 Acura MDX's hood, but promises it will contain the most powerful V6 in its class. Our guess is that the new MDX will get the Acura RL flagship's 3.5-liter V6, which is making about 290 horsepower. Acura also says that the 2007 MDX will be equipped with the company's Super Handling All-Wheel-Drive system, which automatically transfers power front to rear and also from side to side on an individual axle for maximum traction. The 2007 Acura MDX's suspension was tuned at Germany's legendary Nurburgring race course, so it seems any pretension for off-road travel has been dropped for the next generation MDX.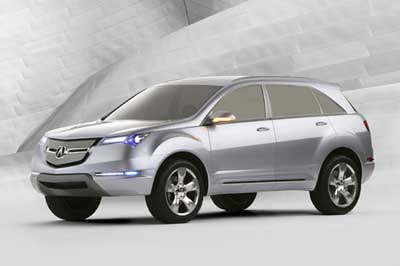 What it looks like
What you see here is about 90-percent correct for the 2007 Acura MDX that arrives this fall. Swap out the Acura MD-X Concept's grille, lights, 20-inch wheels, and jazzy exhaust outlets, and you've got the production MDX. Overall, the design is closely tied to the smaller Acura RDX, but is not as aggressive because this more expensive and larger model is supposed to "communicate power and prestige," according to Ricky Hsu, the MD-X Concept's chief designer.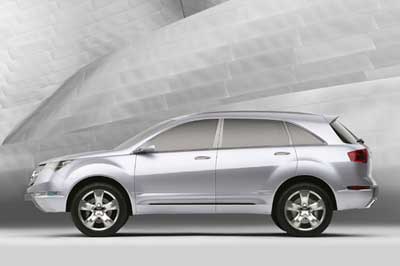 What we think
Acura is wise to focus on performance with the next-generation 2007 MDX. This vehicle will take on the Infiniti FX35, the Audi Q7, and the replacement for the BMW X5, blending space for seven with excellent on-pavement driving dynamics. We like the exterior look, even if it is still a bit nose-heavy, and it appears that the 2007 Acura MDX will come equipped with the kinds of features and technology that people want, and little that they don't, so the value equation should be right, too. This one looks like a hit.
Photos by Ron Perry and courtesy of Acura