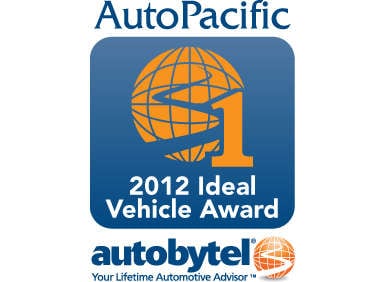 The Autobytel & AutoPacific 2012 Ideal Vehicle Awards (IVA) are put together based on the opinions, experiences, and information provided by you - new car and new truck owners who have shared their first-hand knowledge of these vehicles via a survey that was sent to more than 75,000 drivers.  Each category winner embodies the qualities that buyers in that particular segment are looking for, whether it be style, comfort, practicality, or power.  The staff at AutoPacific tally up the numbers, but they keep their own opinions out of the final results - the IVAs are awards that are decided on by the people, not the media.
Let's take a look at this year's Ideal Vehicle Award Winners in the passenger car categories.
Premium Luxury Car - Mercedes-Benz S-Class
The 2012 Mercedes-Benz S-Class is certainly no surprise as the winner of the 2012 Ideal Vehicle Award in the Premium luxury car segment.  This full-size sedan dazzles with the sheer number of features that it offers, encompassing high tech gear such as the COMAND interface, adaptive cruise control, and a host of advanced safety systems, as well as an amount of luxury items including massaging leather seats, quad-zone automatic climate control, and a heated steering wheel.  The Mercedes-Benz S-Class can be had with four different engine choices, ranging from a fuel-efficient hybrid V-6 all the way up to a twin-turbo, 5.5-liter V-12 that generates 510 horsepower, and it also offers a seven-speed automatic transmission as well as the option of all-wheel drive.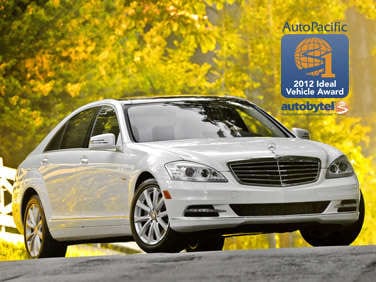 Aspirational Luxury Car - Audi A4
The 2012 Audi A4 snags the 2012 Ideal Vehicle Award Aspirational Luxury Car nod by delivering the kind of affordable, entry-level package that drivers are looking for in a classy car.  The Audi A4 comes with a 211 horsepower, 2.0-liter turbocharged four-cylinder engine that can be paired with the brand's famed quattro all-wheel drive for the ultimate in inclement weather grip.  Transmission choices for the sedan include a six-speed manual and an eight-speed automatic.  As expected, the Audi A4 features the automaker's famed interior design quality, the availability of comfort options such as heated leather seats and a voice-controlled navigation system, and it can also be tuned for sportier driving via the available Audi Drive Select package.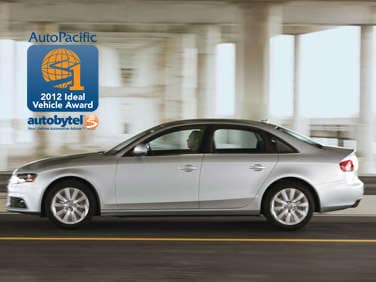 Large Car - Dodge Charger
The 2012 Dodge Charger wins the 2012 Ideal Vehicle Award Large Car prize thanks to its ability to stand out from the rest of the big sedan pack.  The Dodge Charger's aggressive styling resembles nothing else available to those seeking an affordable full-size sedan, and the vehicle features a spacious interior that has been updated to provide an interesting array of options and features.  Another point in the Charger's favor is performance.  Base models come with a 292 horsepower, 3.6-liter V-6 mated that can be mated an eight-speed automatic, but it's also possible to order the Dodge with either a 5.7-liter, 370 horsepower or 6.4-liter, 470 horsepower V-8 under the hood for the ultimate in laying rubber while living large.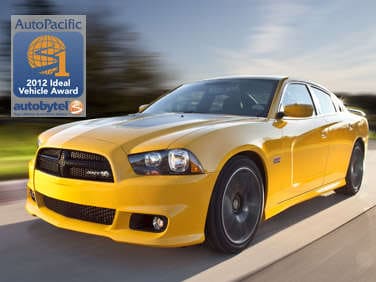 Luxury Mid-Size Car - Acura TSX
The 2012 Acura TSX steals the Luxury Mid-Size Car Ideal Vehicle Award for this year thanks to its confluence of technology, fuel efficiency, and value in the premium segment.  The Acura TSX can be had with many of the goodies that add some exclusivity to the brand, including GPS-linked climate control, and it also offers four-cylinder (201 horsepower) and V-6 (280 horsepower) editions in order to appeal to both cruisers and driving enthusiasts.  Transmission choices for the sedan include both a five-speed automatic and a six-speed manual, and the vehicle posts a 31-mpg highway rating when ordered in four-cylinder trim.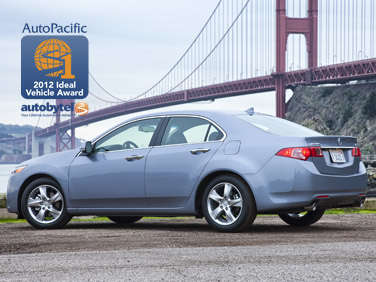 Premium Mid-Size Car - Volkswagen Passat
The redesigned 2012 Volkswagen Passat puts in a surprise appearance as the 2012 Ideal Vehicle Award recipient in the Premium Mid-Size Car category.  Although some might not associate the Passat with the near-luxury crowd, after its recent redesign the family car has attracted considerable attention from drivers who want a roomy interior, a high level of interior fit and finish, and a comfortable suspension setup that doesn't sacrifice too much handling.  The Volkswagen Passat also has the advantage of offering an ultra-efficient turbodiesel engine, a rarity in its segment.  Capable of producing 140 horsepower and 236 lb-ft of torque, the unit returns fuel mileage of 31-mpg city and 43-mpg highway when matched with a six-speed manual transmission (a six-speed automated manual is also available with the diesel).  The Passat additionally offers a range of gasoline engines, including a 170 horsepower, 2.5-liter five-cylinder and a 3.6-liter, 280 horsepower V-6.  The entry-level sedan can be had with a traditional six-speed automatic gearbox, if desired.
Mid-Size Car - Subaru Legacy
The 2012 Subaru Legacy is the only car in its class to come with standard all-wheel drive - a factor that no doubt helped the sedan claim the 2012 Ideal Vehicle Award for Mid-Size Car.  Subaru's flagship four-door car, the Legacy has quietly crept up-market over the past few design cycles and is now available in a variety of different models ranging from base (170 horsepower, 2.5-liter four-cylinder) to sporty (265 horsepower, 2.5-liter, turbocharged four-cylinder) to luxury (256 horsepower, 3.6-liter six-cylinder).  Subaru's continuously-variable transmission technology helps to keep non-turbo four-cylinder models honest in terms of fuel mileage, posting a rating of 31-mpg on the highway.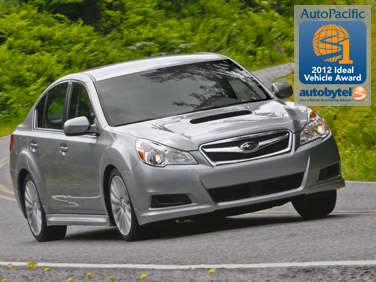 Premium Compact Car - MINI Cooper
The 2012 MINI Cooper continues to make waves amongst entry-level shoppers who want more than just a basic subcompact.  As the holder of the 2012 Ideal Vehicle Award Premium Compact Car laurel, the MINI Cooper's combination of above-average equipment availability and genuinely exciting handling and performance give it an edge over other small cars.  The hatchback is a surprisingly practical choice for city dwellers thanks to its 24-cubic feet of total cargo space with the rear seats folded, and the availability of Cooper in both naturally-aspirated (121 horsepower) and turbocharged (181 horsepower) 1.6-liter, four-cylinder editions gives it enough oomph to appeal to fans of spirited driving.  Throw in the choice between a six-speed manual and a six-speed automatic transmission alongside fuel mileage of 37-mpg on the highway and the MINI Cooper makes for an eye-catching subcompact package.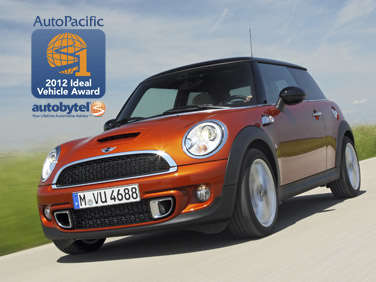 Compact Car - Volkswagen Golf
The 2012 Volkswagen Golf's status as the winner of the 2012 Ideal Vehicle Award in the Compact Car segment reflects a design philosophy that rejects the idea that an affordable car by necessity must cut corners in terms of quality.  The Volkswagen Golf is a daily driver that prizes buttoned-down handling, and its solid, composed ride is a standout in its class.  Under the hood, the hatchback can be had with either a 170 horsepower, 2.5-liter five-cylinder engine or a 2.0-liter, turbodiesel four-cylinder unit that delivers 140 horses and 236 lb-ft of torque.  The latter is also good for 30-mpg in stop and go driving and 42-mpg on the highway - impressive figures given its elevated output.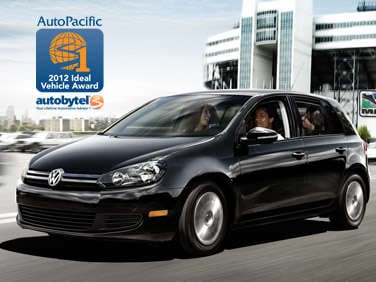 Economy Car - Honda Fit
With each passing year, cheap cars continue to improve in quality - and most of them are chasing the 2012 Honda Fit, our 2012 Ideal Vehicle Award winner for the Economy Car class.  The Honda Fit's subcompact package conceals a highly usable interior thanks to its Magic Seat feature that allows the passenger compartment to be configured to carry as much as 57.3 cubic feet of cargo.  The Fit doesn't disappoint in terms of fuel mileage either: the hatchback delivers a thrifty 28-mpg city and 35-mpg highway from its 117 horsepower, 1.5-liter four-cylinder engine and can be had in a Sport model that spices up its exterior appearance with a slick body kit.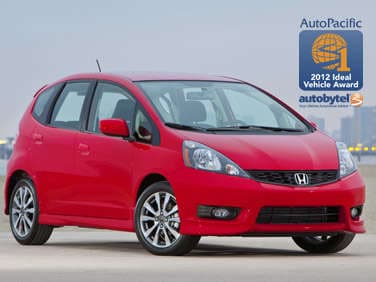 Sports Car - Chevrolet Corvette
It can be argued that there is no better performance value out there than the winner of the 2012 Ideal Vehicle Award in the Sports Car category, the 2012 Chevrolet Corvette.  The two-seat, fiberglass-bodied Corvette is available in both coupe and roadster editions, and when ordered in base form it boasts a 430 horsepower, 6.2-liter V-8 that allows it to leap to 60-mph in just 4.5 seconds.  Upgrading to the Z06 model introduces a 505 horsepower, 7.0-liter V-8 along with a number of other track-ready features that transform the already capable 'Vette into a lap-devouring monster.